Image Comics took time at New York Comic Con 2017 to announce three new titles coming in 2018 and we couldn't be more excited to check them out! Writers were on hand to discuss their upcoming projects and answer questions for the press.
Keep reading to see what they had to say about INFIDEL, ANALOG, and BINGO LOVE!


INFIDEL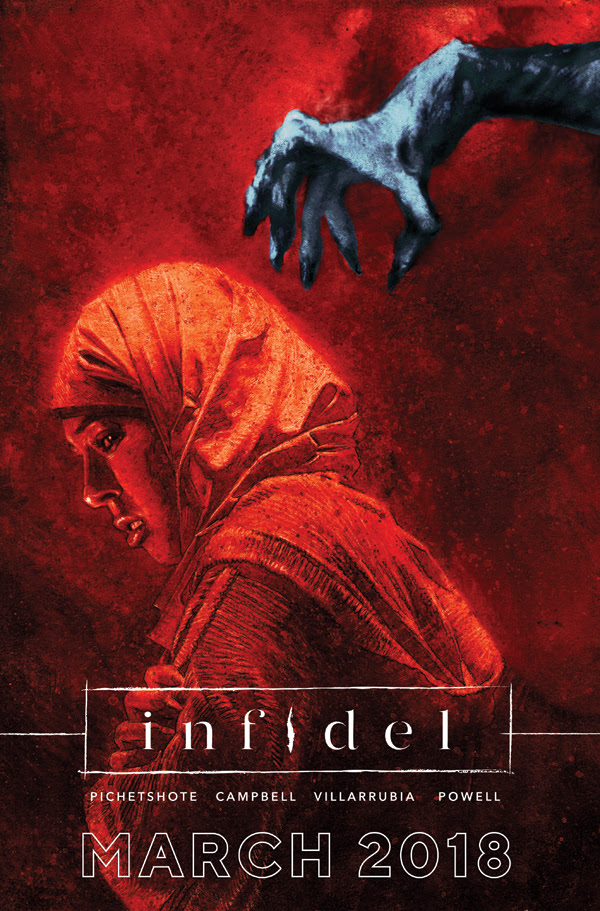 Right out of the gate, writer Pornsak Pichetshote described INFIDEL as, "An American Muslim woman and her multi-ethnic neighbors move into an apartment building that seems to be haunted by ghosts that feed off of xenophobia."
Image adds, "This tautly-woven new series tackles controversial topics in race and racism and how it can affect people from different cultures. INFIDEL features a diverse, multi-ethnic cast where character backgrounds affect the plot twists and pacing as the story unfolds from issue to issue."
Pichetshote explained that this series is an attempt to make an updated version of a haunted house story set in New York City. The creative team is taking old horror stories made for different times and rebooting them for now. They wanted to showcase things that hadn't been seen before and take advantage of artist Aaron Campbell's strengths in showcasing many different art styles.
One of the fastest ways to make people uncomfortable these days is to bring up the topic of race and Pichetshote was adamant that we need to have more conversations about the subject. When thinking about how to present the story, he had to consider things like how racism trickles down and how to identify racism when no one agrees about it.
That didn't stop him from creating a large, multiethnic cast (some of which won't make it to the end of the series!), including a Pakistani-American Muslim woman, an African-American lapsed Muslim, an Asian-American guy, an Asian-American woman, and more. To gain insight into these perspectives, Pichetshote talked to people. He utilized his network of friends, read articles, and tried to understand their experiences. Keep a look out for a very large special thanks section in the first issue.
From his time at Vertigo and working with Karen Berger, Pichetshote learned that in order to be successful in the horror genre, you have to understand human psychology. For example, his characters make some of the stupid choices made in normal horror movies, but in his words, "There is no better reason to go into a place that you think is a bad idea than if someone you care about is there."
INFIDEL is a five issue mini-series scheduled to launch in March 2018.
ANALOG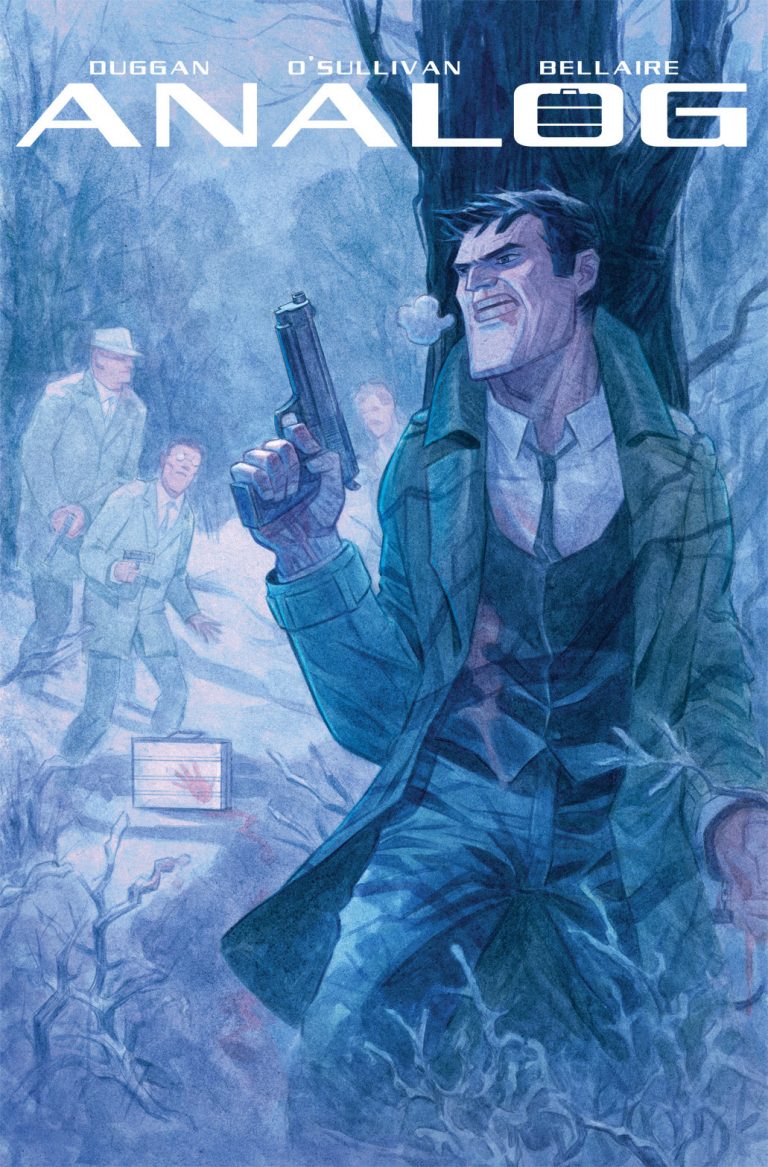 From Image Comics, "ANALOG is the future our society is failing to prepare for. The basic security of the internet crumbles after devastating attacks on the internet result in mass doxxing. People, corporations and governments are all affected and the world is changed overnight. Secrets once entrusted to encrypted emails are now printed on paper, put into briefcases and sent around the world in the hands of discreetly armed couriers. Jack McGinnis is a hard-drinking, hard headed former member of the US intelligence community who now earns a living as a "ledger man"."
Gerry Duggan immediately teased that Jack McGinnis "may or may not have had something to do with the internet shitting the bed" and he gets punched a lot. Readers will be thrown right into the action with Jack, catching up with him on the job and meeting the main protagonist. He also dropped a spoiler that there is Artificial Intelligence in this new future and takes it personally that the internet was turned off.
Visually, the series is a grim, fun world with a brightness and scum to society. There are still internet users, but they do so knowing that the world could be listening and watching. For some people, it may be very liberating, for people who want or need to keep secrets, it's a complicated world. There are clearly people paying their rent by broadcasting their lives.
The creative team is well ahead of schedule, with Duggan expecting maybe a month between the completion of the first arc and the second arc of the series hitting shelves. There is also going to be a digital component online, though it's not as far along as the comic book. It'll be a fun site that will hopefully be up before launch.
To craft the story, Duggan asked, "What's the thing we couldn't see coming and how can we make it worse?" ANALOG is about the internet being destroyed, but it's not about the internet – it's about people and how they cope afterwards.
ANALOG is set to launch from Image Comics in 2018.
BINGO LOVE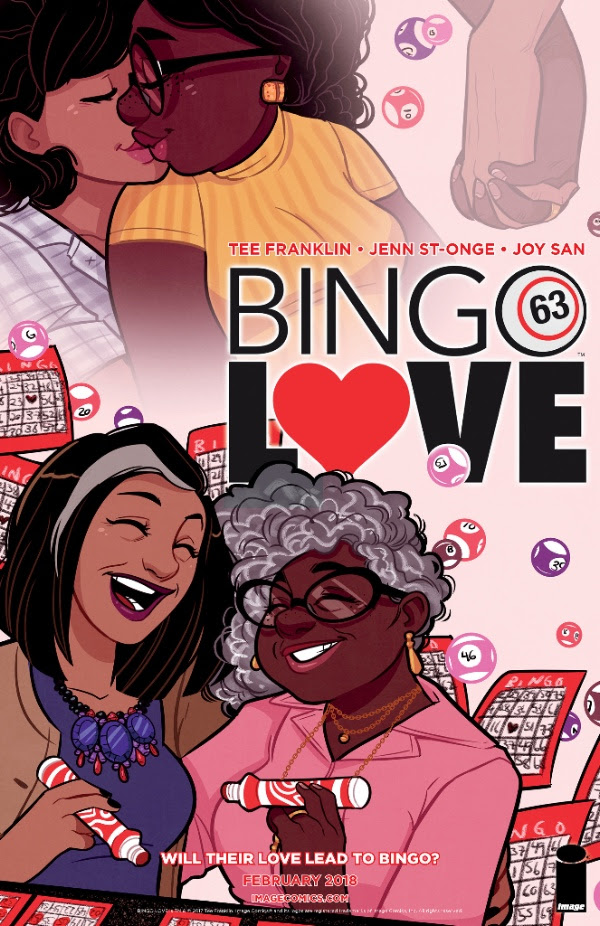 Tee Franklin is a refreshingly vocal person in the comics industry and she let everyone know that BINGO LOVE is unlike anything else they've seen in their comics. The elevator pitch that she likes to use to explain the graphic novel is, "Academy Award-winning Moonlight meets Emmy winning 'San Junipero'." She added, "It's time to season your comics. Sometimes people are just tired of reading bland chicken."
Image explains, "BINGO LOVE is about two Queer, Black women and the love between them that spans decades. Their story also explores the complications of coming out at an older age, and how that decision affects their families lives. BINGO LOVE will hit stores just in time for Valentine's Day, February 2018."
The inspiration came from watching a commercial, where two older black women were speed-walking together. They were laughing, joking, and flirting with an older black man who they happened to walk by. Franklin had no idea what that had to do with what was being advertised, but she immediately wondered why that couldn't have been a woman flirting – and the idea was born.
Set in Patterson, New Jersey and surrounding areas, the graphic novel is 88 pages and spans from 1963 all the way to 2038. Franklin herself lived in Patterson and has family there. However, it doesn't touch on the politics of the time period it starts in. Readers will be able to see it in the background of the story, but it's not the focus and that was a conscious choice on Franklin's part.
She set out to make a black book for black people and when people pick it up, she wants them to relate to the story and the people immediately. Franklin teased that people will be doing the electric slide in the story and black people are going to see bits of their everyday life portrayed. She worked hard with her creative team to make sure that black women's hair especially was portrayed realistically.
Franklin originally self-published the book through Kickstarter and Image will be releasing the same book with a new cover. The artist has yet to be chosen because Franklin is looking for the perfect fit.
BINGO LOVE launches on Valentine's Day 2018.


Which of these new series are you most excited for?
Let us know in the comments!