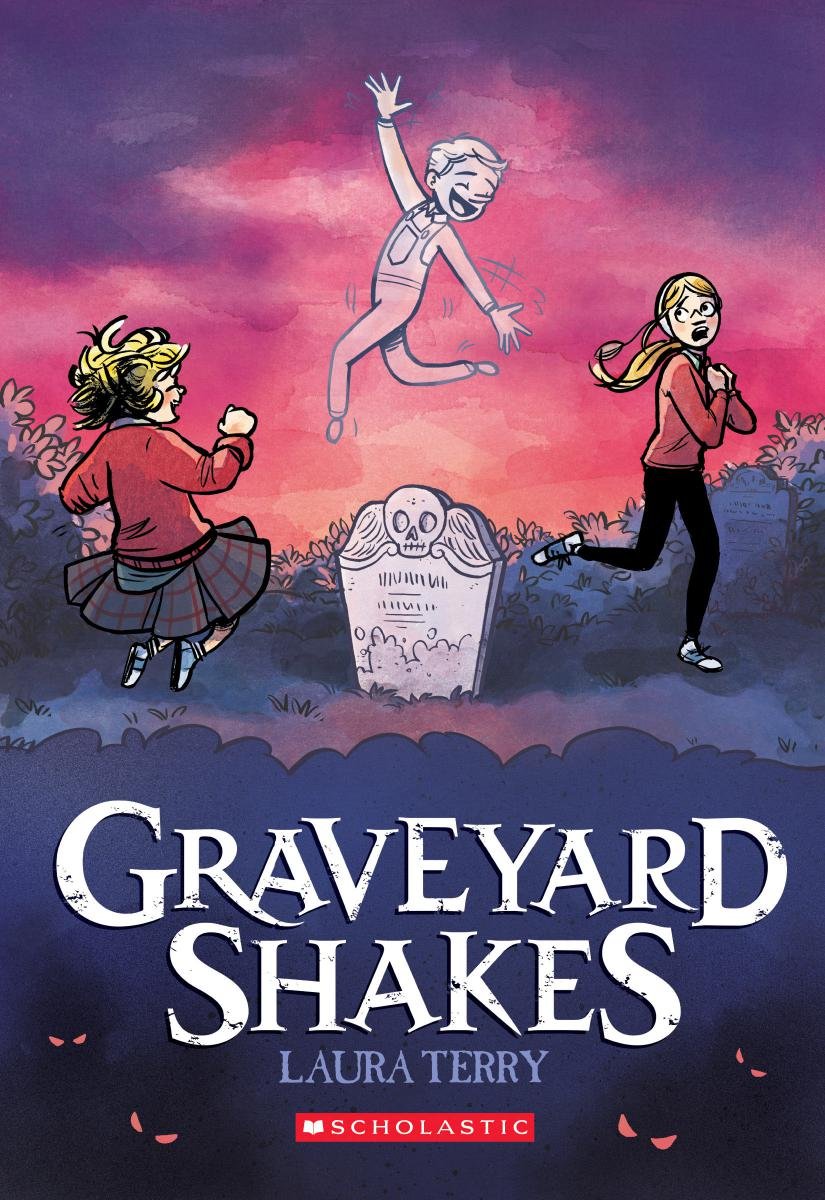 Title: Graveyard Shakes
Author: Laura Terry
Release Date: September 26, 2017
Publisher: Graphix (Scholastic)
Review Spoilers: Low
GoodReads | Amazon

A ghost story for the elementary-aged crowd,
Graveyard Shakes
is a much darker tale than one might assume from the cover. It's also a much deeper story about what it means to be a sister, what it means to be a friend, and what it means to be yourself.
Graveyard Shakes
is certainly spooky and it's mostly appropriate for the target audience — though young readers who scare easily may want to wait a little while before checking it out!
Graveyard Shakes focuses primarily on it's living characters though the dead play an important part, too. Sisters Katia and Victoria have recently begun attending an elite boarding school when we first meet up with them. Katia is her own, brazenly unique individual while Victoria is more interested in fitting in with the other girls. As you can imagine, that causes some conflict between them. And with the girls at odds with one another that makes them perfect prey for the evil that lurks in the woods just off campus.
For decades, there has been this evil scientist out there who has been killing children to keep his son, Modie, alive. Every thirteen years he takes another child and transfers their life force into Modie, who is a sad, strange, Frankenstein-esque creature.
As fate would have it, that macabre anniversary falls at the same time the sisters are starting up at school. Modie, to his credit, is a much different person than his father. While his father plots and schemes, he tries to find a way to tell his father he wants no part in any of this any with the help of his only friend, a little dead boy he calls "Little Ghost."
The girls' path eventually comes across that of Little Ghost and Modie and things take off quite quickly after that. Soon they're all on the run from not just Modie's father but his gang of villainous ghosts!
Unfortunately, it's a rather short story that moves quickly and Graveyard Shakes is over before you know it.
I really enjoyed the characters, but the plot is so fast-paced that it becomes hard to fully connect with them. Katia has a particularly strong, outward personality and Modie has an incredibly unique backstory, so they stood out for me. But as much as I could see myself in Victoria (having been a bit of an overbearing older sister myself once upon a time), she didn't really develop very much. And poor Little Ghost hardly gets the credit he deserves considering his heroic actions throughout.
Graveyard Shakes does a good job of handling what it's like to be a sibling and I think a lot of young readers will relate with Katia and Victoria. Younger siblings especially will likely see themselves in wild child Katia, who rebels against her older sister's expectations. There's a very strong message in this book as their love for one another is challenged but ultimately holds strong. As much as they may drive one another crazy that bond is unbreakable and they defend each other no matter what.
The illustrations are very cute, too. The character designs captured the characters well and Laura Terry has a style that is perfect for young readers. While it's a spooky story, the colors and style keep it looking and feeling appropriate for its target audience. Graveyard Shakes' illustrations will be a hit with young readers who have enjoyed other titles from Scholastic's graphic novel imprint, Graphix!
Graveyard Shakes tells a decent – if quick – story with a much deeper meaning than you'd expect from the cover featuring the young, dancing ghost. It's also a bit dark considering a major part of the plot revolves around reoccurring child murders. The pacing was just a little too fast for the book to really do the story and characters justice. Still, it's a good, spooky read if you've got a young reader in the mood for a real 'horror' story! (And it looks cute, too.)