Sam dove head first into Poe Dameron #1, from Marvel Comics, which sky-rocketed to being her favorite Star Wars comic out right now. She also enjoyed both The Woods and Giant Days from BOOM! Studios this week – the former a little bit more than the latter.
Kylee finished up Last Sons of America, also from BOOM! Studios, and was disappointed with the execution of such a strong, fascinating premise.
Jackson felt the same way about Harley Quinn and the Suicide Squad April Fool's Day Special #1, from DC Comics, with it's jarring tonal changes throughout the issue. But he did enjoy Lobster Johnson: The Forgotten Man #1, also from DC Comics, a lot.
Check out all of our reviews below and let us know what you're reading!


Sam's Reads
Poe Dameron #1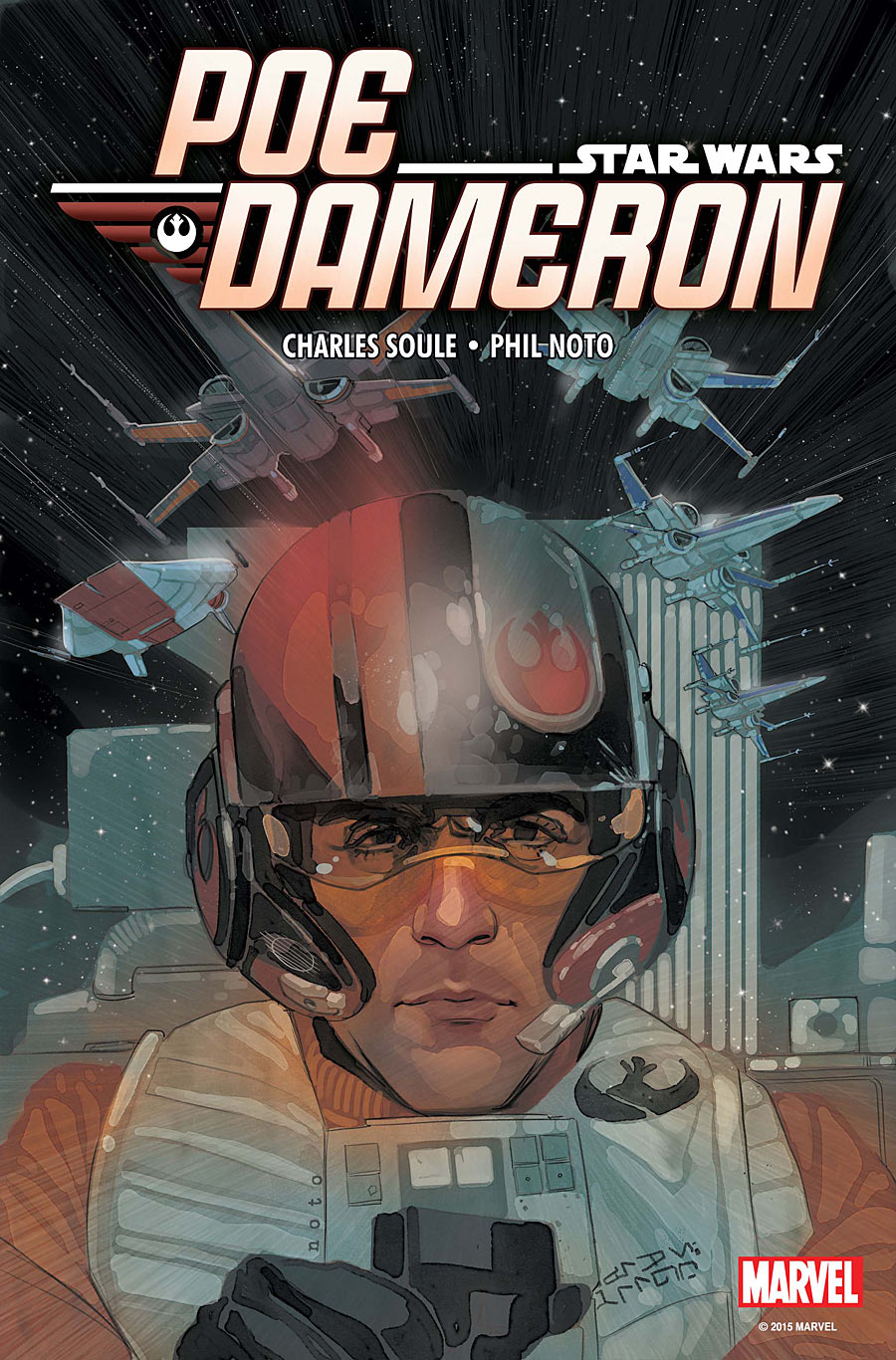 Author: Charles Soule
Artist: Phil Noto
Publisher: Marvel
★★★★★
Poe Dameron is amazing. I'm not talking about the character – though he's great, too, obviously – but the new on-going Star Wars series from Marvel comics. Though there may be three other on-going series and a myriad of miniseries, after just one issue I can confidently say that Poe Dameron is my favorite.
I'm telling you, the fact that I get Charles Soule, Phil Noto, and Chris Eliopoulos in one issue working on a Star Wars book is basically like a fangirl's dream come true. I'm really not kidding when I say Poe Dameron #1 was literally everything I could have ever wanted in a Star Wars comic.
The Woods #21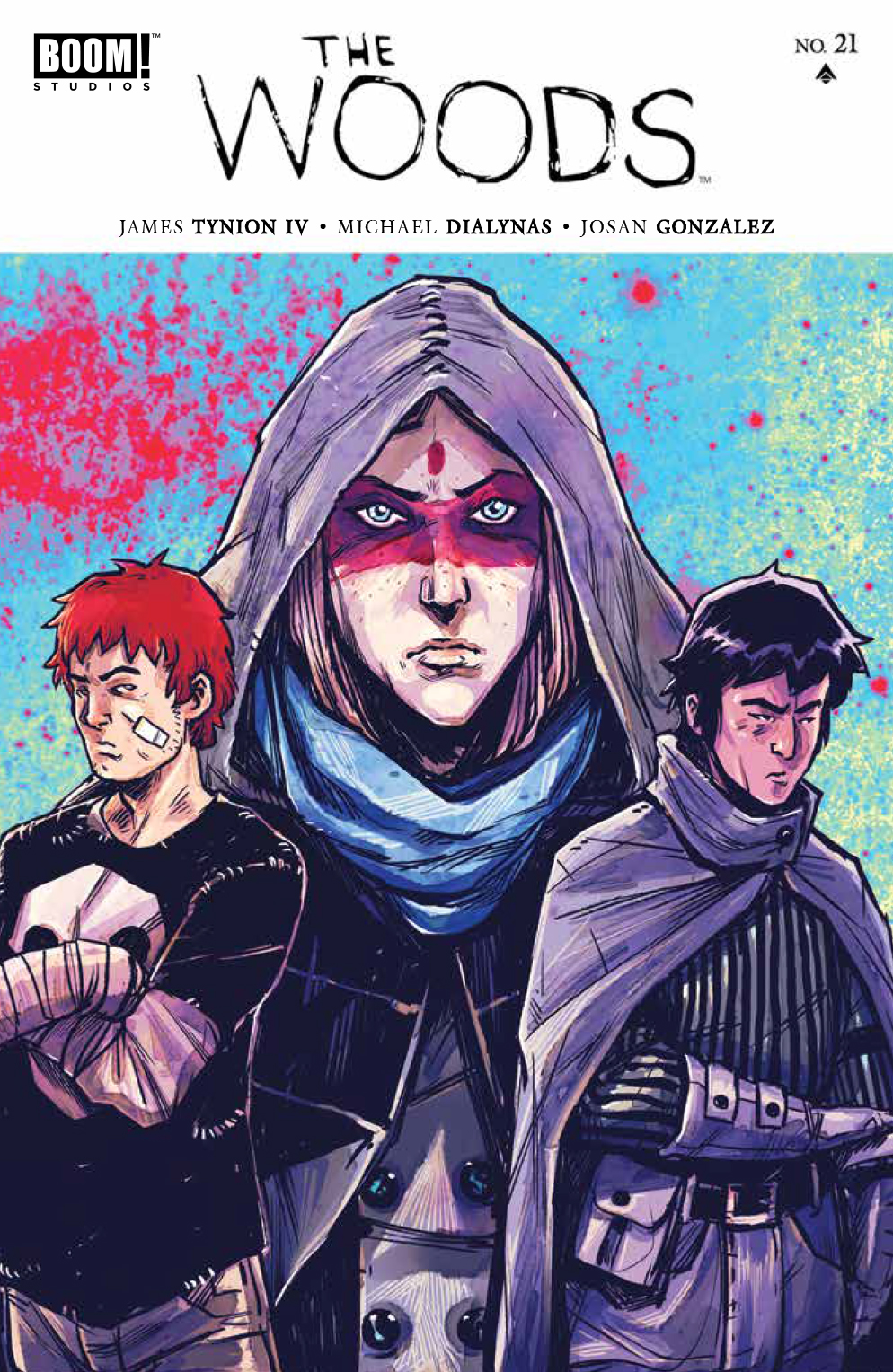 Author: James Tynion IV
Artist: Michael Dialynas
Publisher: BOOM! Studios
Source: BOOM! Studios DRC
★★★★☆
With Casey having taken off with the Horde – and a good chunk of the Bay Point students – the survivors of the attack on their settlement are left to pick up the pieces. The survivors have fled to New London where Karen has taken up a role in representing them. Meanwhile Calder and Sander are about to team up to figure out how to defeat the Horde and kill Casey once and for all.
The story is told in the past and the present as Karen and Calder's relationship is really fleshed out. She has an undeniable thing with Sander but she's pushed him away as best she can – and she used Calder to do that. Now both relationships are in shambles. The flashbacks to the early days of the Bay Point settlement are hard to read because everyone – especially Maria – is so hopeful for the future. And we all know what ends up happening.
I'm really excited for the next issue and to see what Calder and Sander get up to. I'm also interested to see how Karen pulls herself together – if she can pull herself together – to really emerge as the leader of the Bay Point kids. Basically a great issue as always. I'm never disappointed in The Woods. It's easily one of the best written and best looking books I'm reading right now.
Giant Days #13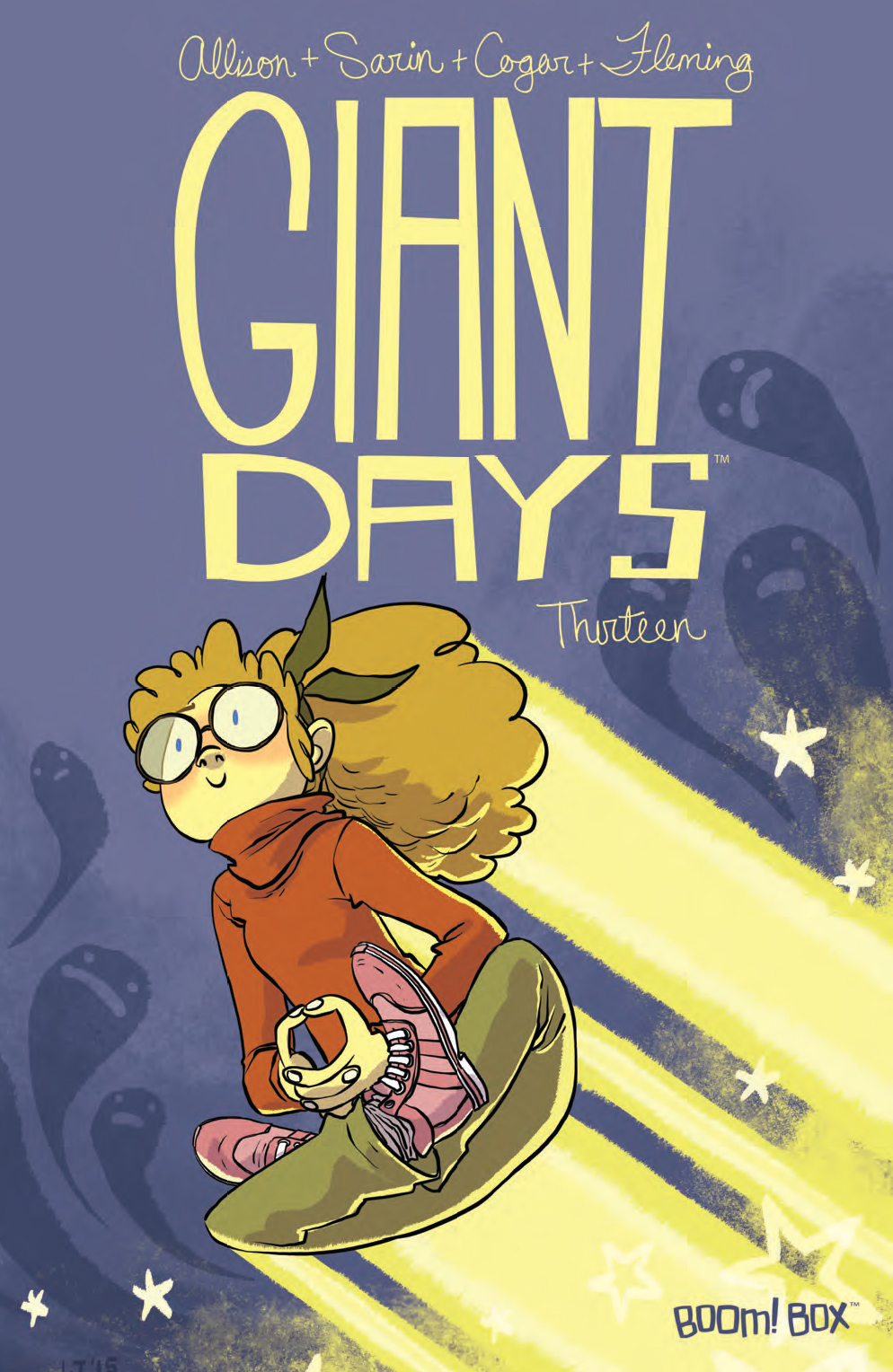 Author: John Allison
Artist: Max Sarin
Publisher: BOOM! Box
Source: BOOM! Studios DRC
★★★☆☆
When Esther decided at the end of the last issue that she was done with school it seemed like her mind was made up. But Daisy and Susan weren't going to take that decision sitting down. Over the spring holidays they go to Esther's home to convince her to come back with them. Luckily they have some allies in Esther's parents (who begin to realize they have perhaps coddled her too long and paid her way through these flights of fancy to their daughter's detriment).
After being forced to face the realities of going home and the people that she's hurt by leaving them behind – her former boyfriend and best friend – she finally decides it's time to go back to school. Unfortunately, Esther's parents are fed up with her antics so they tell her they are going to cut her off.
Yikes.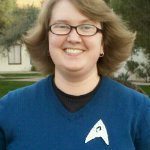 Sam Wildman  is a co-founder and co-editor at Nerdophiles. Claudia Gray's Lost Stars fundamentally changed the meaning of Jakku for her. Follow her on twitter @samaside.


Kylee's Reads
Last Sons of America #4
Author: Philip Kennedy Johnson
Artist: Matthew Dow Smith
Publisher: BOOM! Studios
Source: BOOM! Studios DRC
★★☆☆☆
What started as a vast, fascinating world akin to Children of Men as seen through the eyes of two desperate brothers quickly and unfortunately dovetailed into a whole lot of bark with not very much bite. Last Sons of America took a really interesting concept and managed to run it into the ground over its four issue run. A subtle look at infertility, American entitlement, and desperation to continue one's own legacy turned into a violent gun battle set alongside a larger conspiracy that's never resolved. Even with the slight gut-punch in the end, that brings our story back into sharp focus for the two brothers, too many questions were left unanswered to be considered satisfying.
That being said, the gritty, muted art take on the comic continued to work through the harshest scenes that the readers had experiences. Multi-page gunfights and the chaos of  all of the characters colliding into one place was successfully conveyed through successive panels. And when things calmed back down at the end, wide shots brought the emotional ending that the series was attempting to bring about. Now that the groundwork has been laid for the larger, political world, a sequel might just be able to hammer home all of the hanging plots, but for now I'm feeling rather meh about the ending of this series.


Kylee Sills is an associate editor at Nerdophiles. Emotionally, she knows what she was supposed to feel at the end of this series, but it just left so many questions. Follow her on Twitter @kyleewho. 


Jackson's Reads
Harley Quinn and the Suicide Squad April Fool's Day Special #1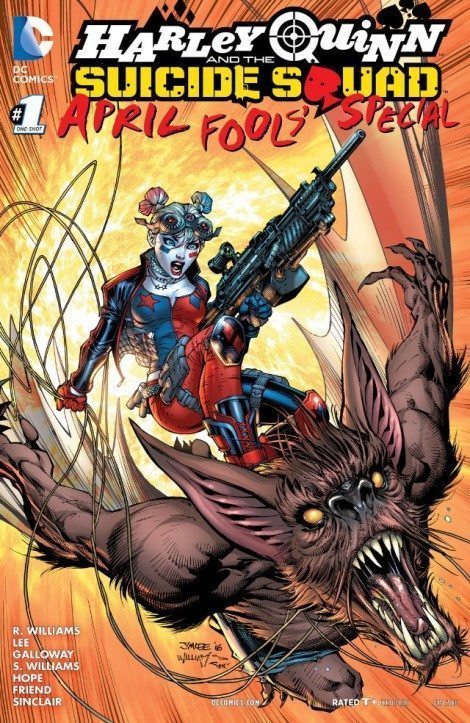 Author: Rob Williams
Artist: Jim Lee and Sean "Cheeks" Galloway
Publisher: DC Comics
★★☆☆☆
We're still several months away from DC's Rebirth and the company's pretty tight-lipped about what exactly is going to be changing before the re-branding kicks into high gear. This week's Harley Quinn and the Suicide Squad April Fool's Day Special #1 offers a little bit of a peak into some of the changes that might be coming but does it in such a tonally bizarre way.
The oneshot comes from the Team of Rob Williams and Jim Lee, who will work on Suicide Squad after Rebirth but there's also work here from Sean Galloway, who does a strange bit in the middle that adds to the tonal discord. The plot kicks off with a despondent Harley recognizing that she's become bored with her life as a villain, only kicking into gear when she's given an offer to join a super villain support group.
The sequence that follows feels ripped from any given Deadpool comic and loses what makes Harley unique before falling into a sitcommy, cartoonish, supposedly funny sequence of the doctor attempting to treat other supervillains. It's whiplash inducing and while the plot makes an attempt to rationalize these decisions, it's more dissonant than memorable. The ending, a bleak, cold gut punch setting up the new status quo of the Squad going into Rebirth is intriguing but doesn't make this issue come together in any way.
It's interesting to get a peek at DC's plans for a team that's about to get more media attention that it ever has had but Harley Quinn and the Suicide Squad April Fool's Day Special #1 isn't a compelling presentation. It's a book that would have been better if it had focused on being a charming, funny one-shot, or a preview of things to come, but it tries to split the two in a way that weakens everything it presents. The ending sets an interesting idea for Amanda Waller's team but it's far from worth paying the $4.99 cover price for those last 8 pages.
Lobster Johnson: The Forgotten Man #1
Author: Mike Mignola and John Arcudi
Artist: Peter Snjbjerg
Publisher: Dark Horse Comics
★★★★☆
One of the biggest strengths of the Hellboy universe has been the wide variety of genres and types of stories that can take place within it. While the main book mostly embraces biblical and fable based horror, the other series can tell war stories, high fantasy, fables and noir.
Lobster Johnson generally works as an anchor for many of these stories, operating both as a pulpy gangster in his own books as well as a supernatural creature with unknown motives and origins in Hellboy and BPRD. In this week's Lobster Johnson: The Forgotten Man, we get a classic noir story with the sort of grizzled pulp style that writers Mike Mignola and John Arcudi often establish so well.
Here, Lobster is called in to investigate homeless men who have gone missing in a Hooverville in a story that uses horror imagery beautiful drawn by Peter Snejbjerg and noir conventions to tell both an intense, horrific experience that also pays reference to the Lobster's past adventures all while telling the sort of gritty, terrifying pulp Arcudi excels at. It's maybe not the best Lobster story for new readers but it's a fresh, exciting bit of gritty pulp.



Jackson Adams is a staff writer at Nerdophiles. He really needs to catch up on B.P.R.D. Hell on Earth. Follow him on Twitter @JacksonInACup.