Steelheart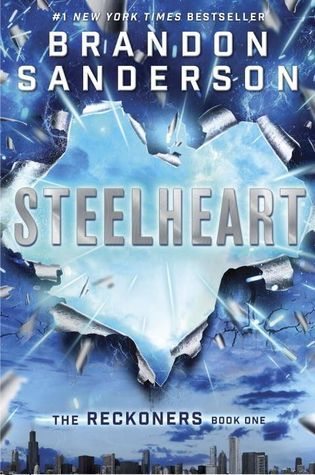 Author: Brandon Sanderson
Series: Reckoners #1
Release Date: September 24, 2013
Publisher: Random House Children's Books
Genre(s): Science Fiction, Young Adult
Rating: ★★★★☆
Review Spoilers:  Mild
GoodReads | Amazon
I am a sucker for anything superhero related and I had been wanting to read Steelheart for a really, really long time. While I really do love superheroes, I was looking for something new and Steelheart promised something unique. I had heard tons of great things about Brandon Sanderson, so I had really high expectations of this book even before I decided to read it.
When we had the opportunity to do a giveaway for the release of the sequel, Firefight, I jumped at the chance to get my hands on Steelheart and do a read through. I am so happy to say that I wasn't disappointed in the least bit.
Steelheart is everything I hoped it would be and more.
The book takes everything we usually think of when it comes to superheroes and basically turns it around. Most of our heroes come into their powers and – with some exceptions – use their powers for good. But in Steelheart developing superpowers turns sinister as the people that should be heroes become tyrants. Sanderson runs with the idea that absolute power corrupts absolutely and the 'Epics,' as they are called, are definitely corrupted.
The series follows a young man named David Charleston who  lives in a post-apocalyptic Chicago ruled by one of these tyrants with superpowers – the titular Epic, Steelheart. David was there the day that Steelheart finally snapped and took over the city. He is the only person to see the supposedly indestructible Epic hurt and he is determined to kill him to avenge his father's brutal murder. After spending his life studying Epics, he gets the chance to join in with the Reckoners – the only people willing to fight back against the Epics. Okay, so, it's more like he forces himself on them at first. Together they might just have what it takes to take the fight to Steelheart.
It's just such a great set up for a story and Sanderson does so much with it.
From David and the other characters to the world they lived in, there wasn't a single thing that I didn't like about this book. Brandon Sanderson has given us a masterpiece of fiction that is fast-paced and full of great plot twists without ever sacrificing character development or world building. This is a man who constructed a world of steel and laced it with vibrant descriptions while also throwing in little minute things, such as a religion that uses the Superman logo as their emblem and believes that someday heroes will come if only humanity can prove itself worthy.
I mean, c'mon! That's just so freakin' perfect.
Though marketed primarily as a young adult novel, Steelheart is definitely a book that caters not only to teens but to adults as well. It's one of those books that's at a sort of awkward place when it comes to sectioning it out into one category or another – much like Pierce Brown's Red Rising, another modern science fiction masterpiece. Honestly, it transcends age – it's just a generally fantastic science fiction book.
My favorite part really is that it takes all of our superhero pop culture and takes a completely different angle on it. Supeheroes as bad guys. I love it. I just absolutely love it. Rather, I love the way Brandon Sanderson does it.
Don't just read it if you get a chance – make it a priority!
A REVIEW COPY OF STEELHEART BY BRANDON SANDERSON WAS PROVIDED BY THE PUBLISHER AND BIG HONCHO MEDIA FOR THE PURPOSE OF THIS REVIEW. NERDOPHILES WAS NOT COMPENSATED FOR THE REVIEW AND THE OPINIONS HERE ARE OURS AND OURS ALONE.