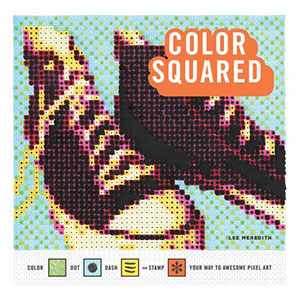 Title: Color Squared
Author: Meredith Lee
Release Date: June 27, 2017
Publisher: Clarkson Potter (Crown)
Review Spoilers: N/A

Just when you start to think that the adult coloring boom is beginning to stagnate, someone like Meredith Lee comes along with a brand-new book that completely changes the game.
Color Squared
is an intriguing new book that puts your skills to the test while envoking childhood memories of color-by-number pages.
Except these images aren't nearly that easy to complete!
If you're getting a little bored of just coloring in complex mandalas or working through the latest licensed coloring book then you might want to check out Color Squared. Just know that you're in for a challenge! The pixelated retro images look cool when they're finished, but you're going to have to work for them.
The first ten pages of Color Squared are actually full of instructions to help intrepid artists make the best possible use of the book. There are numerous different techniques you can employ to complete each image – and Meredith Lee walks you through each of them while also providing examples.
You have a lot of freedom as far as colors and technique go. You can color in the numbered boxes by filling in the boxes completely with color, using a series of dots and circles, or drawing in hashtags, asterisks, and more. Plus the numbers in this adult 'color-by-number' book don't correspond to any pre-determined colors. They're entirely up to you. Though, the author does recommend a few 'color palettes' in the instruction portion of the book to help you out.
In the end, the goal is to have an awesome pixelated image. The images are meant to reflect nostalgic throwbacks to bygone eras. Among the more vintage-themed images are troll dolls, cassette tapes, a Ouija board, and more. Other images can be less thematic. And, trust me, unless you check the key on the back of the page you're not going to know what the heck you're coloring until you're a good ways into it.
I genuinely think that the idea behind Color Squared is super cool. We've seen a lot of other 'activity book' activities being adapted for adults. Coloring pages have been all the rage and we've seen dot-to-dot books making the rounds, too. So it comes as no surprise that color-by-numbers is getting the adult treatment.
My only real problem with the book is that it is complicated. That's not necessarily a bad thing, of course. There are tons of people out there who are going to like this book because it's complicated. They're going to like the freedom it affords them and the challenges that come with the numbered, ambiguous images. I am just not the most patient person in the world. When I'm coloring I'm doing it to have fun and I really didn't have much fun with this book. After a while it started to feel a bit tedious. And I never felt like I was doing it right.
But that's my personal experience. I still think the book is cool — it's just not something I particularly enjoyed.
Colored Squared is an innovative, challenging adult coloring/'color-by-number' book that's perfect for people looking for something new. It's a lot more complicated than your basic coloring book and the techniques are certainly unique – and potentially frustrating.
In the end, those with the patience and determination to see the images in this book through to the end (and the willingness to experiment with all the different techniques) should find a rewarding experience. But patience is definitely a requirement!


A REVIEW COPY OF THIS BOOK WAS PROVIDED VIA BLOGGING FOR BOOKS.