The review below is a spoiler-filled review for both the Bridgerton show and The Duke and I book by Julia Quinn, proceed with caution!
There is a handful of us here on the Nerdophiles staff who love romance novels, especially those historical ones set in the regency era. So, when Netflix announced that they would be making the Julia Quinn Bridgerton series into a show, I rejoiced. Not simply because the Bridgerton series is one of the most popular series in the sub-genre, but because this might open the door for further adaptations down the line!
With eight children in the Bridgerton family, the series is poised to have a rather long lifespan. Created by Shondaland's Chris Van Dusen, Bridgerton's first eight-episode season centers around Quinn's first book, The Duke and I, but obviously also pulls material from the eight-book series given that the characters are all so intertwined. It follows the story of Daphne Bridgerton (Phoebe Dynevor), the eldest daughter of Lady Violet Bridgerton, and her romance and eventual marriage to Simon Basset (Regé-Jean Page), Duke of Hastings.
For the inexperienced, being a Duke with a Capital D means a lot in proper society. The Ton, London high society, is obsessed with marrying off their newly debuted daughters to the high ranking members of society. Of course, historically, this might mean to men who are double their age and just deciding that they might need to further the family line. Thankfully, we're dealing in the realm of fantasy and do not have to suffer this.
Bridgerton not only tells a love story, but also is a story that deals with topics like sexism, privilege, and racism, though admittedly the former is dealt with much more fervor than the latter two. The topic of a woman's agency and her right to find someone that she is compatible and in love with is a much heavier and controversial topic in the show. Anthony (Jonathan Bailey), Daphne's eldest brother, spends the majority of the first part of the season's arc trying to push her into a marriage with a man she doesn't love.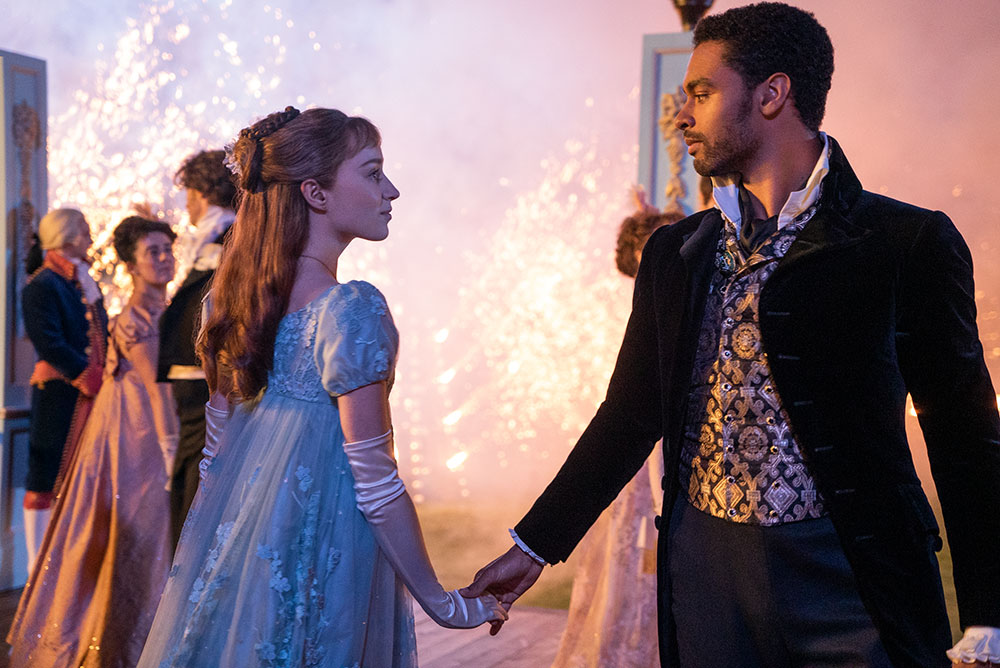 Three Seasons In, and Still No Husband
This is actually quite a frustrating storyline for the brooding Anthony since his affection for his sister is actually one of his book counterpart's more redeeming traits. Yes, he does challenge Simon to a duel over her honor, but he never tries to force Daphne to marry anyone she doesn't want to. He even knows about Daphne and Simon's ruse to society, though he doesn't support it. In The Duke and I, Daphne's social situation is actually in more dire straits. She is no Diamond of the First Water who has been foiled by an overprotective brother, she is on her third season in the marriage market. After two seasons, she has not found a single man who will get on one knee. Instead, she's been permanently friend-zoned, for lack of a better term.
"Everyone liked her. Everyone thought she was funny and kind and a quick wit, and no one thought her the least bit unattractive, but at the same time, no one was dazzled by her beauty, stunned into speechlessness by her presence, or moved to write poetry in her honor," thinks Daphne in The Duke and I. To the Ton, there is nothing enigmatic or enticing about Daphne Bridgerton. One of the men even tells her, "You're just not like regular females. You're positively normal." As if that was a bad thing. No one is there to fend of the suitors, because Daphne doesn't really have any. That is the impetus that leads her to propose a fake connection to Simon. She will garner the eyes of more men if she is being pursued by a Duke, of all people.
And, the few men who have proposed, Daphne has rejected. This surprises Simon as Anthony tells him about Daphne's previous offers and Simon remarks that not many brothers would allow their sister so much freedom of choice. "Anthony just shrugged again, as if he couldn't imagine treating his sister in any other way. 'She's been a good sister to me. It's the least I can do.'" It's quite frustrating to see such a forward-thinking character be written as this macho man who is willing to force his sister into marrying Nigel Berbrooke (who is even more ghastly in the show).
While The Duke and I is plenty dramatic on its own, Bridgerton seriously amps up the dramatics. Daphne bumps into Simon long before their book counterparts meet for the first time when Nigel is professing his love for her out in the gardens. Book Simon is far less curt and superior to Daphne than his show counterpart when they first meet. He's just watched her knock out Nigel Berbrooke and after chatting with her, realizes that she's actually the younger sister of his best friend. Similarly, Book Daphne is not as enraptured by Simon. She's laughing easily and joking with him, which is characteristic of the easy-going Daphne that all men like-but-not-love. Even Simon realizes that she could be the kind of woman he could call a friend.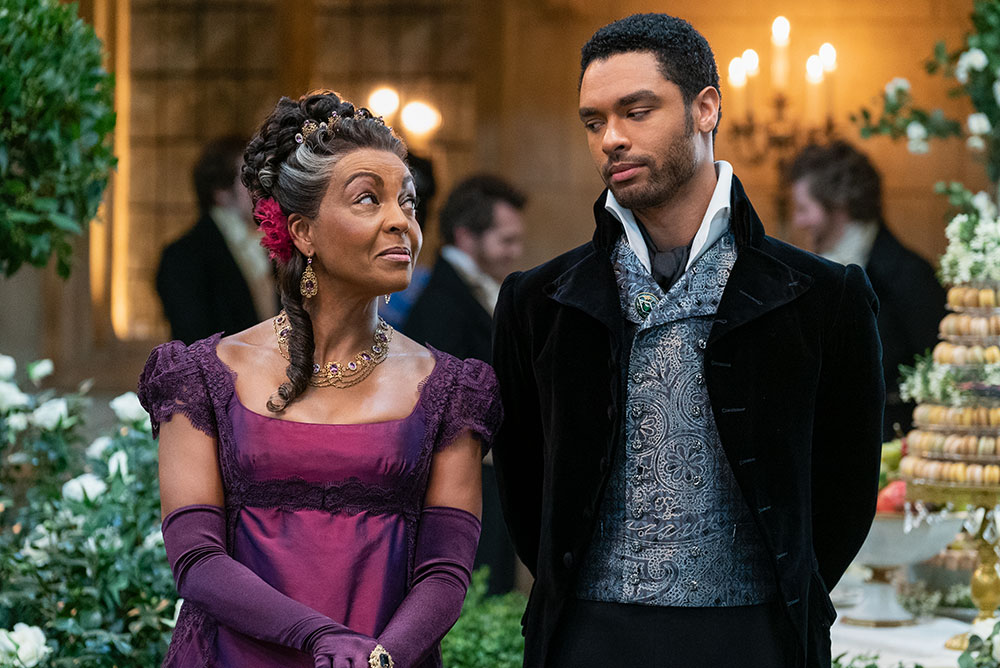 Drama for Drama's Sake
Bridgerton seems to skip over the more light and friendly aspects of their courtship, advocating for the introduction of a slightly ridiculous Prince of Prussia (Freddie Stroma) romantic rival for Simon. It's a glaring change that doesn't really play out in the best way. The idea that a member of royalty would be marrying the daughter of a viscount seems outlandish unless it's a love match. On top of that, the idea that the Queen would encourage this?
Diamond or not, I was more often left wondering why Queen Charlotte (Golda Rosheuvel) would think that Daphne was the best choice when there are undoubtedly other daughters of dukes and higher-ranking women in England that would make far more sense when it comes to a political match. In fact, the very inclusion of Queen Charlotte as a main character is seriously confusing. The notion that a Queen would concern herself so deeply with the gossip of the Ton, much less with Whistledown, often felt to be the most unrealistic aspect of the show.
It's clear that while Bridgerton is drawing heavily from the source material, the path that Van Dusen takes is one of drama. This shouldn't be a surprise to anyone who has watched anything come from Shondaland, but it can be particularly jarring. The introduction of characters like Marina Thompson (Ruby Barker), as a Featherington cousin instead of a Bridgerton one, and as a character with such a central storyline was particularly surprising. I won't spoil To Sir Phillip, With Love, but I will only say, I hope that this isn't the future Marina's life, because it would be awful for a character that has suffered so much.
Additionally, reviving the Featherington patriarch (Ben Miller) as a gambler who ruins the Featherington family leaves me curious for the fate of the Featherington women, especially since he is promptly killed at the end of the season. Given that Penelope (Nicola Coughlan) actually makes quite a large amount of money from her Whistledown column, why has she not swooped in to help her family? I'm hoping it's simply because she's 17 and doesn't know better, but honestly, I don't expect an explanation.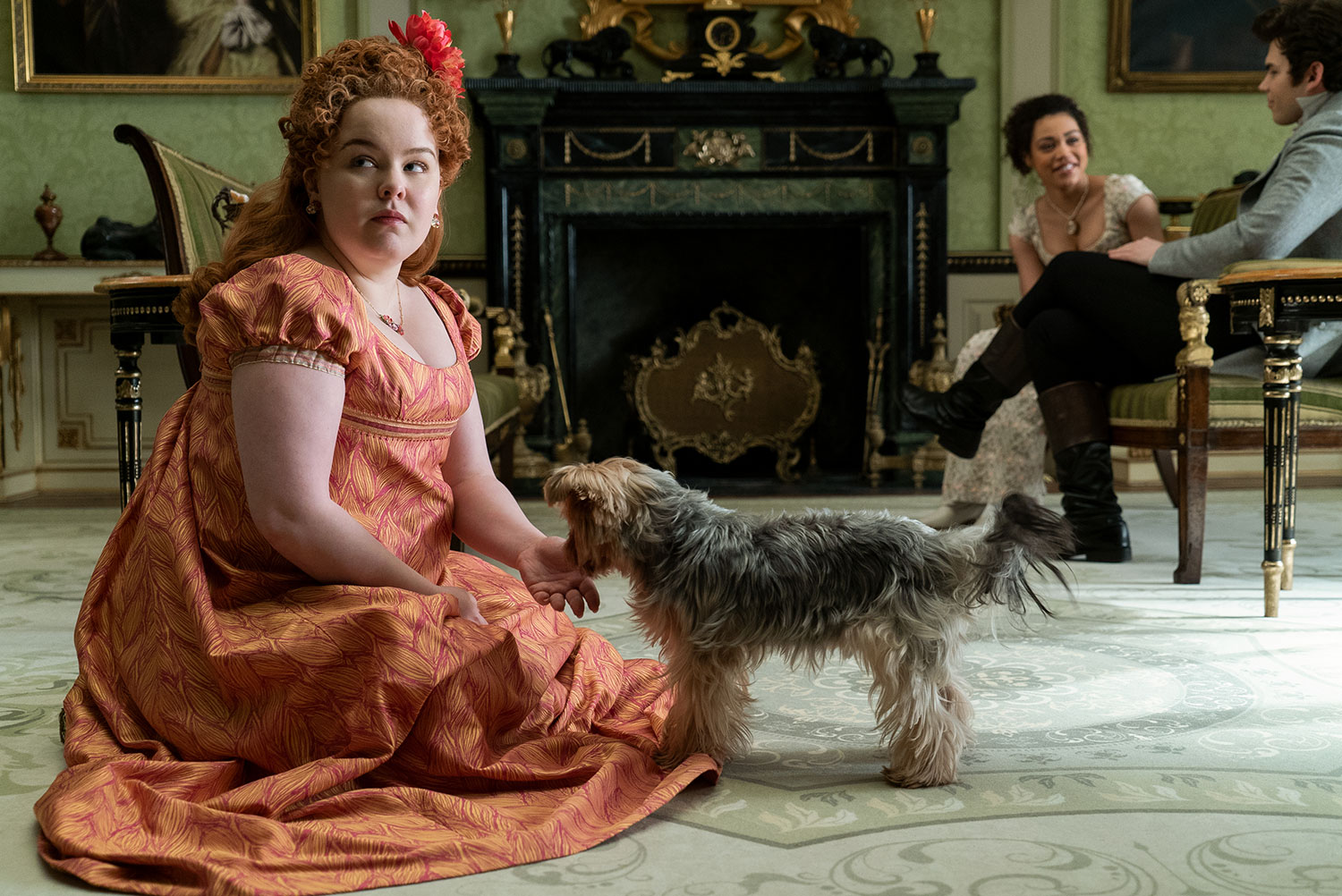 Controversy Over Changes
This is the main takeaway I have after the first season of Bridgerton. I won't expect an explanation because this feels very much in the style of standard Shondaland fair. A twisted and winding road that will ultimately lead me to exactly where I expected, even if it made some questionable choices along the way (looking at you, Penelope and Anthony). But, I also don't need an explanation. Am I disappointed by the way some of the characters have been written? Definitely. But when is a book reader not just a little dissatisfied? It seems clear to me that these characters will have some sort of redemption in the future.
Comparatively, The Duke and I is far from the favorite of Quinn's series. Along with the fact that statistically the first book in romance series always seem to have a lower GoodReads score than their successors, the book has been controversial over the years. If you've read the book or seen the show, you know why. After practicing the oh-so-reliable pull-out method of contraception to his none-the-wiser wife, Daphne realizes that Simon has been lying to her. In retaliation, she ends up forcing him to ejaculate within her.
It's a gross scene no matter how you flip it. Was Simon in the wrong for not clearly laying out the facts to Daphne? Yes, it was very clear to Simon that he could pull the wool over her eyes since she had no idea about the specifics of conception. But does that mean he deserves to be taken advantage of and have his consent ignored? Absolutely not. There has been a lot of discussion on this topic in the media and it's been a constant source of discussion on Reddit, so I won't go deeper into this, but this scene alone marks this book as my least favorite in the series. And it should have been one that was dealt with differently.
Alongside narrative choices, Bridgerton has become the topic of much discourse over their casting choices as well. Whether it's color-conscious casting or alternative universe, everyone seems to have a position on the choice to cast a diverse cast of actors for the show. For my part, I say that they haven't done enough. Give us more POC characters, not less. No need to explain it. In fact, their explanation is a simple hand wave. Executive producers advocate for the real historical theory that Queen Charlotte was Black or of mixed-ancestry, but the explanation in the show for how Black characters have risen up the ranks might rely on your ability to stretch the imagination.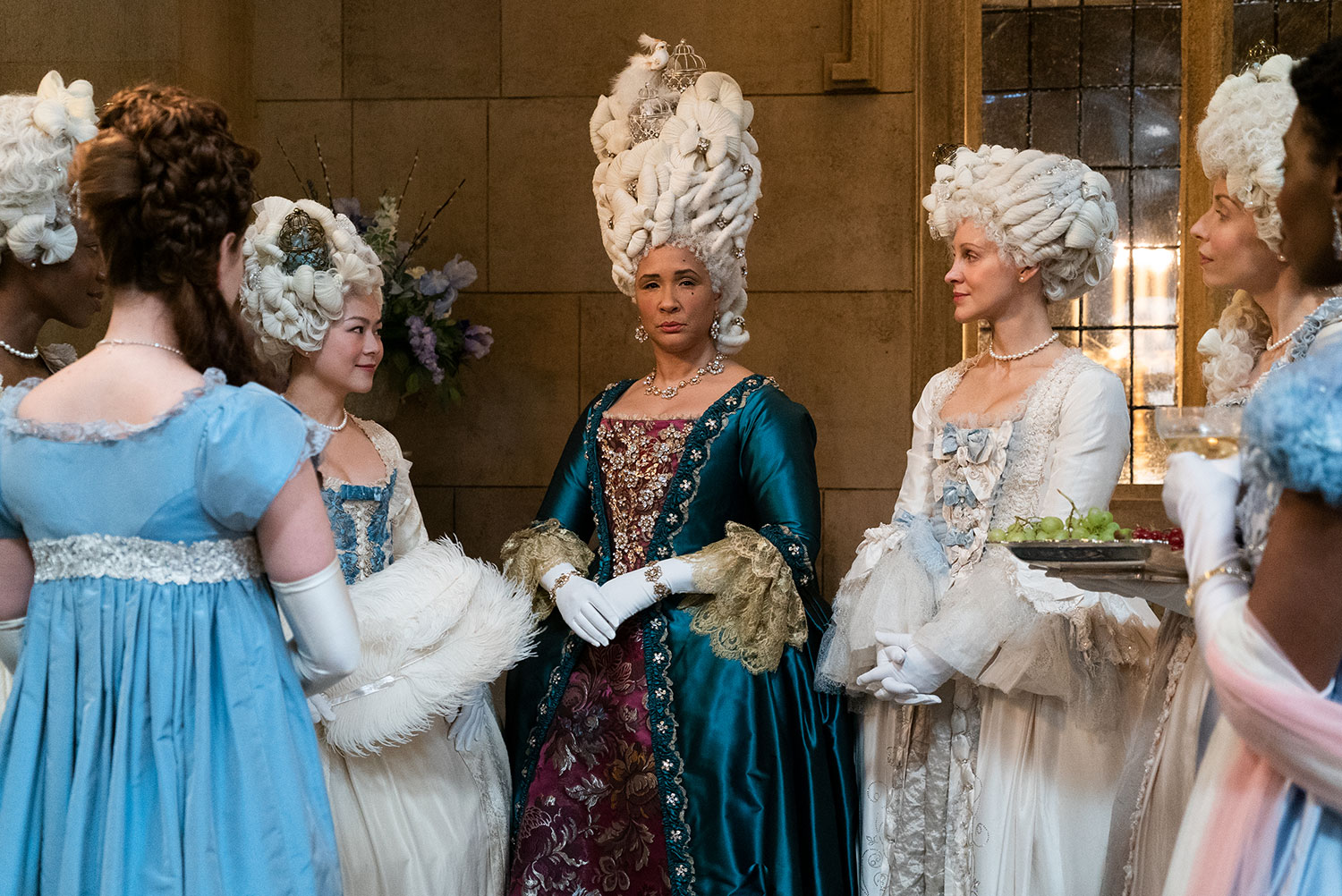 The idea that the marriage of an interracial couple can erase racism is a fanciful one, after all, we are talking about England, a country so bent on the expansion of their empire that the effects of their actions are still felt strongly today. But, in the world of Bridgerton, this is actually in theme with the story. Love conquers all here. It conquers daddy issues, it conquers social scandal, and yes, it even conquers racism. Despite my initial struggle to accept the explanation (especially at a time when Meghan Markle has suffered racism simply for marrying Harry), I'm happily embracing it.
It's on-theme for a romance novel, it's on-brand for a contemporary romance. I'm embracing it because it means we get castings like Regé-Jean Page as Simon Basset or Adjoa Andoh as the fan-favorite Lady Danbury. I'm embracing it because it means that in Season 2, we get a POC Kate, and more POC characters who don't have to suffer any scrutiny for their race.
Bridgerton offers a refreshing look at period dramas. It's sexy, it's youthful, it's bright and totally intoxicating. If this series puts romance novels into the forefront and allows appreciation for a genre that is populated predominantly by female authors, then I can't wait to see more. Give us a Season 2 already, Netflix!