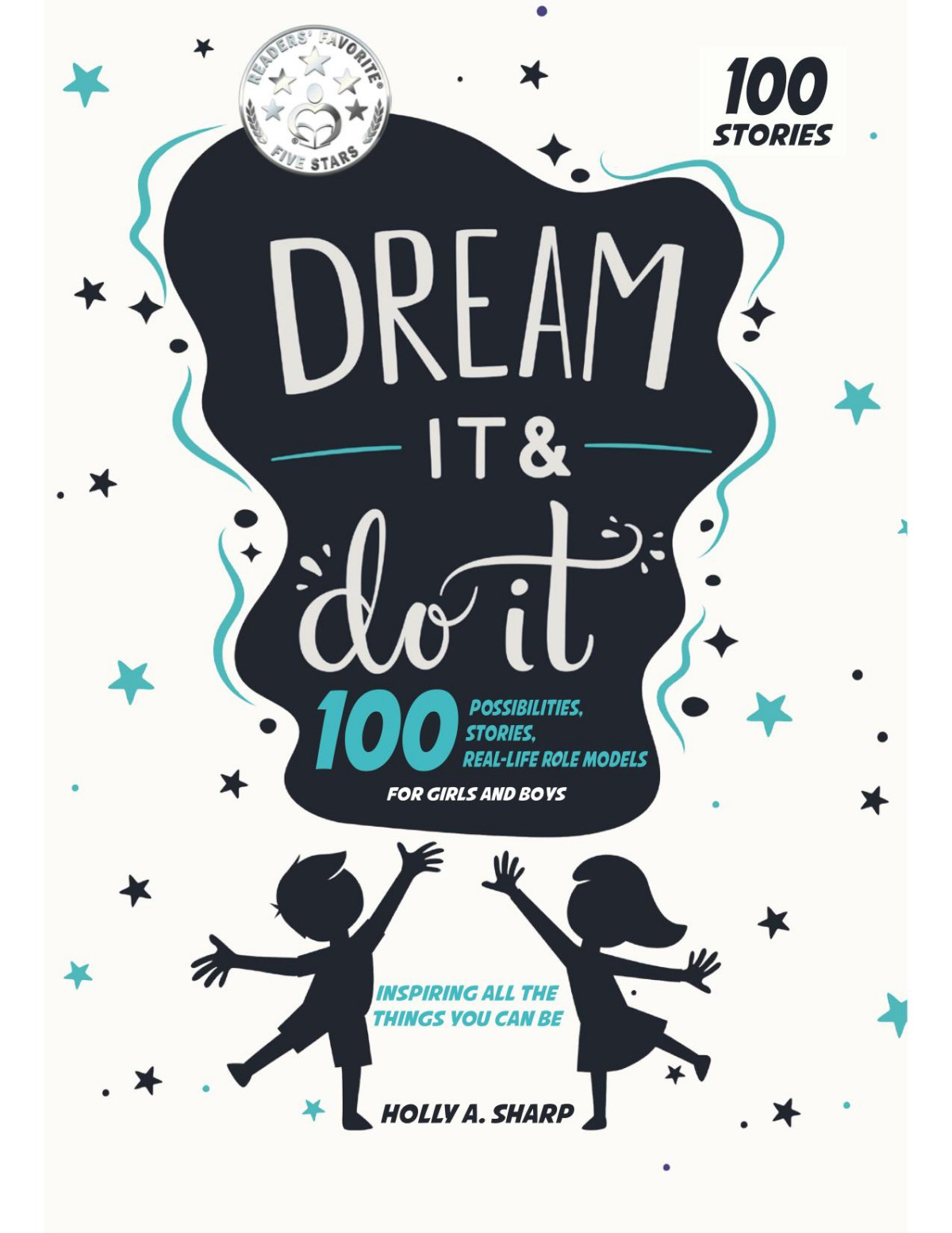 Title: DREAM IT & DO IT
Author: Holly A. Sharp
Pub. Date: November 12, 2020
Publisher: Holly A. Sharp
Formats: Hardcover, eBook
Pages: 216
Find it: Goodreads, Amazon, Kindle, Holly's Store
Read for FREE on Kindle Unlimited!
Looking to inspire kids who are stuck at home either for the holidays or due to COVID restrictions? Introduce them to a number of notable folks they may never have heard of in Holly A. Sharp's Dream It & Do It. Some names will be familiar to most while others may not ring a bell. There's all kinds of people, career paths, and other opportunities highlighted to inspire kids in ways they may not have been before!
From trailblazers to inventors, politicians to creators and all kinds of folks in between, Dream It & Do It book features 100 different figures who have somehow followed their dreams and changed their world.
About the Book
Welcome to the world of real possibility! Our best-selling children's book is packed with adventure, inspiration, and interests that will get your 4th and 5th grade child ready to take on the world. Written for both boys and girls, our bedtime stories style role-model book will introduce your kids to the gamechangers in the world that they want to emulate as they get older.
This must-have real-life adventure book will introduce your child to over 100 different career possibilities and interests through 100 real-life role-models. Each story will showcase different careers, professions, struggles, and challenges, covering business, art, math, science, and technology. These real stories about real people and the adversity they faced (racism, sexism, homophobia) will show your child that they can persevere no matter what they believe.
As a hands-on and immersive kind of bedtime book that will motivate your child to be a trailblazer, we've included an activity with each story that will help spark your child's innate interests. All you need to do is sit back, read the stories out loud with your kids, and watch their eyes light up in wonder and awe.
Giveaway
a Rafflecopter giveaway
1 winner will win a signed copy of the DREAM IT & DO IT, US Only.
Praise for the Book
"Dream It & Do It by Holly Sharp is a perfect book for young kids who want to find their place in this world and what they would like to be when they are older"- Readers Favorite 5 Star Review
"I am thrilled to share my story about the power of science. The journey to discovery itself is so interesting, but then to witness how it can improve people's lives is a thrill beyond description. "Holly Sharp has done such a beautiful service to society in inspiring children to work hard and follow their passions."- Jean Bennett (geneticist helping reverse blindness)
"Your work is very very important for kids. There is no wonder that you received a pre-launch 5 star review from "Readers' Favorite"– Majd Mashharawi (Founder of Materials Engineering Startup)
"This helps children to create their own serendipity"–Gianna Gaudinin (Google event planner)
"Reading is for everyone and can help you achieve your own dream it and do it dreams–whatever they might be!"- Dawn Wacek librarian featured on Ted Talk®
"I believe that young girls need to see role models in all professions, and young boys need to see women in these roles as well. While growing up, I wish I had the advice and vision this book offers to young people"- Rochelle Jones (one of FDNY's first female firefighters)
About the Author
Sharp spent the bulk of her career in new product development—dreaming up intuitive ideas from how to kill bugs to new ice cream forms to hit grocery shelves. A self-proclaimed problem-solver, she loves to think about the things that the world needs and figuring out how to make those things come to life. "Knowing in high school what I wanted to do with my life set me up for the right path. I wanted the same for my child and searched for books to guide her, but came up short," Sharp said. "That's when I thought, 'why not write the book for my child that she needs and that will also help others?"
Website | Facebook | Instagram | Goodreads | Amazon
Tour Schedule
Week One:
Week Two: