Historical films and TV shows are great for strong heroines, and The Rising Hawk is adding another one to the history books. Poppy Drayton stars as Myroslava, who has a classic arc in the movie – the daughter of the powerful Tuhar Vovk, she finds a budding romance and the potential to save an entire people from invading Mongols.
With the film now available, Nerdophiles connected with Poppy to talk about Myroslava's strengths, how she and Alex MacNicoll crafted the love story between Myroslava and Maksym, and her other most memorable roles. Get to know her better in this interview – she's someone you'll want to keep an eye on in the future.
The Rising Hawk is available on streaming and VOD platforms now, including Amazon Video. For more about the movie, also see our interview with Oliver Trevena.
Nerdophiles: What was it about The Rising Hawk or the character of Myroslava that you connected with and thought you could or wanted to bring to life?
Poppy Drayton: Immediately I really connected with Myroslava. She's such an interesting character and really, really strong and really spicy and really wants to blaze her own path and follow her heart, and I just thought her storyline was beautiful. Then I met up with [director] John [Wynn] and we spoke over the script; he was so lovely and so enthusiastic and so passionate and so excited about this world that we were going to create…The opportunity was very flattering, really.
NP: The movie weaves in this emotional storyline where Myroslava falls in love with Maksym. If the audience doesn't care about their romance, then they don't connect as strongly with the whole film. So how did you and Alex form that dynamic?
PD: It was really easy. He's such a great, outgoing, funny, just relaxed and easy to get along with. As soon as we met we just really got on, and I think that really helped. It made everything really easy. We didn't have to act that we really liked each other and we really enjoy each other's company, because we did. It all just kind of flowed. It's hard to describe, but it all just felt very playful and very relaxed and very genuinely enjoyable, just really lovely. He's a great friend and I was lucky to have shared the screen with him. He's fantastic.
NP: Which brings us to a common flaw in any action movie; sometimes once the action starts, the characters go by the wayside in favor of the battles and twists. How did you hold onto this character and keep developing her even in the heat of this massive war The Rising Hawk is depicting?
PD: I'm lucky enough to be fighting and acting throughout, but I think by the time we really get into the meat and potatoes, we've already had loads of scenes prior to that where we can really give you a sense of who these individuals are. Hopefully by that time the audience connects with them and really starts to care about them.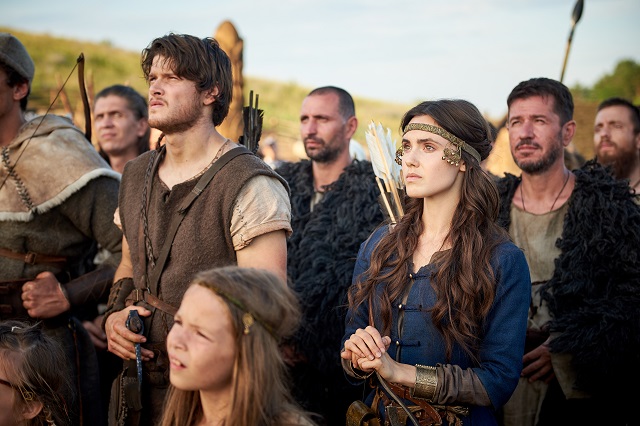 NP: What was your favorite part about this movie? Whether it's something we see on camera or just part of the filming experience?
PD: I really relish the fact that we got to train up before we started shooting. I got to have my bow and arrow. Two weeks before we started, I was wandering around my apartment here pretending to shoot an arrow all around my apartment and I'm sure my neighbors thought I was crazy. They just sort of see this girl with this random bow and arrow shooting in her apartment. (laughs)
We also had horse riding all the time; we had some training with my incredible friend Steve. We really got into the fighting early on, and then when we were able to use all those skills that we learned, that was just so exciting. You've been building up every day for two, three weeks, and then you have to actually go have a bash with it and it was just such good fun. It's so much fun to shoot. I love all the fighting scenes.
I love the festivities for the scene where everyone's dancing and it's very late at night and there's candles everywhere. A lot of the cast were involved in that scene and it was really lovely to have this real family here. We just felt like a real tribe. We were having this lovely evening, so that was a real joy to shoot.
I feel like the whole thing was genuinely just so much fun. We got to run around shooting arrows and have a bit of a sword fight. Incredible actors – we were so lucky to have the cast that we had in it because everyone was phenomenal. It was just a real joy. It was a really, really lovely job.
NP: You've been in a number of cult hit projects, whether it's The Shannara Chronicles or Midsomer Murders. What are the ones that people always tend to ask you about?
PD: It's tricky, but I think Shannara's quite a biggie. People love to talk about Shannara. A lot of people think it's really nice and the next biggest, Downton Abbey would be the only other one that people kind of really resonate with. It's always lovely to hear that people have responded to something you've been a part of, because that's the whole point really. We just want to make things that people can feel something and connect with.
The Rising Hawk is now available on streaming and video-on-demand platforms such as Amazon Video.