Sword and Verse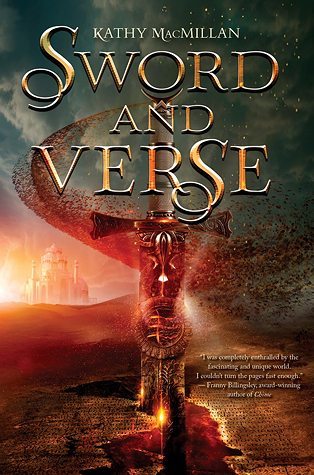 Author: Kathy MacMillan
Release Date:  January 19, 2016
Publisher: HarperTeen
Formats: Hardcover, eBook, Audiobook
Genre(s): Young Adult, Fantasy, High Fantasy
Rating: ★★★★☆
Review Spoilers: Low
Goodreads | Amazon | Barnes & Noble | iBooks
So far 2016 is kicking off right when it comes to young adult fiction. We're starting out strong with some really engaging reads. Among those is Kathy MacMillan's young adult debut novel Sword and Verse which we've been fortunate enough to get our hands on already. Fantasy can be a hard genre to tackle – and high fantasy even more so.
But we're pretty excited about this one!
Kathy MacMillan's debut novel is a really fun, well put together read – particularly for fans of the genre. It's an enjoyable journey into a brand new world facing very big changes. But we're getting ahead of ourselves! Read over the synopsis, check out our review, and then enter the Rockstar Book Tours giveaway for a chance to win  a copy of the book for yourself.
Synopsis
Raisa was just a child when she was sold to work as a slave in the kingdom of Qilara. Despite her young age, her father was teaching her to read and write, grooming her to take his place as a Learned One. In Qilara, the Arnathim, like Raisa, are the lowest class, and literacy is a capital offense. What's more, only the king, prince, tutor, and tutor-in-training are allowed to learn the very highest order language, the language of the gods. So when the tutor-in-training is executed for teaching slaves this sacred language, and Raisa is selected to replace her, Raisa knows any slipup on her part could mean death.

Keeping her secret is hard enough, but the romance that's been growing between her and Prince Mati isn't helping matters. Then Raisa is approached by the Resistance—an underground army of slave rebels—to help liberate Arnath slaves. She wants to free her people, but that would mean aiding a war against Mati. As Raisa struggles with what to do, she discovers a secret that the Qilarites have been hiding for centuries—one that, if uncovered, could bring the kingdom to its knees. 
Our Review
One of the things that truly makes or breaks a high fantasy novel is the world building. Authors have to not only create an entirely new world but also transport us there. They have to make the world feel real. Some books do this by explaining every minor detail they can imagine. Others do it more subtly. Kathy MacMillan's Swords and Verse embraces the latter approach.
We're dropped into Qilara and join Raisa – a young slave girl who has lived there for most of her life. The realities of Qilara, palace life, and the plight of Arnath slaves all quickly become accepted aspects of this world. Raisa's everyday becomes our every day with the occasional explanations given as needed. As her station in life changes we're introduced to more and more but it's all presented to us in a sort of matter-of-fact way. This is life in Qilara and this is how it's always been. We experience it through Raisa and she guides us through it.
MacMillan creates a very detailed mythology and history to go along with her new world. Qilara is a kingdom where writing is sacred. Only those of noble birth can learn to write in the first place and only those at the highest level of the heirarchy can learn the highest of written languages. It seems like an odd premise at first but once you start to truly understand the legends behind this it all becomes very clear. That is one of the greatest things about Sword and Verse. As young adult fans we're used to dystopian societies with random 'twists' that are supposed to make their specific societies standout among the crowd.
But the literacy angle in Sword and Verse isn't just a gimmick.
The prohibition of literacy is explained through the written, religious texts of Qilara throughout the book. While it's accepted as a given by the characters (except, of course, the rebels who try to rally against it), we're treated to the actual texts as a sort of prelude to each new chapter. This is easily one of my favorite things about the book because it adds another layer of depth to the world building. And while it seems like just a little, nice added touch it becomes so much more important towards the climax. Really, it's the little things like this that you come to appreciate the most.
Raisa, though, is probably my favorite part of this the book.
I really enjoyed Raisa as a character in general. I like when characters develop over time throughout a book. In young adult novels were so often introduced to characters who are already to an extent deviants in their society – whether they keep that fact hidden or not. Raisa is special. She does have a background that would paint her as a target among the Arnath slaves. But she also realizes that and plays it safe. She's not the first one to be looking for any chance to escape or rebel. She's a strong character who makes decisions for herself – even if they aren't what some people would like to see her do. When she does make certain decisions, there are consequences.
That's an important thing to note about the book. While it can get a bit heavy handed on the romance at times there are a lot of choices being made. The book is not just about these two characters but about the politics of Qilara in general. There's a lot more going on than ju
Really, my only complaint is that pacing at the beginning of the book is a bit off. Things seem to change a bit too rapidly. Raisa's relationship with Prince Mati comes on a little too fast. The book finds its' footing after maybe half a dozen chapters and from there the story settles in well. By the end everything comes together.
Sword and Verse is a very solid fantasy book. Kathy MacMillan really nails it with this one. Granted, I think it's probably more going to be more enjoyable to people who already enjoy the genre rather than newcomers to high fantasy. But that's not necessarily a bad thing. Sword and Verse is a book that embraces it's setting, story, and characters well. I highly recommend it for fantasy fans who like a heavy dose of romance mixed in. Especially those with a good appreciation not just for mythology but world building, too!
Giveaway
Unfortunately, the giveaway is limited to US residents only. On the plus side, there will be five winners so you've got that many more chances to be selected. Good luck!
Advance Praise
"I was completely enthralled by the fascinating and unique world that Kathy MacMillan has created. The depth and skill she demonstrates with her ability to build an original mythology based on words and the power of language are highly unusual for a first-time novelist and I couldn't turn the pages fast enough." – National Book Award finalist Franny Billingsley 
"A tense, romantic fantasy epic about prejudice, political struggle, and the power of words, SWORD AND VERSE kept me guessing at every turn. Kathy MacMillan is a writer to watch." — R.J. Anderson, Andre Norton Award-nominated author of Ultraviolet
"Fans of Megan Whalen Turner will enjoy MacMillan's debut novel…MacMillan explains the complicated political twists and turns clearly, and her characterizations are layered and believable." — Publishers Weekly
"Literacy becomes the key to liberation in a thoughtful debut fantasy." — Kirkus Reviews
"MacMillan's love of learning, knowledge, and literacy shapes both plot and character development, while raising ethical questions with no easy answers. Beneath what appears to be a romantic fantasy, discerning readers will find complex, broader issues among the predictable comforts of the genre." — Booklist 
"MacMillan has created a believable world, complete with its own mythology." — School Library Journal
About the Author
Kathy MacMillan is a writer, American Sign Language interpreter, consultant, librarian, signing storyteller, and avowed Hufflepuff. Her debut young adult novel, Sword and Verse, explores questions of power and prejudice in an epic fantasy setting, and has been called "fascinating and unique" by National Book Award finalist Franny Billingsley. Kathy is the founder of The Sweet Sixteens (www.thesweet16s.com) debut group of 2016 middle grade and young adult authors, and serves as the Published and Listed Member Coordinator for the Maryland/Delaware/West Virginia Region of the Society for Children's Book Writers and Illustrators. She is also the author of eight resource books for educators, librarians, and parents, including Little Hands and Big Hands: Children and Adults Signing Together (Huron Street Press, 2013). She lives near Baltimore, MD with her husband, son, and a cat named Pancake. Find her online at www.kathymacmillan.com or on Twitter at @kathys_quill.

A REVIEW COPY OF SWORD AND VERSE WAS PROVIDED BY THE PUBLISHER AND ROCKSTAR BOOK TOURS FOR THE PURPOSE OF THIS BOOK TOUR. NERDOPHILES WAS IN NO WAY COMPENSATED FOR THIS REVIEW. OUR OPINIONS ARE OURS AND OURS ALONE.