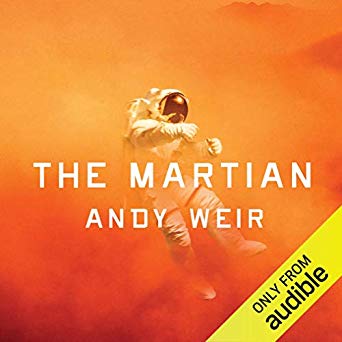 Title: The Martian
Author: Andy Weir
Narrator: Wil Wheaton
Release Date: January 1, 2020
Publisher: Audible Studios
Review Spoilers: Mild
GoodReads | Audible
According to GoodReads, the first time I read Andy Weir's The Martian was in the summer of 2015. Like so many other people I wanted to read it before the movie came out. I read it in about three hours and it quickly became one of my favorite science fiction books of all time. When I first reviewed The Martian I gave it a very enthusiastic five stars and I've recommended it to countless people since, including my thirteen-year-old son.
When Audible first released their new, exclusive version audiobook version of The Martian I was intrigued for two reasons. The first reason was, of course, that I absolutely wanted to hear Wil Wheaton as Mark Watney. The second was a little more practical. The same week that the Audible version came out I had been encouraging my son (who loves the movie) to read – or listen – to the original book.
It was perfect timing.
So, over the past couple of weeks, we have listened to the story more or less at the same time. He's ended every day since we got it listening to log entry after log entry and I've listened here and there where I could. For his part, The Martian made him fall in love with audiobooks. We immediately bought another of Wil Wheaton's narrations and I'm pretty sure he's commandeering the rest of my Audible credits for the year.
For my part, it was a great way to experience The Martian in a whole new way.
It is still crazy to think that it has been almost five years since I first read The Martian. But now, having listened to Wil Wheaton's narration, I'm sure his voice will give Matt Damon's voice a run for its money the next time I read through the book.
I really enjoyed Wheaton's take on Mark Watney. This book is absolutely perfect for the audiobook format because of the first person, log-styled chapters, which make it (with the obvious exception of the chapters focusing on the rest of the crew and Earth-bound characters) a one-man audio drama.
Wil Wheaton does a great job of bringing Mark Watney to life and capturing all the things that make the character great. He handles Mark Watney's humor, frustration, and determination well. As one of the great nerdy voices of our generation, he's well suited to tell a story like this one.
What's also really cool is that some of Andy Weir's related writings – which serve both as prequel and sequel material to the original story – are also included in this version of the audiobook. They're all short stories and a couple are, admittedly, very short. But at this point, after listening to them, I would love to get a whole book – if not more than one – about Mark Watney's adventures back on Earth.
All in all, I really enjoyed Audible's recent take on The Martian and I hope that the allure of Wil Wheaton as a narrator will encourage more readers – especially younger, nerdy readers – to give the book a look.
Of course, I'm pretty biased on this one because I'm going to love anything that gets my reluctant teenage reader interested in anything remotely literary. But the reality is that Wil Wheaton's narration gives new life to the story, especially for folks like me who may have only read it in print previously. It's just as fun of a book to hear read aloud as it is to read yourself. And it may be even more fun to listen to if I'm being honest.
Audible's new audiobook version of The Martian is definitely worth checking out whether you've read the book before or are looking to experience it for the first time!