Black Lightning: Season One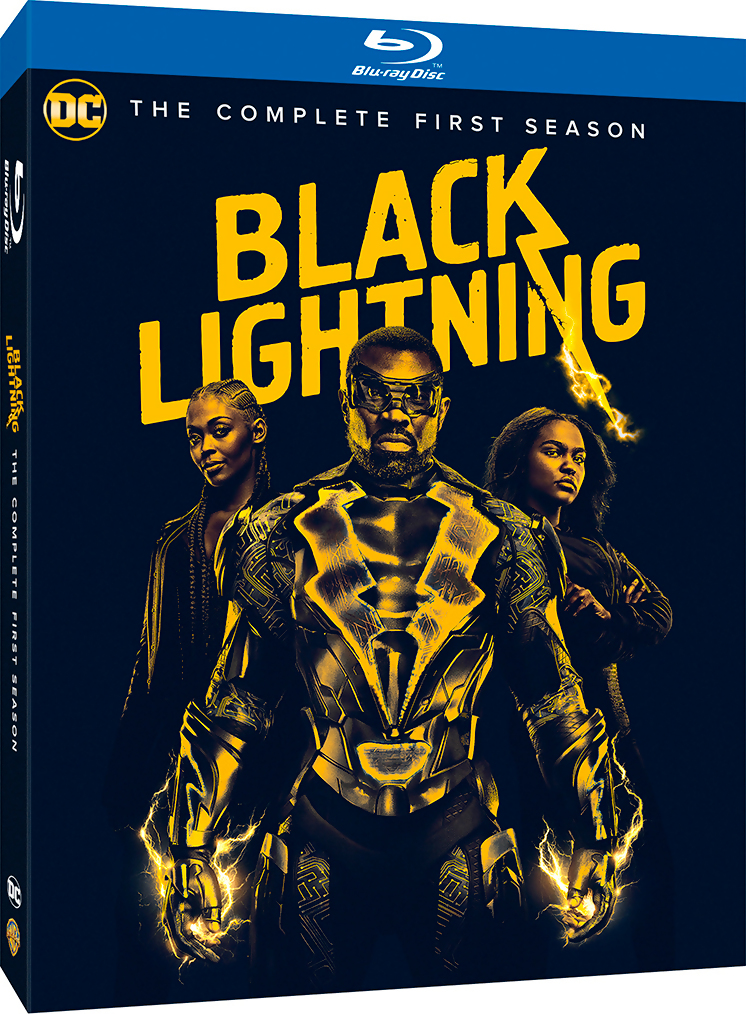 Release Date: June 26, 2018
Cast: Cress Williams, Nafessa Williams, China Anne McClain, Christine Adams, Billy Henderson, James Remar, Marvin Jones
Network: The CW
Extra Feature Rating: ★★★★☆
Rating: ★★★★☆
Review Spoilers: Low
Amazon | IMDB | Wikipedia | RTW
It's official folks: I have a new favorite CW superhero show. Black Lightning is a true triumph for the genre and it's renewed my faith in the genre. I'm not kidding. While other DCTV shows sometimes struggle, Black Lightning is a solid series that is full of heart and will undoubtedly continue to surpass it's contemporaries at every turn.
The premise behind Black Lightning is simple but captivating. A seemingly level-headed high school principal who once operated as a superhero in his native Freeland takes up the mantle of Black Lighting once again to confront the city's ever increasing gang violence. In the process he discovers things about his family, his children come into powers of their own, and he uncovers some devastating secrets that have plagued his city for generations.
But it's not just a superhero story.
It's a series that is equal parts family-driven drama and vigilante escapism. It's a series that offers the kind of commentary on race in America that is only known being acknowledged by genre television. The thirteen-episode season feels more like a somewhat toned down Netflix series than a DCTV genre show in The CW's superhero block. And that's a good thing. It's separation from the Arrowverse and freedom to be it's own show — and for it's showrunners to do their own thing — helps the first season stand out and becoming something more than just another cookie cutter superhero show.
Black Lightning puts an amazing cast in the hands of some fantastic showrunners who take the opportunity to tell a very well written, well developed story about a truly awesome family of superheroes. It's a series that's long overdue and Black Lightning is definitely the hero we needed!
Special Features
Before we get talking about the special features I want to give a shoutout to whoever decided that there should be a button to turn on subtitles on the main title page of these discs. As I've mentioned before, I am hearing impaired and so I use subtitles on everything. Sometimes it's hard to find where to turn them on depending on the menu options. But the folks that put this release together blew me away with that simple gesture. I was so stoked to see that and I would love to see that on other blu-rays as well!
That said, what do we get for special features on this release?
Art Imitating Life: The Pilot Episode is a great first special feature that really emphasizes the importance of this series. Black Lightning is not a show that has shied away from the harsher realities of being African American in this country and this particular featurette discusses how the Pierce family's experience in the pilot reflect those of the folks behind the show — and ultimately many who are watching it.
I absolutely love the second special feature on this release, A Family of Strength. It's such a great look at the various characters within the series. Black Lightning is an awesome family story and the showrunners do a great job of explaining highlighting each character's strengths and weaknesses as well as their importance to the story. I love how they talk not just about where the characters go in this season but their potential for the future. I love hearing showrunners talk about their characters and their storytelling choices and they really hit the mark here.
The rest of the special features that round out the the first season's blu-ray release are pretty standard for DCTV shows. There's a fun little gag reel as well as five deleted scenes than span across the season. They also included the SDCC 2017 panel which (as I've said time and time again) I love because it really lets fans experience something that so few ultimately any more considering the convention's overwhelming popularity.
All in all there aren't necessarily a whole lot of special features but they are definitely great!
Final Thoughts
Black Lightning is probably one of the best new genre series to come out this past season. I had really high hopes for it when it was announced and I'm so glad it turned out to be so great! We got the chance to talk to the cast of Black Lightning back at SDCC 2017 and now, a year later, we're gearing up to see what the cast has to stay this year about the upcoming second season. Now is the perfect time to catch up on the series — whether you're SDCC bound in a couple weeks or you're looking to start up on the second season when it's released this fall!
Black Lightning: Season One is available on blu-ray and digital HD!