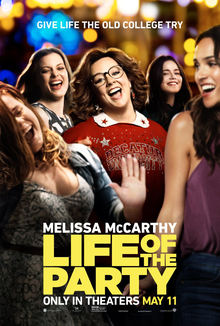 Release Date: May 11, 2018
Cast: Melissa McCarthy, Gillian Jacobs, Maya Rudolph, Julie Bowen, Matt Walsh, Molly Gordon, Stephen Root, Jacki Weaver, Heidi Gardner
Director: Ben Falcone
Studio: New Line Cinema, On the Day Productions
Distributor: Warner Bros. Pictures
IMDB | Rotten Tomatoes | Wikipedia
Spoilers: N/A

Following a sudden divorce from her husband, mom Deanna (played by Melissa McCarthy) decides to pursue her dreams and finish her college degree. The only problem? Her college-aged daughter is already attending the same school.
The rest of the movie follows Deanna as she makes friends and readjusts to college living after years of being a dutiful housewife and mother.
It's an enjoyable movie because of its enjoyable lead.
McCarthy is a master of physical comedy and comedic delivery – her performance as a wholesome mom who goes back to school to achieve her dreams is equal parts heart-wrenching and hilarious.
Deanna is earnest to a fault, and her biggest flaw is putting others' needs before her own. The only thing that didn't ring true about the movie was that a few of Deanna's lines focus on her being a 'bad mom' to her daughter while she's pursuing her own dreams.
Throughout the film, Deanna's character is nothing but giving and considerate of her daughter, even if she is a little socially oblivious at times. Sure, she parties, hooks up with a college guy, and gets back at her philandering ex-husband. She's a character who's reclaiming her sense of self after being self-sacrificing for most of her life. I resent this weird guilt trip that was kinda carelessly tossed in near the end of the movie.
Other than that, I didn't expect a lot from Life of the Party, so I was pleasantly surprised. The movie has a stellar supporting cast, with Gillian Jacobs and Heidi Gardner playing Deanna's new friend and roommate, respectively. I'm convinced that Heidi will be the next Kate McKinnon breakout star of SNL, and it's nice to see her in other projects.
Overall, the movie is pretty forgettable but very enjoyable. A large part of that is due to the standout performance of Melissa McCarthy, who lights up the screen with her humor, exuberance, and heart in every scene. It's the perfect movie for celebrating Mother's Day!