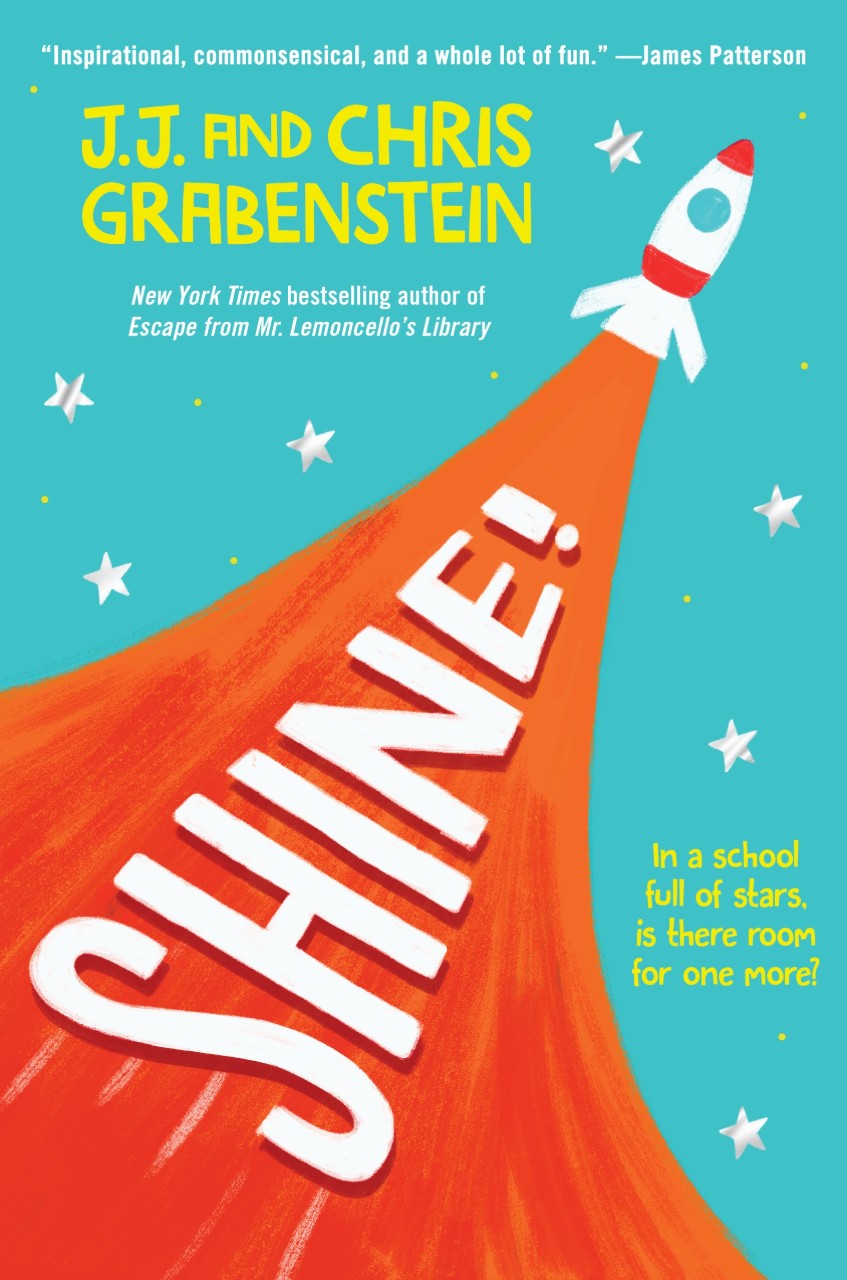 Title: Shine!
Author: J.J. Grabenstein & Chris Grabenstein
Pub. Date: November 5, 2019
Publisher: Random House Children's Books
Formats: Hardcover, eBook, audiobook
Pages: 210
Find it: Goodreads, Amazon, Kindle, Audible, B&N, iBooks, Kobo, TBD
By the time I finished reading JJ and Chris Grabenstein's new middle grade novel, Shine!, all I could think was: "Wow, what a great story." That really sums up how I feel about it. Shine! really is just a really great story. It's a quick, easy read that focuses on believing in oneself, never giving up, and just generally being a good person. It doesn't come off as too heavy handed and it doesn't preach. It's just a fun, relatable, and even believable story that middle grade readers will hopefully love.
Shine! leans on some familiar plot points as we see our heroine, Piper Milly, suddenly thrust into a brand-new, preppy, private school after her father gets an unexpected new job. While both of her parents were musically inclined, Milly is more traditionally nerdy and loves astronomy. But her new school is suddenly abuzz after a new, mysterious award which requires students to 'simply excel' – whatever that means.
The Excelsior Award is a chance for Piper to have her name on a fancy placard on the school's hall of fame the same as her mother who she lost at a young age. She and her friends find themselves trying to win one for the nerds while going up against her arch-nemesis, Ainsley, who seems to feel she's entitled to win. Throughout the school year Piper tries to excel while ultimately just modeling what it's like to be a good person, to make mistakes, to forgive others, to try your best, and more.
Win or lose, those are important lessons for kids to learn and they're shown in a very subtle way.
I'm not exaggerating when I say Shine! is a great story. I read it one sitting and I'd probably read it again. It's the kind of book I wish my son would pick up and that'll continue to encourage him to read. Piper Milly is a very cool character and a good literary role model. (Except maybe for name-calling Ainsley as Painsley but knowing a really awesome middle schooler named Ainsley probably makes be a bit defensive.)
For more information about the book and the authors and for a chance to win a copy of the book for yourself, read on!
About the Book
"Inspirational, commonsensical, and a whole lot of fun." –James Patterson

Everyone deserves to shine in this sparkling new book from the New York Times bestselling author of Escape from Mr. Lemoncello's Library , Chris Grabenstein, and coauthor J.J. Grabenstein–just right for fans of Word of Mouse and The Fourteenth Goldfish.

"Who do you want to be?" asks Mr. Van Deusen. "And not when you grow up. Right here, right now."

Shine on! might be the catchphrase of twelve-year-old Piper's hero–astronaut, astronomer, and television host Nellie Dumont Frisse–but Piper knows the truth: some people are born to shine, and she's just not one of them. That fact has never been clearer than now, since her dad's new job has landed them both at Chumley Prep, a posh private school where everyone seems to be the best at something and where Piper definitely doesn't fit in.

Bursting with humor, heart, science, possibilities, and big questions, Shine! is a story about finding your place in the universe–a story about figuring out who you are and who you want to be.
SHINE! First Chapter Read Aloud from Chris Grabenstein on Vimeo.
Giveaway
Want to check out the rest of the book? Enter the giveaway below for a chance to win your own copy of Shine!
a Rafflecopter giveaway
About the Authors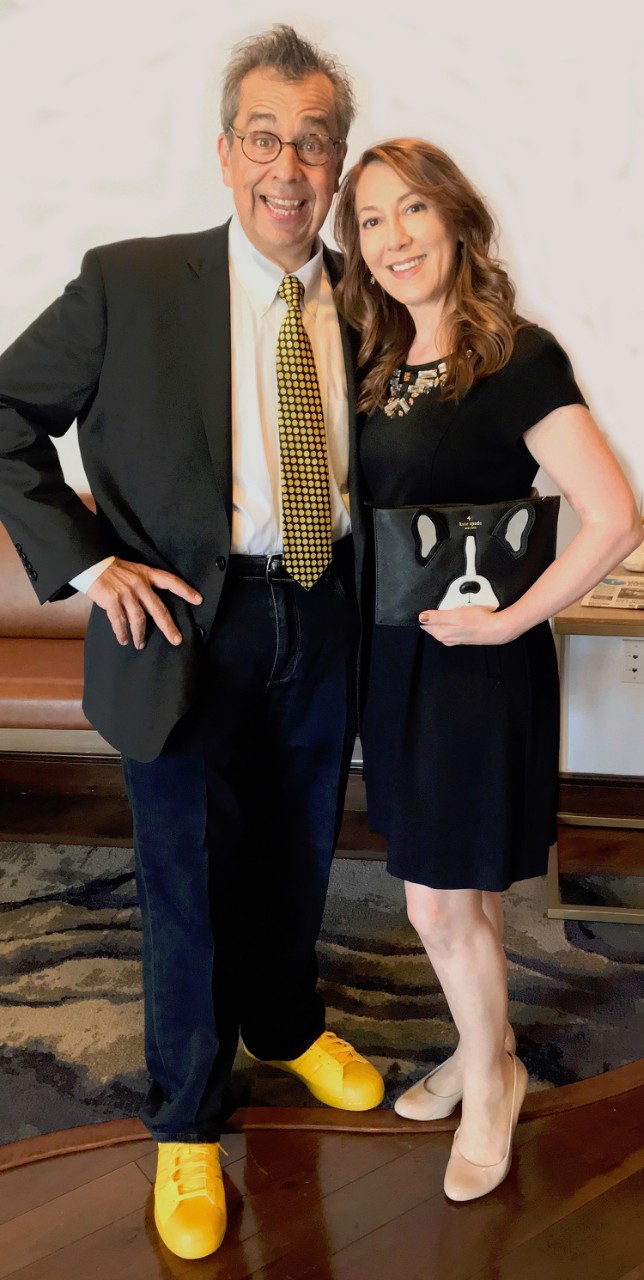 J.J. Grabenstein is the co-author, with her husband, ChrisGrabenstein, of SHINE! This is her first novel as a co-author but she has been the "first editor" on everything her husband has ever written, including the award-winning/bestselling ESCAPE FROM MR.LEMONCELLO'S LIBRARY series and more than fifty other works.
J.J. and Chris live in New York City with their cat Phoebe Squeak.
CHRIS GRABENSTEIN is the #1 New York Times bestselling author of ESCAPE FROM MR. LEMONCELLO'S LIBRARY, MR. LEMONCELLO'S LIBRARY OLYMPICS, THE ISLAND OF DR. LIBRIS, WELCOME TO WONDERLAND: HOME SWEET MOTEL and many other books, as well as the coauthor of numerous fun and funny page-turners with James Patterson, including I FUNNY, HOUSE OF ROBOTS, TREASURE HUNTERS, and JACKY HA-HA. Chris lives in New York City with his wife, J.J., two cats, and a dog named Fred. You can visit Chris at ChrisGrabenstein.com.
Follow JJ! Goodreads