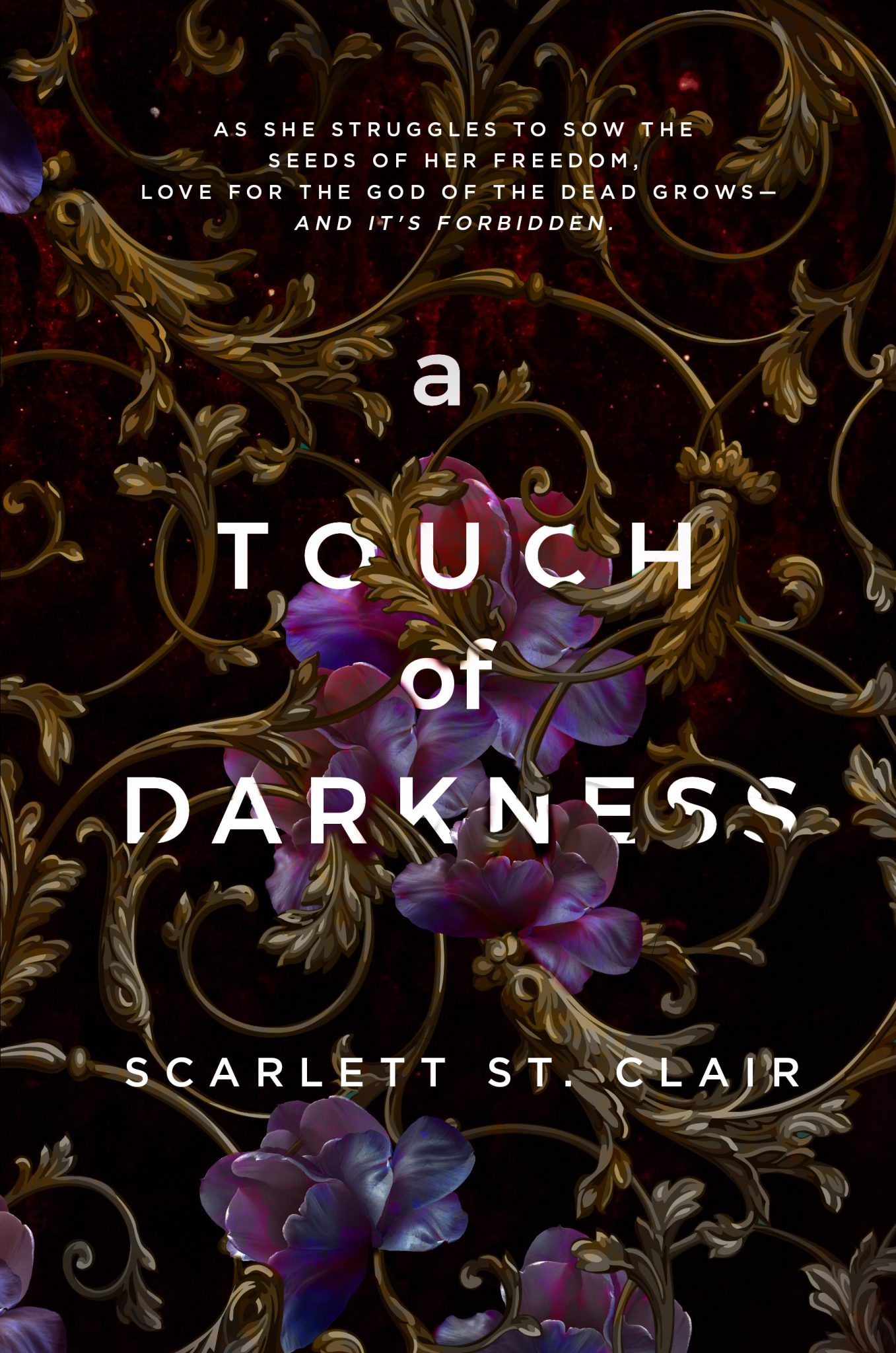 Title: A TOUCH OF DARKNESS (Hades & Persephone #1)
Author: Scarlett St. Clair
Pub. Date: May 23, 2019
Publisher: Scarlett St. Clair
Formats: Paperback, eBook
Find it:Goodreads, Amazon, Kindle, TBD
Pages: 438
Rating: ★★★ ½ ☆☆
Synopsis:
Persephone is the Goddess of Spring by title only. The truth is, since she was a little girl, flowers have shriveled at her touch. After moving to New Athens, she hopes to lead an unassuming life disguised as a mortal journalist.
Hades, God of the Dead, has built a gambling empire in the mortal world and his favorite bets are rumored to be impossible.
After a chance encounter with Hades, Persephone finds herself in a contract with the God of the Dead and the terms are impossible: Persephone must create life in the Underworld or lose her freedom forever.
The bet does more than expose Persephone's failure as a Goddess, however. As she struggles to sow the seeds of her freedom, love for the God of the Dead grows—and it's forbidden.
Excerpt from A TOUCH OF DARKNESS:
Hades dealt each of them five cards. Persephone looked at her hand and tried to remember what Hades had said about the different ranks. She laid her cards down, face up and the man did the same.
"You have a pair of queens," he said. "And I have a full house."
"So…you won," she said.
"Yes," he replied, and then claimed his prize immediately. "Who are you rebelling against?"
She smiled wryly. "My mother."
He raised a brow. "Why?"
"You'll have to win another hand if I'm going to answer."
So, he dealt another and won again. This time, he didn't ask the question, just looked at her expectantly.
She sighed. "Because…she made me mad."
He stared at her, waiting, and she smiled. "You never said the answer had to be detailed."
His grin matched hers. "Noted for the future, I assure you."
"The future?"
"Well, I hope this isn't the last time we'll play poker."
Butterflies erupted in her stomach. She should tell him this was the first and final time she would come to Nevernight.
He dealt again and won. Persephone was getting tired of losing and answering this man's questions. Why was he so interested in her anyway? Where was that woman he'd been with earlier?
"Why are you angry with your mother?"
She considered this question for a moment, and then said, "Because…she wants me to be something I cannot." Persephone dropped her gaze to the cards, and then said, "I don't understand why people do this."
He tilted his head, as if questioning. "You are not enjoying our game?"
"I am," she said. "But…I don't understand why people play Hades. Why do they want to sell their soul to him?"
"They don't agree to a game because they want to sell their soul," he said. "They do it because they think they can win."
"Do they? Win?"
"Sometimes."
"Does that anger him, you think?" The question was meant to remain a thought in her head, and yet the words slipped out between her lips.
He smirked, and she could feel it deep in her gut.
"Darling, I win either way."
Her eyes went wide, and her heart stuttered. She stood quickly and his name slipped out of her mouth like a curse.
"Hades."
Nerdophiles Review
Oooo, I love a good mythology retelling. When I saw this book, I was feeling a lot of nostalgia for my Twilight days, and from the excerpt above, this book looked like it would scratch that itch.
This is a reimagining of the Hades/Persephone Greek myth. In the Greek myth, Hades, God of the Underworld, kidnaps Persephone, Goddess of Spring, to live with him for 6 months out of the year as a punishment for eating the fruit of the dead.
In this version, Persephone is a journalism student living in a society that has accepted that the Greek gods walk among them (and that most run their own highly successful businesses! Even the divine cannot resist the lures of capitalism). Persephone doesn't have goddess powers, so she's trying to lay low and live a normal life amongst mortals.
That all changes when Persephone meets Hades, and unwittingly enters into a bargain with him. The terms: Persephone must grow life in the realm of the dead, or else she must give her soul to Hades and live in his realm for all eternity.
I adored the premise of the book. It was such a smart concept, and it grew on me even more after I was finished.
The only problem was that the quality of the writing didn't always hold up to the quality of the ideas- the pacing didn't have a sense of urgency, and the stakes didn't feel very high. Some of the dialog felt wooden and the writing was sometimes choppy and distracting, which left me struggling to immerse myself in a really intriguing concept.
However, the first few flirtatious scenes between the leads, like in the excerpt above, are so perfectly squee-worthy and they are threaded in with other gems that I'm happy to overlook some of its rough patches.
I especially applaud the author for not shying away from (literally!) steamy romance scenes, and the book did tick some of my Twilight angsty boxes. More often than not, I found myself comparing the book to Fifty Shades of Grey (also Twilight inspired, so not too bad for a vibe- check!), with its journalist-slash-ingenue female lead paired with a mysterious, over-protective, broody love interest.
Overall, I was really happy with the concept and the flirtatious banter between the two main characters. I'm looking forward to see what ideas Scarlett brings us next!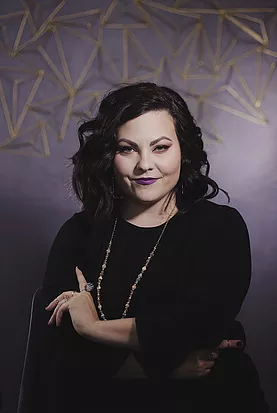 About Scarlett:
Scarlett St. Clair lives in Oklahoma with her husband. She has a Master's degree in Library Science and Information Studies and spends a lot of time researching reincarnation, unsolved murders and Greek mythology–all of which made it into her debut novel, When Stars Come Out.
Sign up for Scarlett's newsletter!
Website | Twitter | Facebook | Instagram | Goodreads | 
Amazon Author Page | YouTube | Pinterest | Tumblr
Giveaway Details:
1 winner will win a $10 Amazon GC, International. Giveaway ends November 12th, midnight EST.
a Rafflecopter giveaway
Sequel Details
Title: A TOUCH OF RUIN (Hades & Persephone #2)
Author: Scarlett St. Clair
Pub. Date: Available in early 2020
Publisher: Scarlett St. Clair
Formats: Paperback, eBook
Find it: Goodreads
Persephone's relationship with Hades has gone public and the resulting media storm disrupts her normal life and threatens to expose her as the Goddess of Spring.
Hades, God of the Dead, is burdened by a hellish past that everyone's eager to expose in an effort to warn Persephone away. Things only get worse when a horrible tragedy leaves Persephone's heart in ruin and Hades refusing to help.
Desperate, she takes matters into her own hands, striking bargains with severe consequences. Faced with a side of Hades she never knew and crushing loss, Persephone wonders if she can truly become Hades' queen.
Tour Schedule:
Week One:
Week Two: