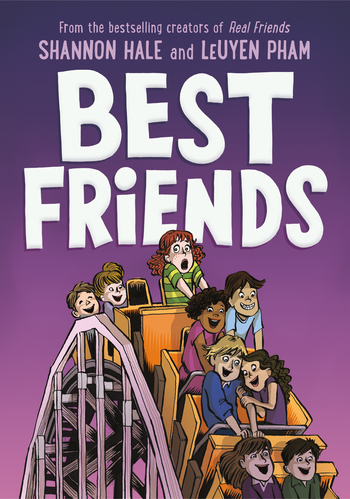 Title: Best Friends
Author: Shannon Hale
Illustrator: LeUyen Pham
Series: Real Friends #2
Release Date: August 27, 2019
Publisher: First Second
Review Spoilers: Low
GoodReads | Amazon
Shannon Hale and LeUyen Pham are back with this stunning sequel to their autobiographical take on Hale's childhood, Real Friends. Picking up where the last book left off, Best Friends covers a particularly tumultuous year in anyone's life: sixth grade. Once again young readers find themselves taken on an incredibly relatable journey through the ups and downs of growing up. Though the names and the faces (and the decade) may be different, kids can easily see themselves going through the same things as young Shannon Hale.
Much like in Real Friends, Shannon finds herself struggling to decipher the unofficial rules of being in the sixth grade. At her elementary school, sixth grade is the last grade kids must complete before entering junior high. So, in theory, she and her group of friends are basically the coolest kids in the school. The problem is that she doesn't exactly know how you're supposed to stay one of the cool kids.
You wouldn't think that much would change between fifth and sixth grade and yet it does. Relationships once again begin changing and evolving while the social rules seem to get more and more complex. Rules that Shannon had tried to internalize are changing – especially when it relates to how much attention boys and girls are supposed to be paying each other now that they're in sixth grade.
Shannon finds herself dealing with issues including anxiety, self doubt, and even a desperate fear of roller coasters – which of course her friends all want to ride. She also finds herself spending time writing stories and wishing her friends still wanted to make believe and role play the way they did when they were kids. In fact, part of Best Friends is actually framed through a story that Shannon is writing throughout the sixth grade.
While I found both Real Friends and Best Friends extremely relatable it was young Shannon's fantasy story that made me realize just how universal the sixth grade (and essentially the middle school) experience can be. I was the same way when I was a kid – especially at that age. I wanted to write stories and talk through stories with my friends even if they thought it was childish. I spent hours at the computer writing original science fiction that no one else would ever read. I honestly hadn't even considered other people having a similar experience until I read Best Friends.
That's part of the reason I love these books so much. I can relate to almost every panel on every page and I know young readers will feel the same. Best Friends (and Real Friends, too) gives the kind of honest reflection on middle school that I think kids really need. They need to see awesome, successful people like Shannon Hale opening up and sharing their awkward, uncertain experiences. It lets them know they aren't alone. Best Friends in particular as a fabulous message at the end where we see young Shannon breaking away from her friends' expectations and following her own path and her own passions.
LeUyen Pham brings Shannon Hale's childhood to life in vibrant color. The illustrations are bright and inviting and the panels and pages easily capture the reader's attention. Pham's style appeals to readers of all ages though it's particularly well suited for younger readers who may be encouraged to check out more middle grade graphic novels or who may have found Real Friends and Best Friends after reading another favorite series. I love the way Pham brings the books to life and I can only imagine what it's like to have your childhood captured so seemingly perfectly.
Real Friends and Best Friends are the perfect books for the young women in your lives. They're the perfect books to get for girls now that the school year is starting for some and in full swing for others. As they work their way though the waning years of elementary school and early days of middle school maybe they'll see a bit of themselves in young Shannon. And maybe they'll see that it's okay to not know the answer to everything and to feel awkward navigating the social hierarchy of grade school. Because we've all been there! (Even if our kids don't always want to take our word for it.)