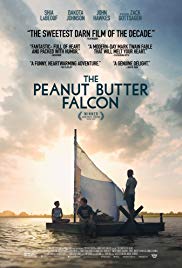 Release Date: August 9th, 2019
Cast: Shia LeBeouf, Zack Gottsagen, Dakota Johnson, Bruce Dern
Director: Tyler Nilson, Michael Schwartz
Studio: Armory Films, Lucky Treehouse, Bona Fide Productions
Distributor: Roadside Attractions
Spoilers: Medium
IMDB| Rotten Tomatoes| Wikipedia
Two young men on the run from their lives find and help each other discover their path. Tyler, played by Shia LeBeouf, is a fisherman who doesn't have much more than a shotgun and a boat to his name. He steals other fishers' catches, jsut getting by. Zack, played by newcomer Zack Gottsagen, is in an assisted living facility, watching his favorite wrestlers on tape on repeat with his roommate Carl, played by Bruce Dern. Zack wants something better, Tyler wants what he once had, and each of them take a huge step to break what their lives have become.
Together they hike their way across the South, camping, fishing, and training as they quest for the Saltwater Redneck's wrestling school, so that Zack can live his dream. Along the way they unlock in each other something wonderful, in Tyler a long buried joie de vivre. Meanwhile Dakota Johnson plays the assisted living worker hunting down Zack to bring him back 'home,' and some fisherman Tyler wronged are hot on their heels.
The story is surprisingly sweet, and where a lesser movie might swerve off into questionable territory, Peanut Butter Falcon keeps an even keel and approaches the material from a good place. The tone however doesn't keep that approach. It fluctuates from the fantastic to the grounded in a way that feels off, as if the movie was insecure that it was doing a good enough job selling the audience on the more dreamlike sections, a riverside baptism, the magic of a redneck backwoods wrestler. It delivers these sweetly but then takes a step back to try and ground the moment.
At times it feels perfunctory. We cut to the fisherman chasing down Tyler (played by John Hawkes and Yelawolf) every so often, a step behind our heroes. It feels unnecessary and while it is no doubt meant to ground the story, that these people might be able to find Tyler because they are so close behind, it instead seems more ridiculous that they would find each fire burned low, each rotted out shack that might have been their camp a night before. This is especially true when the two hunters are brought into the climax not because they have done such a good job sniffing Tyler and Zack out, but because they get a phone call telling them. This is the kind of insecurity that makes the movie uneven.
All in all, The Peanut Butter Falcon is a surprisingly charming romp through the South with two men who bring out the best in each other.