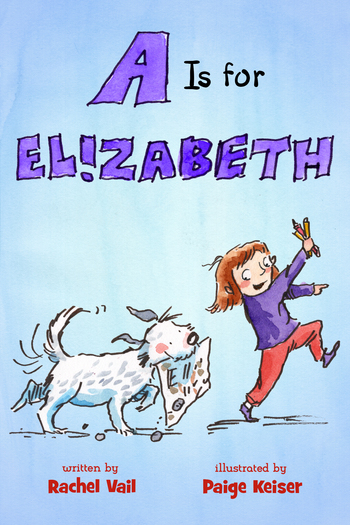 Young readers (and their parents) who are looking for fun, relatable early chapter books need to look no further than Rachel Vail's new series following the (mis)adventures of Elizabeth Case. In the interest of full disclosure, I've never read the Justin Case series that this books spun-off from though I did once feature it in a library display I made up for middle grade readers. But they spoke to me nonetheless. What's not to love about a series of easy, entertaining stories that teach a lesson along the way?
When we meet Elizabeth Case she's just starting the second grade. The books follow an alphabetic theme (which is a little ironic considering the content of A is for Elizabeth) with new books starting with a subsequent letter. Early elementary readers just beginning to branch out into more traditional chapter books are undoubtedly going to love Elizabeth and her shenanigans in large part because they stories focus on topics kids are likely to experience themselves.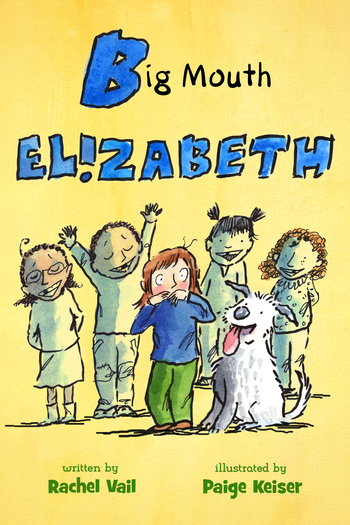 A is for Elizabeth, for example, reminded me of when I was in kindergarten and our teacher called me 'Samantha 2.' The other Samantha in class got to be 'Samantha 1' and it bothered me for months before I – like Elizabeth – stood up for myself. Down with alphabetical order! (Big Mouth Elizabeth, meanwhile, deals with Elizabeth's disappointment in not losing her baby teeth which is a problem I definitely didn't have.)
Other than a few odd chapter breaks, the books read very easily and would be great for either young readers reading on their own or read-aloud bedtime stories for the slightly older crowd. If you read with your kiddos you'll definitely find some really great discussion topics including how to be a good friend, fairness, jealousy, and more.
Giveaway
Sound like books your young reader would love? You're in luck. Rockstar Book Tours is hosting a giveaway as part of this tour and three lucky winners will their very own copies of the first two books in the A is for Elizabeth series! Unfortunately, it's for US residents only. Check it out below!
a Rafflecopter giveaway
About the Author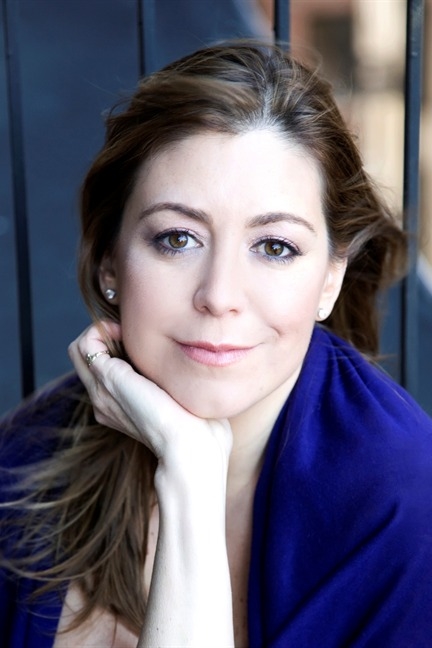 Rachel Vail is the award-winning author of more than 30 books.
Her newest novel for middle-schoolers is WELL, THAT WAS AWKWARD.
Her novels for teens and tweens also include UNFRIENDED, IF WE KISS, KISS ME AGAIN, LUCKY, GORGEOUS, BRILLIANT, and the Friendship Ring series.
For elementary school kids, there's JUSTIN CASE: School, Drool, and Other Daily Disasters; JUSTIN CASE: Shells, Smells, and the Horrible Flip-Flops of Doom, and, JUSTIN CASE: Rules, Tools, and Maybe a Bully.
Her picture books include PIGGY BUNNY and SOMETIMES I'M BOMBALOO.
Rachel lives in New York City with her husband, their two sons, and a tortoise named Lightning.
Website | Twitter | Instagram | Facebook | Goodreads
About the Books
Title: A IS FOR ELIZABETH (A is for Elizabeth #1)
Author: Rachel Vail, Paige Keiser (Illustrations)
Pub. Date: May 9, 2019
Publisher: Feiwel & Friends
Formats: Hardcover, eBook
Pages: 128
Find it: Goodreads, Amazon, Kindle, B&N, iBooks, Kobo, TBD
Elizabeth is in second grade. Class 2B! It's great! Friends, recess, homework!
Even a big project: Make a poster of your name.
Yayyy!
Hang on.
The name Elizabeth has a bajillion letters in it!
The name Anna has only four letters. Plus, Anna's first letter is A, which is also the first letter of Alphabetical Order. But Anna can't always be first! That's not fair!
In A is for Elizabeth, Elizabeth makes more than a poster. She also makes some important choices—about fairness, rules, speaking up, and glue. But the most important thing she makes is…a friend!
A new spin off from Vail's Justin Case series starring Justin's little sister.

Title: BIG MOUTH ELIZABETH (A is for Elizabeth #2)
Author: Rachel Vail, Paige Keiser (Illustrations)
Pub. Date: May 9, 2019
Publisher: Feiwel & Friends
Formats: Hardcover, eBook
Pages: 128
Find it: Goodreads, Amazon, Kindle, B&N, iBooks, Kobo, TBD
Big Mouth Elizabeth is the second in a new chapter book series spinning off of the Justin Case books, starring Justin's little sister, Elizabeth.
Second-grader Elizabeth longs to be a member of the Big Mouth Club, which is made up of kids who have lost at least one baby tooth. Elizabeth is WAY behind on losing her baby teeth, and so is Cali, a quiet girl who is also left out of the Big Mouth Club. Elizabeth thinks Cali is so much more babyish than she is–in fact, Elizabeth SHOULD be in the Big Mouth Club because she's NOT babyish. But when she understands how bad it feels to be left out, Elizabeth's attitude shifts.
Here is a story about fitting in in unexpected ways. With copious line art by Paige Keiser, this second book in Rachel Vail's A is for Elizabeth series is sure to delight fans of Judy Moody, Junie B. Jones, and Clementine.