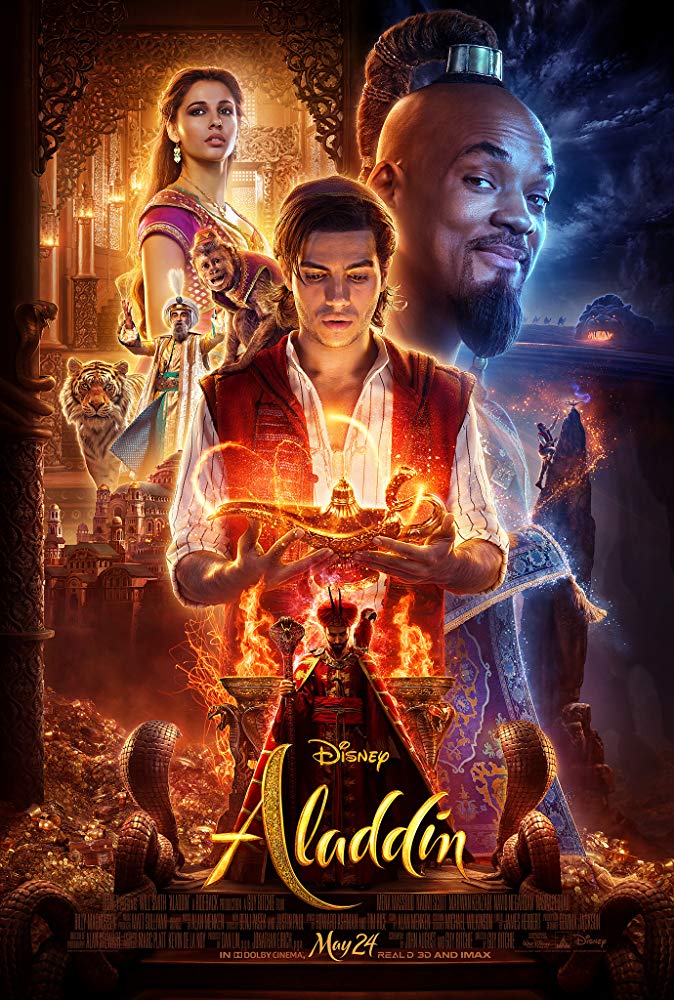 Release Date: May 24th, 2019
Cast: Will Smith, Mena Massoud, Naomi Scott, Marwan Kenzari, Navid Negahban, Nasim Pedrad, and Billy Magnussen.
Director: GUY RITCHIE?!
Studio: Walt Disney Pictures
Distributor: Disney
Spoilers: Impossible to Spoil init?
IMDB | Rotten Tomatoes | Wikipedia
The ongoing live-actionication of the Disney vault continues full steam ahead with the latest installment, the remake of 1992's Aladdin. Now we have an impressively diverse cast lead by Mena Massoud as Aladdin, Naomi Scott as Jasmin, and Will Smith taking on the mantle of Genie. But do these new actors do enough to warrant this picture? Does the flick from Guy Ritchie and John August meet the incredibly high bar of the animated original?
Well, of course not. It's daft of Disney to keep trying but here we are. You know the story, the movie hits those same beats, sings the same songs. Speaking of the songs. Whew. Aside from 'A Whole New World' which Massoud and Scott nail, every song has something weird going along with it. Sometimes the lyrics are half spoken, half sang which makes for herky-jerky line delivery before the music swells and they get fully back into it. Other numbers have strange visual choices (specifically looking at Jasmine's 'Speechless' song). It makes it difficult to get lost in the magic.
Aside from a few diamonds in the rough (see what I did there?) the acting throughout is pretty… bad. In the opening sequence, Aladdin has zero charm and delivers his lines flatly. The half spoken/half sung music doesn't help his intro number at all. The Genie, when in full-on Blue Mode looks off and the acting, digital or otherwise, doesn't sell it.
When Aladdin and Genie meet with the Sultan and Princess Jasmine the first time, the scene is great with some real humor landing. Mena Massoud really delivers the performance in that scene, as a man out of his depth trying to woo someone he is intimidated by. Billy Magnussen shows up for two scenes as a potential suitor and nails his beats, the guy knows how to be dumb and pretty.
Unfortunately, those high notes are never matched again throughout the rest of the film.
The real star of Aladdin is Gemma Jackson's Agrabah. An exotic new take on the desert kingdom, situated on the sea and a mash-up of styles it makes for a wonderful, magical place to explore. IndieWire has a great piece on her process that is worth checking out.
All of that is to say Aladdin is a mixed success at best. The first third is incredibly rough, the middle third excites before plummeting to boredom at the end. What can ya do? Now, if Disney decided to go wild and tell new stories with these characters…
Aladdin is in theaters everywhere, and likely in a big plastic clamshell VHS case on your shelf. Just watch that one.