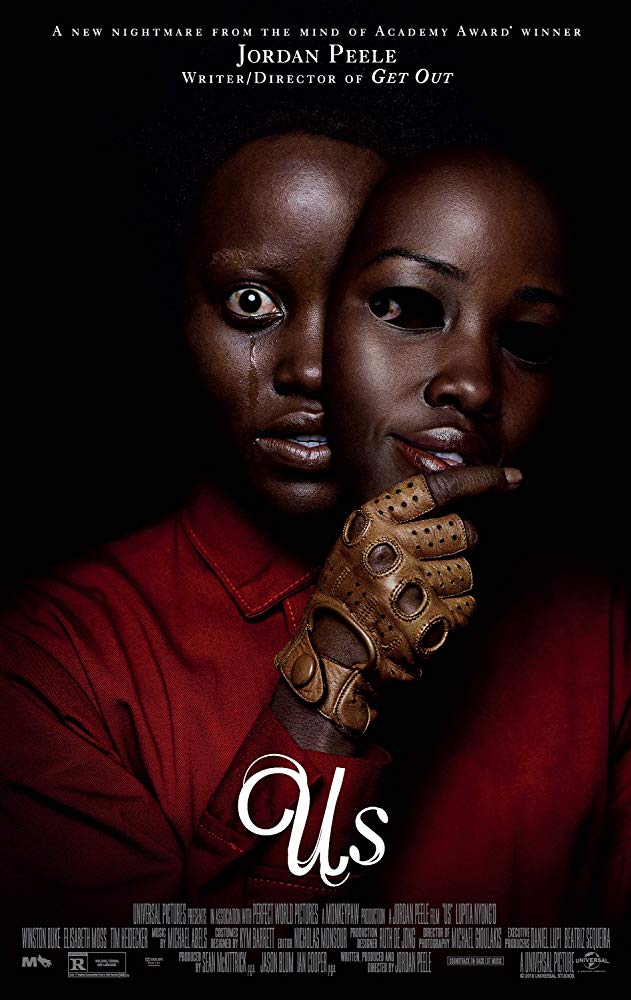 Release Date: March 22nd, 2019
Cast: Lupita Nyong'o, Winston Duke, Shahadi Wright Joseph, Evan Alex, Elisabeth Moss, and Tim Heidecker
Director: Jordan Peele
Studio: Monkeypaw Productions
Distributor: Universal Pictures
Spoilers: Nada
IMDB | Rotten Tomatoes | Wikipedia
After 2017's hit Get Out, Jordan Peele has been keeping his foot on the gas as he builds out and expands a growing empire of entertainment. It's clear with Us and the soon rebooted Twilight Zone that he has an angle, a viewpoint, and so far, the mastery to see it through.
Us is the story of Adelaide (Lupita Nyong'o), and her family heading to their beach home for the first time in years, looking to relax and enjoy themselves. Or at least, that's the family's intention. Adelaide can't shake this terrible feeling, that something is going to happen, something bad, something connected to an incident over thirty years earlier…
The biggest thing to mention in this movie of doppelgangers is just how well all of the actors do when they inhabit both roles. Winston Duke plays the husband Gabe, a playful goofball of a father you love and roll your eyes at. All he wants is to have some fun and show off his new boat to his friend Josh (Tim Heidecker). But opposite him is Abraham, the slow, powerful, dominant force of a man. He has no charm, he has no smiles, he is darkness to Gabe's light.
But no one deserves more praise than Lupita, who, as both Adelaide and Red, delivers drastically different and incredibly powerful performances of mothers on missions. Adelaide wants to protect her family, to foster their strengths and interests, while Red relies on her children's horrific personalities to accomplish a goal. She seems to hate and love them in equal measure. Red's voice details their plan or their pain in inhaled gasps of choked dialogue.
It's creepy as hell, and it works.
The other point to get across is how large-scale Us is in reality compared to the impressions from the trailer. Heading in, I expected to be on the edge of my seat, I expected to be terrified, and while I was those things, the movie had so much more. It isn't just a home invasion film with the doppelganger twist. The first act delivers on that promise before the movie opens up to show a much larger plot at work. Whether or not you enjoy this movie may depend on how willing to roll with that change in tone.
Speaking of tone, Us is pretty damn funny. Like Get Out before it, the early scenes have a tension to them that you may laugh just for relief but as the film progresses there are clear moments of levity that signal 'It's okay to laugh, this is funny, horror movies aren't all serious.' I think that overt signal comes with Tim Heidecker popping back up midway through the movie, helps clarify to the audience that Us isn't just a damning societal commentary, no doubt you can make the argument for it to have that theme through it but it's not just that. It's a piece of genre film with a decidedly Twilight Zone bend to it.
The only knock on the film is that it feels like it has to wrap up or explain a bit too much in the third act. When the story is doled out in such measured morsels up to this climactic moment, it feels off for so much extra to be revealed so quickly, if not sloppily.
Us is a really good movie and cements Jordan Peele's chops in the genre, if for some reason the Oscar didn't already do that for you.