Comic conventions all over the world feature designated areas, usually named "Artist Alley", where different artists come to sell and showcase their work to millions of people who attend the conventions. This year, we attended Los Angeles Comic Con and got to see many different artists who showed their incredible work off. One artist who stood out from the rest is Chandler Ford.
She has a very unique style that catches your eye and makes you instantly want to purchase her wonderful work.
I got to do a fun interview with her. I did a round of rapid-fire questions after the initial interview and learned a few cool things about her. Because of Harley, she feels like she leans more towards DC comics. She's a MAC lover. Chandler eats gluten-free pizza and is a morning person. Her favorite movie of all time is The Room, yes Tommy Wiseau's movie. She likes rain. Her favorite color is rainbow and see-through plastic glitter. Also, she loves dogs and watches The Bachelor and Bachelorette. Read on to learn more about her!
Her website: chandlerford.com
Twitter: @chandlerfordart
Facebook: Chandler Ford Art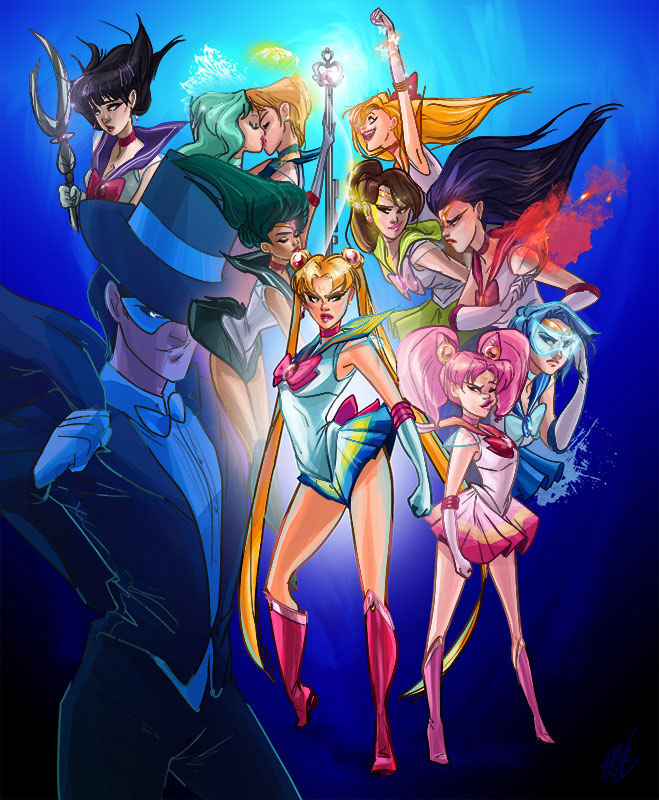 Where did you grow up?
I'm from Tennessee originally. I moved to Los Angeles for college and it's my home now! Palm trees and nice weather make me happy.
How did your parents feel when you decided to get into art full time?
I actually don't make art full time! I can't cover my bills with my freelance work yet! So, like many artists, I have a day job to keep a roof over my head while I work to get established. However, I was on track to become an attorney when I decided to focus on art instead. That was a bit of a shock to my parentals, but they support me in following my dreams.
When did you first realize you loved art?
I have loved drawing and making things with my hands since I was very little. I would draw family pets or make little comic books in grade school.
How many conventions do you attend a year?
I typically attend 2-3 per year around the US.
Is there a certain type of art or an artist that inspired and impacted you growing up?
I was very into BaraChan, Rose Besch, growing up as I sort of began my interest in anime and manga. I learned by tracing over her drawings in middle school!
Who is your favorite artist/illustrator of all time?
Hmm, I don't know that I have a favorite of all time because there are too many amazing artists! But Naoko Takeuchi (the creator of Sailor Moon) had the most beautiful manga style that heavily influenced me. I still love looking at her art books and always find new ways to appreciate her use of color and haute couture fashion of the day.
Is there a piece of artwork that is your favorite?
No, that would be like trying to pick a favorite star in the sky! I have a cool painting my dad did in the '70s that hangs above my workspace though, and will likely carry it with me to wherever my studio goes in the future!
What's your technique for illustrating?
I try to get a gesture down first, then sketch out rough lines, then final inks. After that, I flat colors while picking a palette and then paint on top!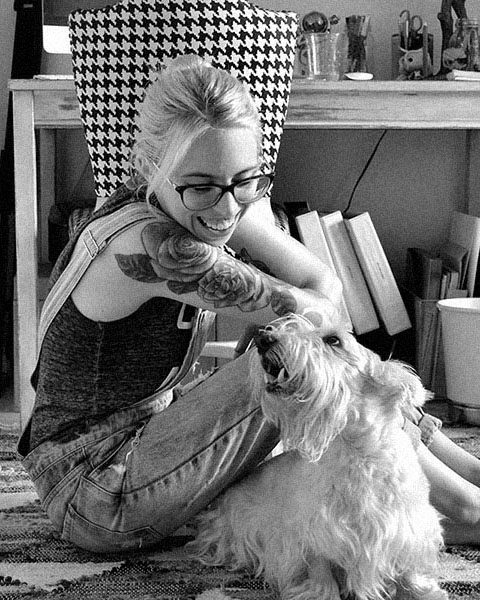 What's your technique for fine art?
I typically start by sketching a concept. From there I'll take reference photos and then make rough lines based on that. I transfer my sketch to whatever my surface may be (wood, resin, etc.) and then paint on top. I like to work with resin because you can do some interesting things in terms of layering and assemblage inside the resin while it's still liquid.

Growing up, did you have any other passions or was art/illustration the only passion you had?
I was always interested in photography as well and I still dabble in it from time to time! I enjoyed shooting on real film in high school, but now I just use a Nikon DSLR. Photo editing is a nice change of pace if I need to switch things up!
Considering we live in an intense political climate these days, do you ever do any pieces with a political message?
I haven't yet to date, but I wouldn't rule it out! I'm not shy about my political views, but I wouldn't say that the current political climate makes me feel inspired so much as angry (laughs). My art is usually more about finding my happy place.
You have a vast variety of illustrations and fine artwork on your website. Is there a company you'd like to work for in the future? (Marvel/DC exc…) Or is this just a solo passion you'll continue to pursue?
I'd love to do covers for Image Comics since that's mostly what I read! Of course, it would be an absolute honor to work for Marvel or DC, but I'm still trying to get that first comics gig, so I'm not trying to get ahead of myself. I'm also hoping to work with a local art gallery at some point to display/sell my fine art!
You have a twitch channel. What can we expect if you follow you on twitch?
Right now I'm very bad about being consistent on Twitch! I'm hoping next year to get on a better schedule to stream my digital work. It's a little hard for me since I feel pretty awkward on camera, but I'm still trying!
Do you teach any art classes? or want to teach any?
I've never taught an actual art class, just a wine and paint party at work (laughs), but I wouldn't rule it out. I still feel like a student right now, but maybe someday.
Describe yourself in 3 words.
Persistent, caring, anxious (laughs).
What's your advice for artists/illustrators around the world who are trying to get their work out?
Be persistent! It's all about hard work and practice. There is no "easy way" to get better or get noticed. There are tips and tricks you can use to grow your social media presence, but at the end of the day if your content isn't consistent and interesting then it's going to be harder.
Go to the places where the artists in which you are interested to hang around–whether that's local art galleries or comic conventions. Network and set up shop there if possible! You learn by doing and making connections (which can be hard for an introvert, but you just have to treat it like a job and give yourself no choice!).