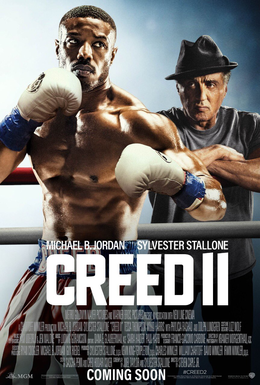 Release Date: November 21st, 2018
Cast: Michael B. Jordan, Sylvester Stallone, Tessa Thompson, Dolph Lundgren, Florian Munteanu, Wood Harris, Russell Hornsby, Andre Ward, and Phylicia Rashad
Director: Steven Caple, Jr.
Studio: Metro-Goldwyn-Mayer Studios, Warner Bros.
Distributor: Metro-Goldwyn-Mayer
Spoilers: Mild
IMDB | Rotten Tomatoes | Wikipedia
The rematch is here. Adonis is Creed and back in the ring, to earn and defend the Heavyweight Championship he's fought so hard to get.
But there's a new competitor, a new foil, stepping into the spotlight to come for everything he's worked for. Viktor Drago, son of the man who killed Apollo Creed. Will their fight go the same as their fathers or will Adonis punch his own history?
Stallone (and writing partner Juel Taylor) crafts an excellent addition to the Rocky mythos, and a worthy follow up to the first Creed, even if it is a bit by the numbers. In fact, had it not put the work done in the final act, the final match, the movie would sit fairly at 3-star territory.
Stallone knows how to work the body to get to the head. Packing not one, not two, not three, BUT FOUR father-child relationship arcs. Woo wee. Everyone gets an arc. It would be easy to keep the Russian boogeymen of the Dragos as 2D cutouts of bad guys, bad to the core and needing a punch or three, but instead Nailed it Sly.
Michael B. Jordan is great as always. Is it ever really a question? Of course not. In one scene in particular he is able to convey so much with just his eyes, grunts, and labored breathing. Opposite him is Tesse Thompson, again just crushing the emotional work needed when Jordan's Adonis can't show it himself. Everyone does a stellar job and we can just leave it at that.
As for the fights. Well, I tell ya, I'm not sure I have ever been in a theater with as much resounding applause after each won round, each knock down. That said, the fights are not nearly as well shot as the first, where the camera put the audience right in the fight.
Here they are not quite as extravagant, still solid, totally adequate, but rarely wow. They did, however, do away with one of the few flaws of the first film, the pop-up boxer stats at the start of the fights.
Creed II is equal parts thrilling, cathartic, and evocative, with carefully places jabs of scenes setting up the haymakers of the final act. All in all, a good movie and a worthy sequel.