Christopher Robin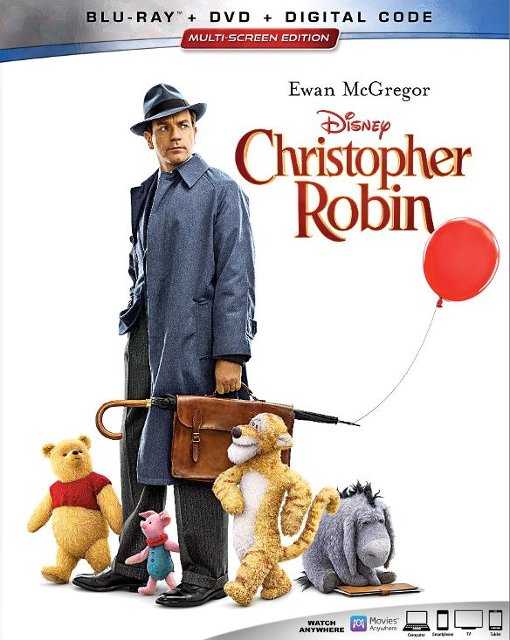 Release Date: November 6, 2018
Cast: Ewan McGregor, Jim Cummings, Haley Atwell, Bronte Carmichael, Mark Gatiss, Brad Garrett, Nick Mohammed
Studio: Walt Disney Pictures & 2DUX²
Extra Feature Rating: ★★☆☆☆
Rating: ★★★½☆
Review Spoilers: Low
Amazon | IMDB | Wikipedia | RT
At a time when Disney is rushing to produce live-action versions of all it's classic properties, Christopher Robin is a bit of an oddity. Unlike Cinderella and Beauty and the Beast which have come before it, Christopher Robin is not a direct adaptation of the story on which it is based. Instead, it's a wholly original story that imagines Winnie the Pooh and the Hundred Acre Wood long after their initial adventures have ended.
The titular Christopher Robin is not a boy playing alongside his beloved friends any more but an adult who has learned the hard way that there are harsh realities in life. But the moral of the story is that sometimes it's okay to set aside grown-up things and have a little fun. It's okay to be silly and to take a break now and again to just do nothing. Because, as Christopher Robin says, "Doing nothing often leads to the very best something."
The film is very touching and it's hard not to fall in love with Winnie the Pooh all over again. Christopher Robin's story is one that most adult viewers will easily find relatable. We often times find ourselves so focused on work and 'the future' that we can lose sight of the things that are most important to us now. Christopher Robin learns this as Winnie the Pooh's sudden reemergence in his life puts into perspective his strained relationship with his young daughter, Maddie.
In the end, it's wonderful to see Winnie the Pooh and the rest back on the big screen and their stylistic look in Christopher Robin hardly takes away from their personalities. I loved the way they seemed so real while still sounding and feeling like the characters we all knew and loved growing up. Animated or not, we'll always love Winnie the Pooh and Christopher Robin is a fantastic adaptation of the original animated stories (and A.A. Milne stories) that will speak to older viewers as well as younger ones.
For another perspective, you can read Cody Eastlick's full review here.
Special Features
While the film may be big on heart the movie appears rather light on special features. There are only four included on the blu-ray disc and they are introduced as "The One In Which…" on a rather simple menu. One is meant to be about the making-of the film, one is about the voice of Pooh, one talks about the history of Disney's Winnie the Pooh adaptations, and one – narrated by Bronte Carmichael – shows how the stuffed characters came to life. All together, they total probably ten minutes of content. They're great, short featurettes for younger viewers but older viewers who may be hoping for a bit more will probably be disappointed.
Final Thoughts
While Christopher Robin may not be the sort of Disney film you rush out and grab immediately upon release it's definitely a great film to check out during your next family movie night. Kids will love the stuffed ensemble and parents will appreciate the nostalgia that goes along with the story. Grab it for a quiet night in or save it for a Christmas present for those in your life who love Winnie the Pooh. You can pick it up today on blu-ray and digital!