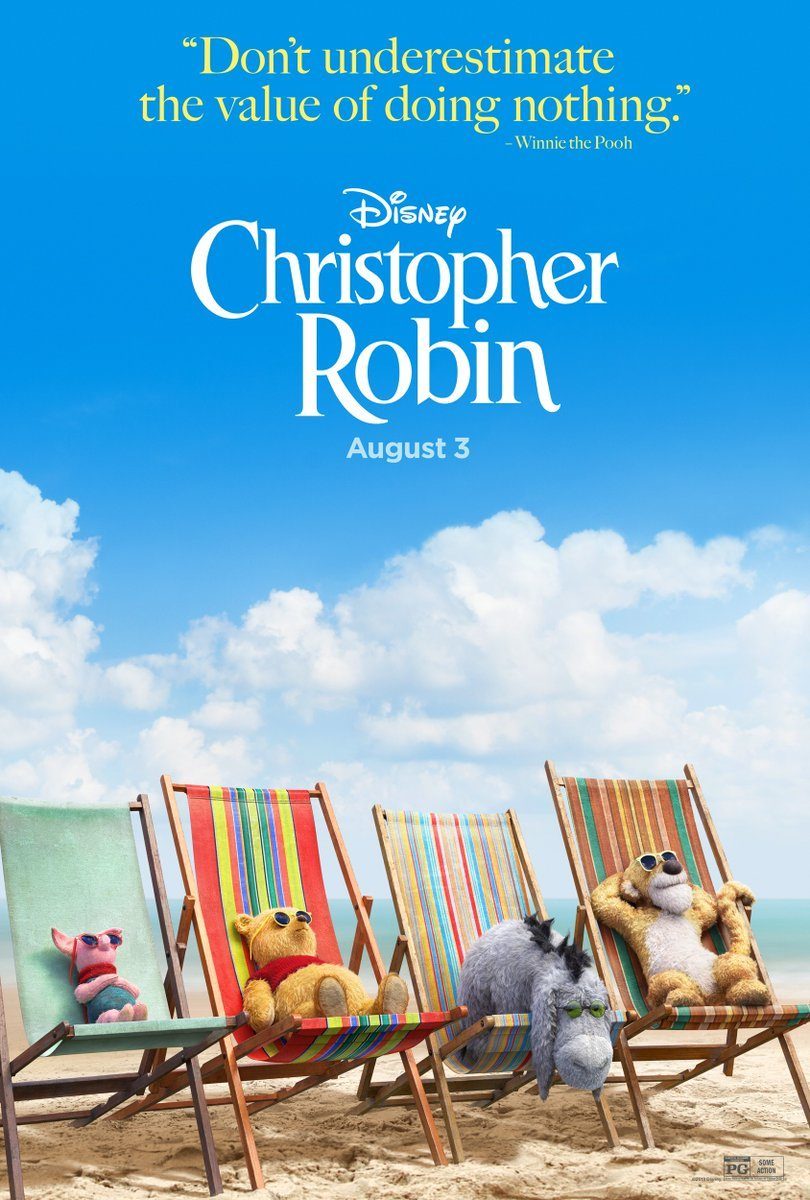 Release Date: August 3rd, 2018
Cast: Ewan McGregor, Hayley Atwell, Jim Cummings and Brad Garrett.
Director: Marc Forster
Studio: Walt Disney Pictures, 2DUX²
Distributor: Walt Disney Studios Motion Pictures
IMDB | Rotten Tomatoes | Wikipedia
Spoilers: Low
Christopher Robin brings Winnie the Pooh back to our good graces, to teach the importance of whimsy, being silly, and above all else – the value of doing nothing.
The movie begins with an ending, when Christopher Robin has to leave the Hundred Acre Wood and head off to boarding school. We then see his life in fast forward as he goes through school, finds love, starts a family, heads off to war, and more importantly, unfortunately, loses his imagination.
Christopher Robin is working at a luggage company, and they need to cut costs quick or else there will be firings. And so, Robin is overworked, away from home, trying to find the secret to save his coworkers and himself. His wife and child feeling entirely under-appreciated and unloved head off to visit the family cottage.
And it is here Pooh finds his way, to inspire, help and heal Christopher.
The movie's plot is incredibly light and simple, just Pooh and Christopher looking for their friends, and getting Pooh back into the Hundred Acre Woods. It's by no means a problem that the story is simple, it really feels like a live-action version of those cartoons, those silly adventures of Winnie the Pooh, Tigger, Eeyore, Piglet, and others. The dialogue is full of those nonsensical turns of phrases. Efficiency turns into a fish in the sea, and chuckles are had by all.
No doubt there are already hundreds of pieces out there on the net comparing and debating the bears of the year, between Paddington and Pooh but doing so misses the point of both movies. From Paddington, the audience is taught the importance of politeness, cheer, goodwill, and positivity while Pooh and friends preach the value of not taking yourself too seriously, the power of imagination, and the value in doing nothing.
Taken together these two bears give us the medicine we need to be better versions of ourselves, and its a delight no matter how you slice it, whether marmalade or honey, it is a sweet treat.
We all grow up, we all can lose that sense of wonder and awe in the ordinary, in the imaginary, in the silly and the contrary. It is good to be reminded of what we should place our value on. Not on the success of work, though that's nice and important, it's far from all there is. Be silly, make rhymes, eat honey, take a long walk to nowhere in particular and enjoy the journey.
Christopher Robin is by no means a perfect movie, it may not even be a great movie. But it is certainly a nice movie and sometimes that is more than enough to be worthwhile. It's simple, sweet, and goes down easy. A peaceful movie about doing nothing, perfect for a lazy summer afternoon.