I stumbled upon them at Rose City Comic Con one year. I had friends manning a booth and they were right next door. They're hard to miss, their creations are one-of-a-kind unique and there was a strange little wolf calling my name.
Their brand? Bling Squared Cute Glass. A mouthful, but as unique as the product they were selling. I was introduced to Stanley, one half of the amazing husband-wife creative team behind the glass blown creations. From there I was hooked. There was no going back.
Everything they make is just so stinkin' cute.
Years go by and I've tried to support them when I can. I have two precious glass creations to call my own and have bought some as gifts too. When I heard from Neacol – the other half of the team – that they were working on a web comic? Well, I can't believe it took me so long to read it.
Titled Chibi Island and published free on Webtoon their story follows the journey of Verity the fox (one of the glass creatures they lovingly handcraft) and her companions as they find themselves on Chibi Island. It is toted to be a place "where minds are changed, castaways are found and old rivalries soothed."
What it ultimately is, much like everything they create, is stinkin' cute.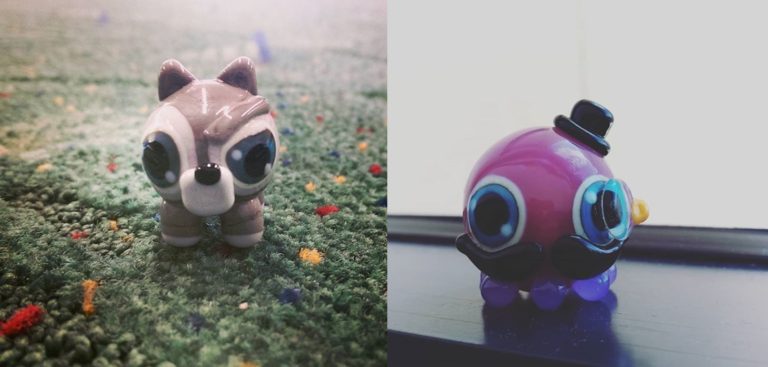 However, whatever my perceptions were going into the story I was blown away when I actually dug in. Knowing the work they do and the cute charm of each creature they make I knew the comic would be good. What I did not know was how deeply it would go in only two simple pages, nor did I expect to be crying at the end of the first.
Because you see, somehow Neacol and Stanley have taken these beautiful, adorable creations and are using them to speak to people's hearts. I think this is probably a reflection of their own hearts too, from what I've known of them in our brief interactions.
Every panel, every page, brings a new wave of love. They're reaching out to the lonely hearts of the world and beckoning them into a quiet, safe place.
It is amazing that they've done it in only two chapters.
Chibi Island is made possible through the support of fans contributing to their Patreon and readable for free on Webtoon. If you love the comic as much as I do, consider throwing them some financial support. You can follow them on Twitter and Instagram to keep track of their convention appearances, too.