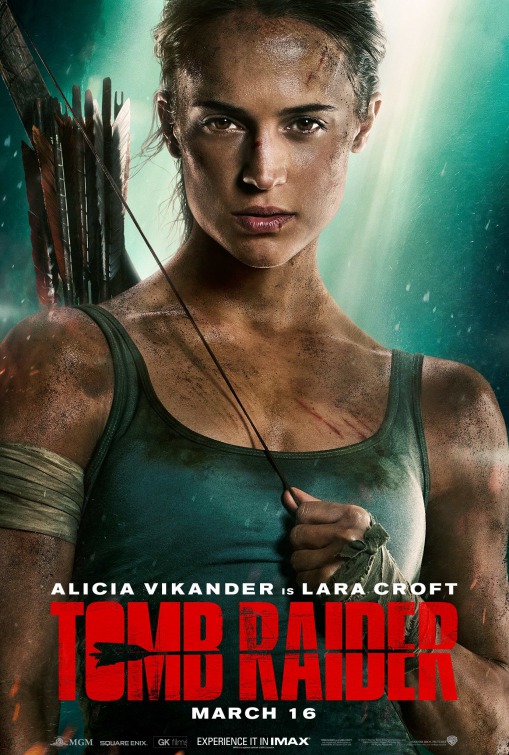 Release Date: March 16, 2018
Cast: Alicia Vikander, Dominic West, Walton Goggins, Daniel Wu, Kristin Scott Thomas
Director: Roar Uthaug
Studio: Metro-Goldwyn-Mayer, Warner Bros., GK Films
Distributor: Warner Bros. Productions
IMDB | Rotten Tomatoes | Wikipedia
Spoilers: Mild

Alicia Vikander is Lara Croft! In the movie reboot of the series that was an adaption of the video game series that rebooted in 2013 with the widely successful
Tomb Raider
. Was that confusing? Yeah probably. I'm just trying to get it across that we are in a wild place for movies these days.
So here we are, watching the second Tomb Raider film franchise start. It's an origin story, all about how Lara Croft becomes the titular hero, delving into ancient ruins, beating up bad guys, and all that jazz. Those of you familiar with the game know what to expect going into this movie, even if it is minutely different.
Lara Croft is a struggling bike courier, just living paycheck to paycheck in a bit of a downward spiral since her dad went missing seven years previously. When she is convinced to finally sign her dad's declaration of death in absentia she is given a unique puzzle that sends her piecing together his journey and setting off to find him.
While Tomb Raider does have some of the hallmarks of notoriously awful garbage movies (an opening monologue, prophecy talk), it manages to pull through despite them. It walks a line that the Angelina Jolie series was unable to do. It hints at supernatural enemies and entities but doesn't fall into them. Instead, it sticks to the grounded human enemies (even if they are made out to be some sort of Illuminati). It maintains a sense of fun adventure and the mystery behind the island and it's Death Queen keeps you on your toes while the heroes and villains plunder the tomb.
Tomb Raider doesn't tread any new ground when it comes to action adventure, but it does do one important thing that can't help but be noticed. At no point in the movie is Lara reliant on a man to save her. Well, not just a man but anyone really! There are times she gives her allies an order to do something and they don't question her ability or her judgment. She is making the moves and she doesn't need anyone's help. That's satisfying to see.
I really hope this doesn't come off as damning with faint praise because that's not it at all. It is an enjoyable movie, whether or not it reinvents the genre.
Tomb Raider is a fun enough action-adventure flick with a strong female hero who goes through an actual arc from being a bit of a screwup to a motivated adventurer.