Coco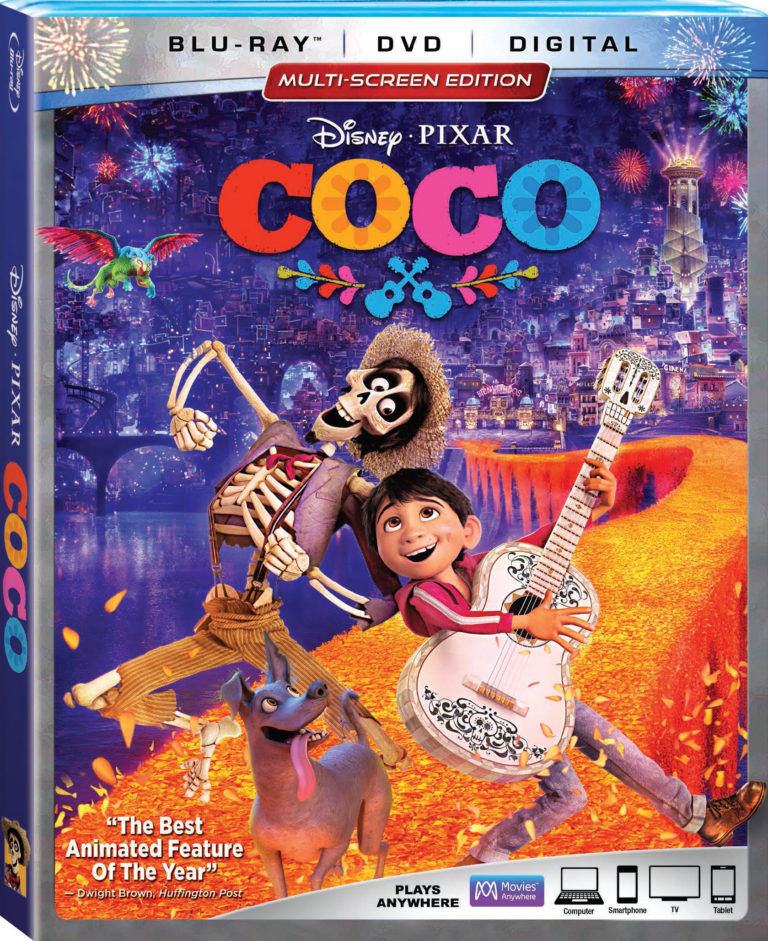 Release Date: February 27, 2018
Cast: Anthony Gonzalez, Gael García Bernal, Benjamin Bratt, Alanna Ubach
Studio: Walt Disney Pictures & Pixar Animation Studios
Extra Feature Rating: ★★★★★
Rating: ★★★★★
Review Spoilers:
Amazon | IMDB | Wikipedia | RT
Disney Pixar's Coco is finally out on blu-ray today! Arguably one of the best films of 2017, it was easily the best animated film of the year. Coco followed in the footsteps of so many of the studio's earlier films by taking viewers on a truly wonderful, emotional journey. But they did something even more amazing with Coco by giving us an incredible young hero of color and embracing a culture that has been left out of the limelight for far too long.
Coco is going to be a must-have addition to any family film collection. It's a colorful, musical adventure that everyone will enjoy and it's emphasis on the importance of family will resonate with viewers of all ages.
Review
I missed Coco when it was in movie theaters so I have spent the last few months desperately trying to avoid spoilers. Everyone I knew kept telling me how amazing it was and I was eagerly looking forward to the experience of watching Coco for myself. I was not at all disappointed. From the very first scenes, Coco had me hooked and I sat through every moment and every song in amazement. It was everything I could have hoped for and more.
Coco focuses on the journey of a young boy named Miguel who ventures into the Land of the Dead on Día de Muertos. Miguel is a gifted musician who dreams of making music for a living but his family hates music. But he is so passionate he's willing to risk his life to go in search of his long forgotten (and disowned) great-great-grandfather in order to gain his blessing to make music. Along the way he learns a lot about the meaning of family and the importance of embracing your past as well as your hopes for the future.
There are a million and one reviews out there for Coco and many of them are likely much more eloquent than mine would be. And I don't want to go too much into the cultural importance of this film nor the importance of having this kind of representation available for young viewers who may never have truly seen themselves portrayed on screen before. There are plenty of Lantix reviewers who have given a far more authentic reaction to the story that I ever could.
What I do want to say, though, is that Coco is a really great film. It's an incredibly moving story with some very satisfying twists and turns. In the past couple of weeks I have watched it time and time again and it never gets old. Like most Disney Pixar films it's undoubtedly destined to become a timeless classic.
Special Features
First off, this release almost got a four star rating in regards to it's special features because Olaf's Frozen Adventure is missing from the blu-ray release. After so many people had to sit through the twenty minute 'mini movie' in theaters you would have though it would have been included. I was definitely expecting that since all the other Disney Pixar shorts are generally included as bonus features for the films they aired before. Also, there hasn't been a physical release of Olaf's Frozen Adventure so this would have been the time to do it!
The Coco bonus features that were included, however, are amazing.
There's not a bad featurette on either the main disc nor the bonus feature disc. I watched every single one form start to finish and don't regret a single one. Some are rather long, others are fairly short. But whether it's a tutorial on drawing skeletons or a full-on exploration of costume design in the film there's a bonus feature for just about anything you might want to know about this film. Because there are a lot of them.
Coco features five bonus featurettes on the main disc including Welcome to the Festival, Mi Familia, Dante, How to Draw a Skeleton, and an audio commentary to accompany the film. Welcome to the Festival is a short animated featurette showing Día de Muertos in both the world of the living and the dead and How to Draw a Skeleton is a brief drawing tutorial by Darry Arriaga who served as the film's Character Art Director.
The more substantive featurettes are Mi Familia and Dante.
Mi Familia is a featurette focusing on the inspirations for Miguel's family. The film's creators discuss how their own families and experiences growing up in Hispanic households helped shape some of the story. They also talked about the families they met on research trips and how they took their inspiration from those families they met along the way. Meanwhile Dante is about the creation of Miguel's goofy sidekick whose personality was in part inspired by some of the real dogs they met while traveling in Mexico. (It turns out Dante is not the only dog in the world who has ever tried to eat food off an ofrenda!) If you only watch the bonus features on the main disc you won't be disappointed as these are both great ones to check out. (The other two are mostly just filler.)
If you want to know more about the making of Coco, though, there are tons of other featurettes on the separate bonus features disc. The additional disc includes eight featurettes, seven deleted scenes with commentary, as well as trailers, promos, and more.
Some of the bonus features are fairly short. The Real Guitar is about a traditional artisan recreating de la Cruz's guitar in real life, You Got the Part! shows the filmmakers surprising Anthony Gonzalez with his casting as Miguel, and How to Make Papel Picado is a fun tutorial where concept artist Ana Ramírez González teachers people how to make the traditional craft using a method she learned as a child in Mexico. They're short and fun to watch — but the other featurettes are where the real magic happens.
Some of them are pretty straightforward. The Music of Coco is about, obviously, the music from the film. It offers an extensive look at not just the various traditionally Mexican styles that were incorporated into the film the but also the animation challenges that accompanied a film so centrally focused on characters who want to make music. Land of Our Ancestors is about designing the Land of the Dead while Fashion Through the Ages is an incredible look at the costuming and character designs that went into the characters in both of the film's worlds.
The best special feature, though, is A Thousand Pictures A Day. This featurette follows the animators and filmmakers as they take research trips across Mexico in order to give Coco it's iconic, authentic look and feel. A Thousand Pictures A Day gives the viewer insight not just into how the film was made but the genuine need to make this film something that the people of Mexico could see themselves in. Throughout the featurette we see the people who graciously invited these filmmakers into their homes, the scenes and people who inspired them, and more. They met real families that worked as artisans in various trades and were able to observe traditional Día de Muertos practices. It's a really cool journey to see them all take and it's obviously a very moving experience for many of the Disney Pixar folks who went.
Similarly, Paths to Pixar: Coco is a great look at the real meaning of this film. The various Hispanic, Chicano, and Lantix creators, artists, animators and employees at Pixar reflect on how they came to work for the company while emphasizing just how much the representation in Coco means. Many of them discuss how hard it was as children to look at Hollywood's leading actors and never see themselves represented. It's a really cool addition to the blu-ray release and a very moving one. Coco's importance in this regard really cannot be emphasized enough.
Of course, the seven deleted scenes are pretty great, too.
Coco was in development for about six years and the film underwent some pretty significant changes along the way. This is evident in many of the deleted scenes. Introductions by Lee Unkrich and Adrian Molina allow viewers to understand what may have been happening in these now defunct scenes. They include deleted songs as well as scenes that seem completely out of place to anyone who has seen the final film. Also Miguel was originally called Marco and many of the scenes reflect that original name.
Basically, this is a fantastic release. I'm incredibly impressed. I just wish Olaf's Frozen Adventure had been included!
Final Thoughts
Coco is the first must-buy blu-ray release of the year. If you're looking for a movie to pick up for a family movie night then this is your best bet. The movie may admittedly appeal more to older kids who will be able to better appreciate the story and it's message than younger viewers. But viewers of all ages will appreciate the film's vibrant colors. The story and animation are timeless — like basically all Disney-Pixare productions.
The blu-ray release is also one of the most solid home release we've seen this year. Coco itself is a masterpiece. But the bonus features that are included really offer a great amount of insight into the filmmaking process. There is a great mix of informative features as well as just fun ones, too. It's just a very solid release all around.
Coco is available today on blu-ray combo pack. If you pick up a copy don't forget to redeem your Disney Movie Rewards points and digital copy at Movies Anywhere!