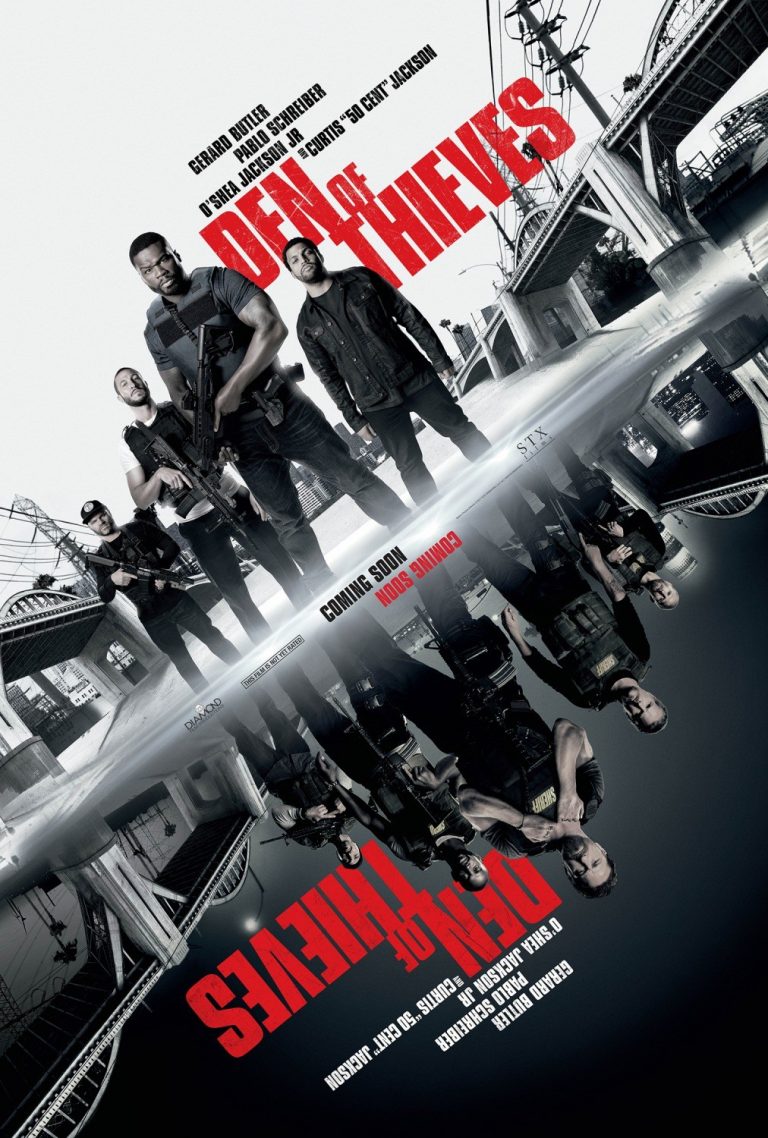 Release Date: January 19, 2018
Cast: Gerard Butler, Curtis "50 Cent" Jackson, Pablo Schreiber, O'Shea Jackson Jr., Evan Jones, Dawn Olivieri, Mo McRae
Director: Christian Gudegast
Studio: Diamond Film Productions, Tooley Productions, G-BASE
Distributor: STX Films
IMDB | Rotten Tomatoes | Wikipedia
Spoilers: Low

Den of Thieves.
Den of Thieves. Den of Thieves… Just what do I say about you? You know, after
Paddington 2
I thought maybe we had entered the best year in movies ever, within the first week we had that perfect piece of art. Welp, here we are and I think the slump has fully arrived.
Den of Thieves is the tale of several unlikable thieves planning a heist while a crew of more unlikable cops works to try and stop them. Even in describing the plot, I find it hard to care. That's the biggest failing of the movie, no reasons to care.
We see no reason to care for any of them. In the case of Big Nick, Gerard Butler, we see three scenes of his family, each a couple of minutes long. He's cheating on his wife and that whole thing is falling apart. When it comes to the 'bad guys,' the only piece of character work we see is through 50 Cent's family, and 50 Cent isn't even the 'leader' of the bad guys!
So, with that in mind, we watch this flick and never see a reason to care, for any of them. This is made even worse when paired with the whole heist aspect of a movie. Traditionally, a heist flick will show you the plan, lay out their moves and the places where it can be tough or go wrong. That way, when the heist is happening the tension is there, 'Will our heroes get caught? Will they succeed?' We aren't given nearly enough of any of that either.
During the various stages, we have no sense of whether it was an important step. Perhaps that is all in service of the swerve it hopes to pull on the audience, a real Usual Suspects-like move – or so the film hopes. Not quite so, unfortunately.
So all these unlikable characters, and what do they do? Spend the movie trying to alpha dog on each other. The machismo on display is grotesque and unironic, which only further hurts them. Butler shows up to the shooting range of the 'bad guys' to outshoot them. Bad guy Pablo Schreiber out shoots him. Butler goes to the strip club and sleeps with Schreiber's girlfriend. But wait, he planned it?!
It's gross. Unlike, say, the Fast & Furious flicks where the movie is about action, manly men (and macho women), but also with a weird heart and love of family (read like the Diesel himself).
But, the movie did give me the opportunity to play one of my favorite games: Spot the Mixed Martial Artists. Lately it's even more of fun as the UFC is owned by WME — ok, ok you didn't come here for UFC analysis. Anyways:
Cody's Spot the Mixed Martial Artists:
1. Max Holloway: Current UFC Featherweight Champion.
2. Oleg Taktarov: First fought at UFC 5, UFC 6 Champion, retired and moved into acting.
3. Michael Bisping: UFC Middleweight, Former Middleweight Champ.
*Fun note that may be incorrect, the only actor to star in a movie with both Ice Cube (xXx: Return of Xander Cage) and Ice Cube Jr. (Den of Thieves) So how about that.
Don't go see this movie.