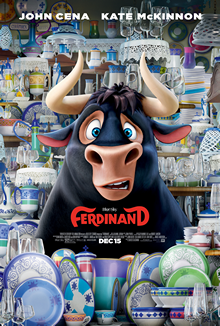 Release Date: December 15th, 2017
Cast: John Cena, Kate McKinnon, Anthony Anderson, Bobby Cannavale, Peyton Manning, David Tennant
Director: Carlos Saldanha
Studio: Blue Sky Studios, 20th Century Fox Animation
Distributor: 20th Century Fox
IMDB | Rotten Tomatoes | Wikipedia
Spoilers: Mild

The 2017 animated movie,
Ferdinand,
is an adaptation of the 1938 book about a pacifist bull. And it ain't half bad! Here's our review of
Ferdinand!
Ferdinand is a friendly little bull who has no aspirations to enter the ring. While his father, friends, and their dads are all training to impress matadors, Ferdinand would much rather be spending his time tending to flowers. When his dad gets called up to the ring but doesn't come home, Ferdinand bolts from the Casa del Toros and heads for more colorful pastures.
Ferdinand, voiced by John Cena, is a bit of a pacifist. Actually, "bit of" is understating it. He has no desire to fight just about anything, he'd much rather smell flowers, eat vegetables, and watch movies with his family. Unfortunately for him, he grows up huge and scares the local village. They put him in a truck and he finds himself put back on the track to the ring.
The movie unfolds how you'd expect. It is an animated movie about a bull and his friends, it certainly doesn't break any new ground. The subject matter – bullfighting- is a surprising one for a kids movie and I suspect parents will have an interesting conversation with their children afterward. Bullfighting isn't the only heavy topic, as the movie veers into meat butchering as well so be warned.
Aside from John Cena, the film has a number of talented actors behind the mic, including Kate McKinnon as the Soothing Goat Lupe, Bobby Cannavale as Valiente, a rival of Ferdinand's, as well as David Tennant, Peyton Manning, and Anthony Anderson rounding out the crowd of bulls. They all do a fairly good job. Some lines do come across average at best.
John Cena doesn't have (in this reviewer's mind) a distinct enough voice to make anything special about Ferdinand, maybe they were counting on the voice of a bull of a man being enough. Some others, including the voice of the dog Paco sound like they had been recording their very first reads of the lines, emotion and emphasis missing completely.
At least the animation is remarkable. The movie does a quality job of stylizing the animals, buildings, and people and has shots that surprised me. For instance, the camera looks up the sword of the matador at such an angle to wow. I've never seen that in an animated film before. The weapon has real weight to it, the steel shining in the sun. Other films definitely downplay the violence of their stories.
While Ferdinand the movie may not be perfect, it is a solid, delightful journey about friends, ideals and sticking to them.