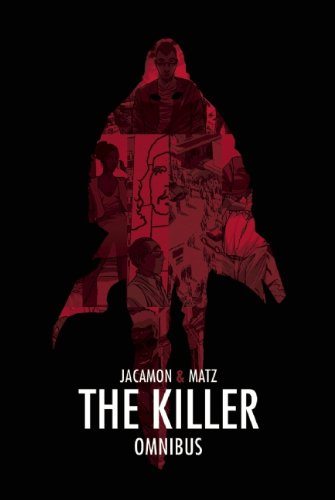 Haven't heard of the Killer comic? That is your loss entirely. It's not hard to pass this one over, though. Just believe me when I say that when it happens it's a mistake on your part. Or, rather, ignorance on your part. The Killer is an American release of a French comic book originally entitled Le Tueur. Which, I'm told, means the Killer in French. Go figure.
The Killer follows the exploits of an unnamed assassin. He is a strange creature of habit. Young still, but not that young. He's been killing for years. He started when he was twenty years old and in college. First it was just scaring people and roughing them up with baseball bats. But then it got more serious. He killed someone. And from there it escalated. The Killer never regretted that, though. He never cared who he was killing or why. He merely took the money people offered him and squirreled it away.
In the end, all he wants is to retire to a small Venezuelan town where he has a house and all kinds of land. As soon as he's got himself $5 million he's done. Out of the game entirely.
Until then, he's got a few more years of jobs to do.
The comic follows the day to day of the Killer. Stalking his targets. The hours and hours of waiting for the right moment. He's a simple man at times. Crazy at others. The job gets to him even if he claims to not care about any of it. He'll put a gun to his own head one moment. Point a rifle out the window and follow innocent civilians – including children – through his scope.
A large part of the comic takes place in Paris. That makes sense considering it's a French comic. Another significant part of it takes place in Venezuela. The other locations come and go as easily as the hits and targets pass by. It's one hell of a story which should be expected considering the writer. Matz, the author, made his comic book debut with the Killer. But it's not the first time he's done much in the way of writing. He's been a video game journalist for years and afterward he started working for Ubisoft. Right now he's the head of the writing department and he's worked on series like Assassin's Creed, Prince of Persia, Splinter Cell, and others.
So you've got a pretty high caliber writer right there. Luc Jacamon rounds out the series as the artist and man. He's great. I cannot believe that this is his first published work. Granted, the original book was published back in 1986 so it's not like he's just published the first thing now. But still. The work in this book is really very good. It fits the story perfectly and the details change from subtle and diluted to extravegant as the story and settings call for it. Jacamon truly has a masterpiece here and I hope that with the release of the omnibus he gets more recognition. I feel like a lot of comic book artists and authors in countries other than the US really don't get the sort of recognition they deserve.
This book? Definitely deserves it.
And if you're not the sort to pick up a comic book but still think the story is interesting there might be some good news for you. I'm told by Wikipedia that the Killer is actually in the process of being adapted for the big screen. And that latest word on the street is that it'll be directed by David Fincher. Considering his work on the Girl With the Dragon Tattoo you got to admit that it would be one hell of an adaptation. There's no guarantee that it'll ever actually see a release – and if it does it will probably have to personalize the Killer much more than the comics do and give him some further motivations and backstory than he was a bored law student who decided to start killing people because it was easy money.
If you are the sort to pick up a good comic book, though, be aware that the omnibus collects the Vol. 1 and Vol 2. collections. So you can wait until July to pick up the final product or you can pick up the individual volumes today.