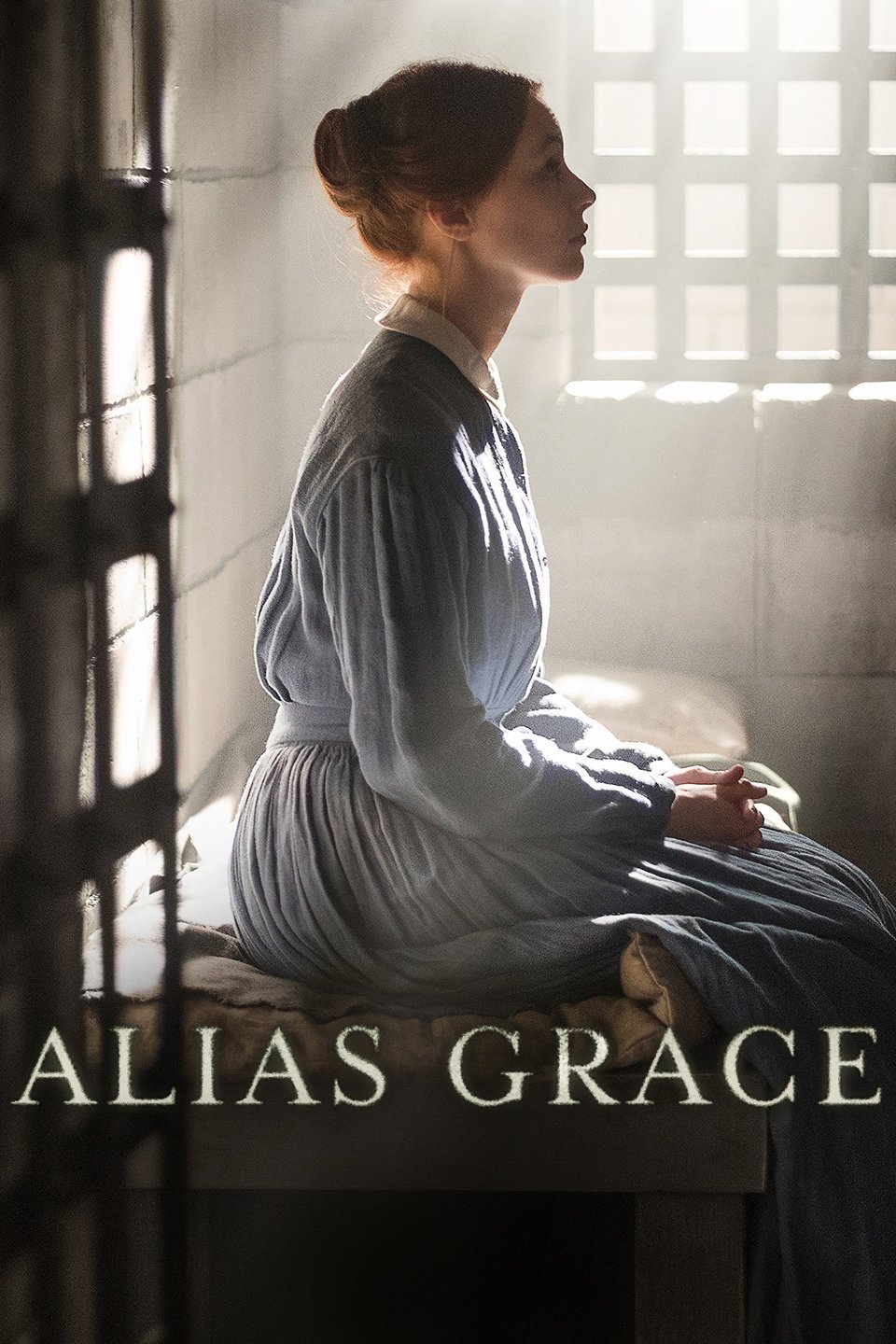 Director: Mary Harron
Cast: Sarah Gadon, Edward Holcroft, Rebecca Liddiard, Zachary Levi
Based on: Alias Grace novel by Margaret Atwood
Genre: historical drama, suspense, mystery
Where to Watch: 6 episode mini-series on Netflix, CBC Television
Spoilers: High (discussing the series ending)

This series is magnificent. I was curious about
Alias Grace
once I read that it was another production with Margaret Atwood (of
Handmaid's Tale
) at the helm and was based on a true story. I was not disappointed. If you're looking for a slow burn historical suspense/drama to watch, look no further.
Alias Grace tells the story of an Irish woman in 1840s Canada named Grace Marks (Sarah Gadon). Grace has been in prison for many years, sentenced originally to the death penalty (and commuted to life in prison) for the murder of her employer and his housekeeper (Anna Paquin).
We first meet Grace as she examines herself in the mirror of her prison cell. From her narration and shifting facial expressions, we learn she is a woman who is both pious and sinful, calculating and naïve, the ingénue and villain of her story, depending on who you ask.
Later, we learn that Grace has a legion of admirers who are trying to prove her innocence and acquit her of all crimes. They have hired a special psychologist, Dr. Jordan (Edward Holcroft), to examine Grace's psychological state and recount her version of events preceding the crime. If all goes well, Dr. Jordan will write a report instrumental to Grace's acquittal.
Little by little, Grace takes us through her life: immigrating from Ireland, her mother's death, the death of her friend Mary Whitney from a botched abortion (I see you, Rebecca Liddiard, and I knew that you were going to be huge after MsLabelled), and the troubling domestic situations in Grace's household. All the while, Dr. Jordan becomes more and more besotted by mysterious, pious Grace.
Sarah Gadon's performance is nothing short of Oscar-worthy. Most of the story rests on the nuances in her facial expressions and vocal delivery, drawing the audience in and casting doubts on the nature of Grace's personality. The audience sympathizes with Grace's traumatic past and seemingly innocent manner, which is contrasted later by the grisly accounts of the murder at trial.
At the end of the series, Grace is hypnotized by her friend (and charlatan) Jeremiah (the incomparable Zachary Levi). Under hypnosis, Grace speaks with the voice of her dead friend, Mary Whitney, seemingly as a second personality emerges and admits to the crime.
Once Grace wakes up, she has no recollection of the second personality. Dr. Jordan refuses to write a report to acquit Grace, and leaves town – never acting on his romantic attractions to Grace. Side note: There is an interesting parallel story with the Doctor involving the innkeeper who is trying to use her sexual wiles to take advantage of him and trap him into taking care of her.
Years later, Grace is acquitted and she marries one of the witnesses who testified against her at trial. Dr. Jordan goes to fight in the Civil War, and is gravely injured. He reads a letter from Grace about a quilt she made for herself, incorporating swatches of fabric from Mary Whitney's corset, the housekeeper's gown (Anna Paquin), and Grace's prison uniform. So that they may all be together.
The audience is left wondering what is true – did Grace commit the crimes in cold blood?
It would make sense that, seeing how Mary Whitney was impregnated by her employer's son and then died because of it, that she would have exacted revenge on a housekeeper who was sleeping with her master and treating Grace poorly. This would fit with Jeremiah winking before hypnotizing Grace to deliver her Mary Whitney performance. It was all orchestrated to get the desired result, Grace's innocence.
It would also make sense, given Grace's traumatic history, that she developed dissociative identity disorder and has multiple personalities, one of which committed the murder.
Of course, there is something magnetic and mystical about Grace, as indicated by Jeremiah's palm-reading early in the series, so Grace may have been possessed by the restless spirit of Mary Whitney, bent on exacting a jealous retribution for another woman in her same situation.
Or, the most simple conclusion: Grace knew exactly what she was doing and she murdered both people. She saw the unfairness of Mary Whitney's pregnancy, recognized the same situation in her current employer's household, and vowed that if her friend couldn't get a happy ending, neither would they. They deserved punishment, and a religiously-fervent Grace delivered.
We simply don't know.
We don't get a resolution.
What we do get is a last look by Grace, directly into the camera, while pinning up her quilt. It's a subtle, knowing look. Like Grace is, and has always been, very self-aware.
We get the impression that maybe we will never know the entire truth. But just as her palm reading foretold, we also get the impression that Grace will be just fine in the end.