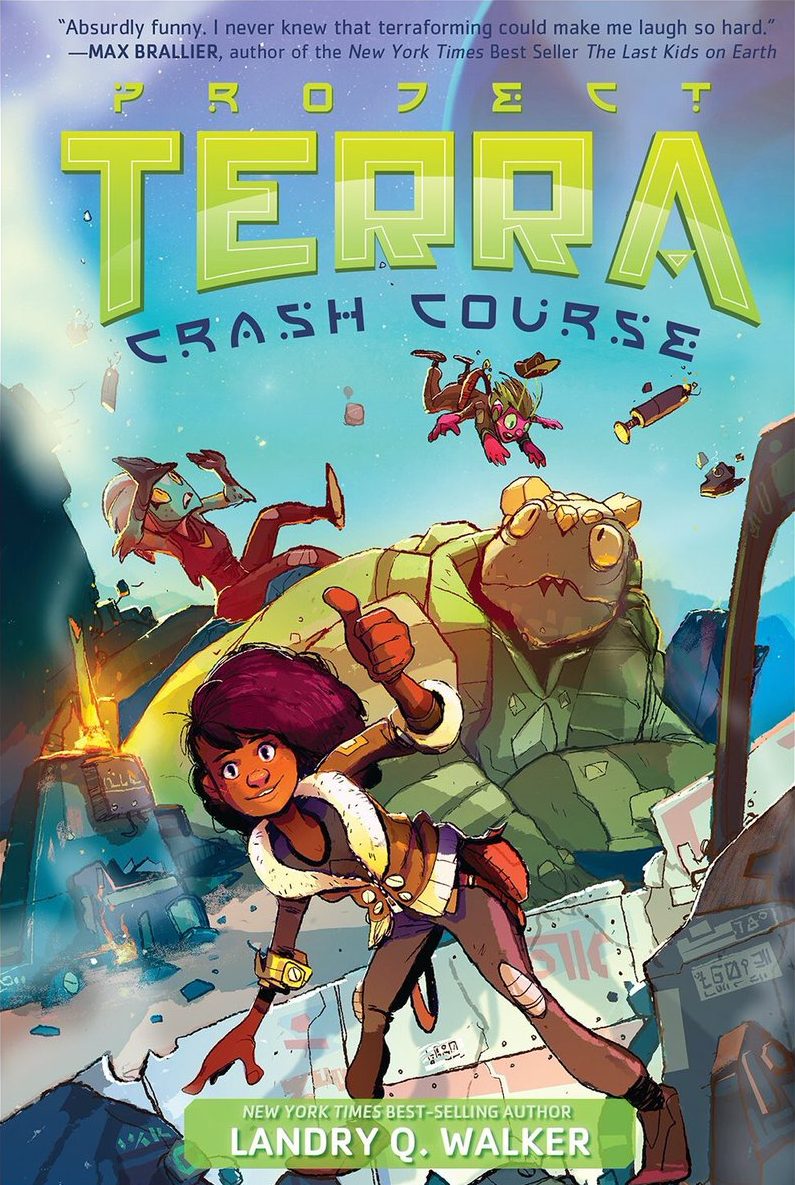 Author: Landry Q. Walker
Illustrator: Keith Zoo
Series: Project: Terra #1
Release Date: September 19, 2017
Publisher: Penguin Workshop
Review Spoilers: Low
GoodReads | Amazon

Crash Course
is the first book in Landry Q. Walker's new middle grade series,
Project: Terra.
At a time when science fiction is taking over mainstream pop culture, this series does young readers a true service by shining the light on an ambitious and relatable
female
lead with a love of science. In this case, that particular science is terraforming.
Project: Terra – Crash Course follows a young girl named Elara as she starts her first year at the Seven Systems School of Terraforming Sciences and Arts. She has big dreams about making a name for herself in terraforming despite her humble beginnings. Working together with her new school friends she tries to funnel her more troublemaking tendencies into more productive avenues. But it becomes apparent rather quickly that something strange is going on at their school and by the end of the book Elara learns that she may have a greater part to play in the fate of the galaxy than she ever could have imagined.
In a lot of ways Crash Course reads like a lot of books that you may already know and love. Elara's school is like a super sci-fi version of Hogwarts. The professors are just as eccentric and unpredictable, the school and grounds have similarly questionable safety standards, and the classes are challenging but still fantastic. Just swap out the magic for science (well, science fiction). Those similarities are a great way to help pitch the series to middle grade readers – especially the more reluctant ones.
Because once they give the book a shot they'll want to keep reading. How many other series can boast that one of their character's best friends (and a prominent member of her little team) is a sentient, non-verbal, non-ambulatory, yellow sponge?
It's these kinds of things that really make Crash Course such an incredible read. The cast of characters are great. Elara is a very relatable young lady with a lot of potential. She doesn't always do things right and she deals with her fair share of adversity, from bullies to shady staff members who may have it out for her. And she does so with her friends at her side always. They are an incredibly diverse set of aliens with humorously fleshed out characteristics. One is a sponge, one has multiple arms, one is part of a hive-mind, and the other is huge!
That's probably the coolest thing for me. The story is great and the revelations at the end set up what is undoubtedly going to be an incredibly entertaining, fun series of sequels. From start to finish I was hooked. And it really did come back to those characters. It's just fun to see how very different they can be and how Elara comes to look past all of that to really create her own little family away from home.
And with the exception of just one of them, they're primarily female characters. They're female characters with hopes and dreams tied directly to their scientific expertise. It's a nice change of pace when most middle grade stories – especially science fiction and fantasy series – tend to feature groups of boys going on adventures with maybe one girl along for the ride. In Project: Terra – Crash Course the classic formula is effectively turned on it's head.
I'm really excited for young readers to get their hands on this one. Project: Terra – Crash Course embraces the idea of girls pursuing careers in exciting (if fictional) scientific fields and going on their own adventures. It's got the sort of humor you'd expect from a middle grade series and features some really great illustrations by Keith Zoo. It's an overall fun read that sets up what should be an entertaining new series. We can't wait to see what comes next in Project: Terra – Bites Back!