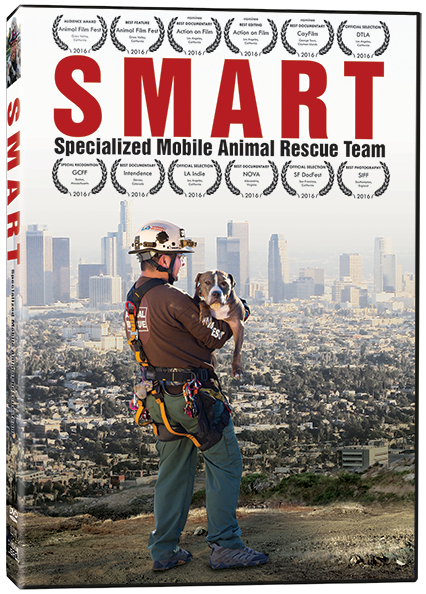 Release Date: December 9th, 2016
Cast: Armando Navarrete, Annette Ramirez, Ramon Garcia, Yvette Smith, Andrew Redfield, Ernesto Poblano
Director: Justin Zimmerman
Distributor: Cinema Libre
Producer: Bricker-Down Productions and Rescate Bison Productions
Genre: Documentary
Review Spoilers: Low
IMDB | Rotten Tomatoes | Website
What do you do when there's a live bird stuck in your chimney with no hope of getting free? If you live in Los Angeles, you call the SMART team. The Specialized Mobile Animal Rescue Team, born from the depths of Los Angeles Animal Control, is a group of highly trained animal rescuers who will go to nearly any length to save an animal's life. Los Angeles' SMART team was Armando Navarrete's answer to the systemic deficiencies he witnessed as an animal control officer.
There is no animal too big or too small to rescue and Navarrete's team is ready to move 24/7 to save an innocent creature's life. Whether it is a horse stuck in thick mud, exhausted from the struggle, or a kitten stuck tightly between two walls, the SMART team believes every animal deserves a chance to survive and thrive.
These modern day superheroes put their own lives on the line day in and day out. Like most superheroes though there is always another side to the person behind the mask and that identity is exactly what SMART: Specialist Mobile Animal Rescue Team seeks to uncover.
Director Justin Zimmerman and his top notch crew followed the SMART team around for three years on an assortment of rescues, training excursions, and into their homes to get a feel for what makes a hero. One part love story, one part superhero origin story, this documentary excels at balancing the ordinary and extraordinary. Zimmerman goes to great length to dig into the rich, quintessential human stories just beneath the surface.
Swift water rescues, repelling down into canyons, or climbing up into palm trees, this team does it all. The Los Angeles SMART team is one of only two teams in the world like it and thanks to this film, they have inspired other animal rescue organizations across the country to consider putting together their own teams. When you support this fantastic, award-winning film, you support animal rescue services and get a chance to shine a light on the amazing work people do for our animals.
SMART also asks audiences to consider the issues surrounding the rights of animals and our duties as their caretakers to do right by them. Zimmerman's team takes viewers on a sometimes heart wrenching journey into the heart of animal services, such as shelters and animal control. If you're anything like me, you will not leave the viewing with dry eyes.
Hooked? You should be. The good news is that SMART is available on DVD, Amazon streaming, iTunes, Xbox, and nearly any other streaming platform available on the internet. Have a big audience you are hoping to entertain? Check out the movie's WEBSITE for licensing options.
You can learn more about the Los Angeles Specialized Mobile Animal Rescue Team HERE.