I'm a sucker for cute middle grade graphic novels and that perfectly describes Eddie Pittman's series, Red's Planet. Throw in some kooky, sci-fi themes and you've got me hooked. Red's Planet is a fun series about a young girl known to most as "Red," who finds herself abducted by aliens and subsequently marooned on a distant planet. The first book came out last year from Amulet Books (an ABRAMS imprint), but the second book came out this week. And a third is reportedly on the way!
Red's Planet is a great middle grade book because it blends some really fantastic artwork with a great story and a particular sort of humor that young readers (as well as older ones) are sure to enjoy. Eddie Pittman does a fantastic job with the series and it's clear that the Disney alum (who cut his teeth on projects like Mulan, Lilo & Stitch, and Phineas and Ferb) knows what he's doing.
Every part of the book works: the story, the art, the character designs, and especially Red.
Red is a fantastic main character who self defines as 'challenging.' A foster kid without a sense of home or family, she's been looking for a place to belong. Getting abducted, it turns out, might not be such a bad thing as she quickly resolves never to go back to Earth.
As the series progresses we get to see Red learn to work with others, trust people, and sometimes even save the day. Along the way she's joined by a cast of unique alien characters some of whom are nicer than others. But even the gruffest of aliens can turn out to be pussy cats — sometimes it just takes time to get to know them!
Also, one of my favorite parts of the series is all of the little easter eggs throughout. Keep a close eye on the 'collection' of artifacts on the alien ship and any of the backgrounds with lots of random aliens. You may see something that catches your eye!
As I said before, there are two books in the series so far: Red's Planet and Red's Planet: Friends and Foes. You can check out our brief, book-specific reviews below! And if you want to check it out for yourself, you can see a preview of the first book on the author's website.


Red's Planet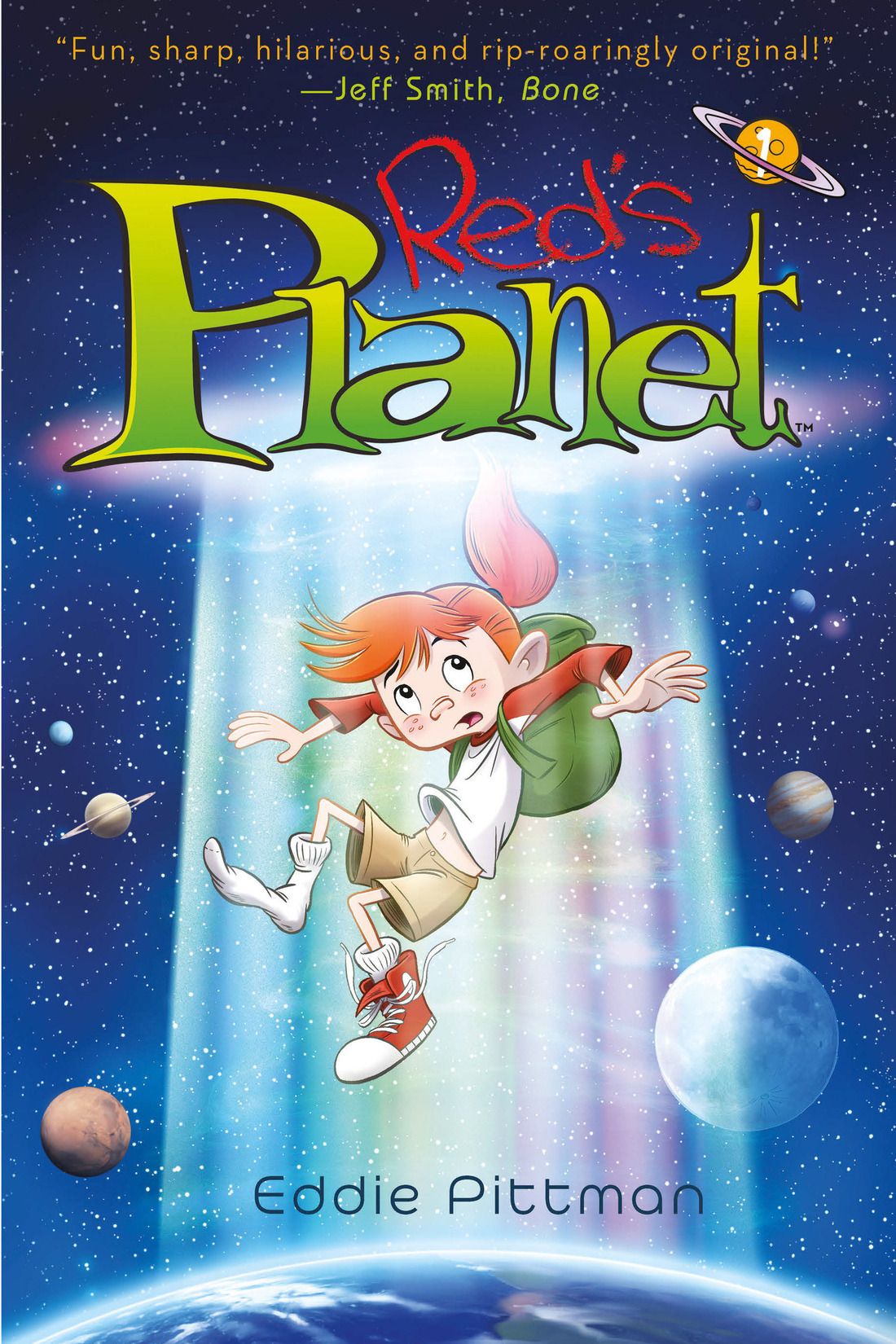 Review Spoilers: Moderate
GoodReads | Amazon | Amulet
Rating: ★★★½☆
In the first book, Red is on the run from her latest foster family while searching for her ideal home in 'paradise.' But after being caught by the local sheriff she finds herself abducted by aliens. Soon after, the ship she is on is attacked by pirates and wrecks on what initially appears to be a desert planet. Suddenly Red, who isn't exactly a people person, is stuck with a group of grumpy aliens, all of whom aren't too happy about their situation.
The book offers readers a first look at Red and her fellow castaways, as well as the grumpy Goose who watches over the planet. Some of the aliens are suspicious of the others, some of them only care about themselves, and some actually want to eat her! But some of them are nice. We see Red's relationship with the young gray alien, Tawee, develop as the two explore the planet together — which includes a lot of running away from things.
It's a lot of fun to see Red interact with the others and explore her new surroundings. And though it's less of a focus in this book than the next, her interactions with Goose are great. Plus over the course of the book we get to not just explore the planet but we also learn about the aliens that abducted all of them in the first place.
There's a lot going on in this book and Red's Planet really does keep readers hooked from start to finish. At times the pacing feels a little off but overall, it's a really fun read. Honestly, my biggest complaint was that it ends with so much story left to tell!
Red's Planet 2: Friend of Foe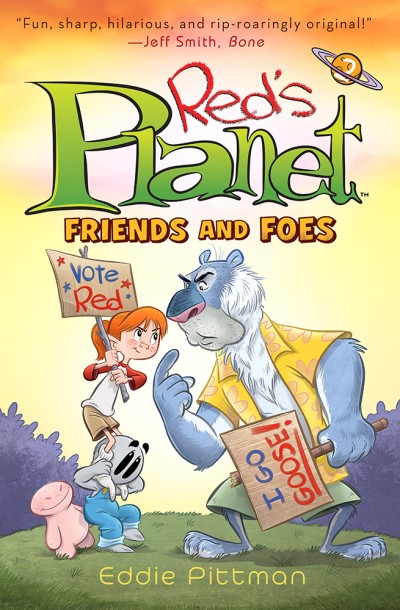 Review Spoilers: Moderate
GoodReads | Amazon | Amulet
Rating: ★★★¾☆
Luckily, Red's Planet was quickly followed up this year by Red's Planet: Friends and Foes. Picking up shortly after the first book, the sequel finds Red and the other castaways trying to make the most of life in Goose's valley. Goose, of course, wants nothing to do with any of them even despite orders from his superiors to look after everyone.
Maxx – a manipulative castaway – tricks Goose into an election that pits Red and Goose against one another for leadership of the group. With the help of Tawee and Tawee's mysterious new friend, who they decide to call Steve, Red does her best to run a successful campaign and win supplies for herself and the others. But the campaign turns out to be just a silly distraction and soon the same pirates that shot down the ship carrying Red and the others are back!
Red's Planet: Friends and Foes is a fantastic follow up to the first book and it really builds on everything that was established in Red's Planet. We see all the different relationships from the first book developing further as the castaways begin to make a home for themselves together. The whole 'election' storyline really highlights those relationships, too. And it provides a fun way to spend most of the book until the story shifts to the much more serious issue of invading alien pirates.
But the end of this book is really the best part of the whole story. I love seeing Red and Goose coming together and, after getting to know Red, it's clear that all she really wants is a home. It's nice to see Red – after struggling quite a bit to fit in both on Earth and in space – finally getting the kind of support she needs. Really, that's why this book gets the extra fourth-of-a-star in it's rating. I was super happy by the end.


Eddie Pittman has created a really great series in his Red's Planet graphic novels. They're fun, cute, and full of heart. After reading these first two books I can't wait to see where Red's journey goes next and I'm super excited to see how things play out for all the other castaways who, after two books, start to feel like family to the reader as well.
If you (or your kids) are looking for a fun, new read then you can't go wrong with Red's Planet!