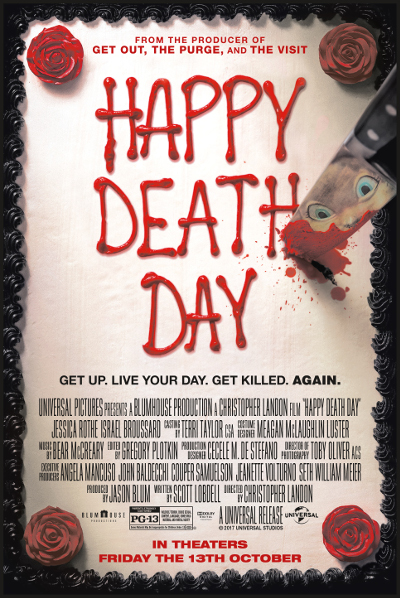 Release Date: October 13, 2017
Cast: Jessica Rothe, Israel Broussard, Ruby Modine, Rachel Matthews, Charles Aitken, Laura Clifton
Director: Christopher Landon
Studio: Blumhouse Productions, Digital Riot Media, Vesuvius Productions
Distributor: Universal Pictures
IMDB | Rotten Tomatoes | Wikipedia
Spoilers: Low

The Horror version of
Groundhog's Day
is here, and don't worry, they know what they are doing.
Happy Death Day
tells the tale of college girl Tree (yes her name is Tree like a tree), who on her birthday is murdered. And then wakes up to the morning of her birthday, with all the same events in the day unfolding, from the early morning phone call from dad she avoids right up to the surprise birthday party her friends throw her. Oh and her
murder!
So Tree must redo her birthday day in and day out until she solves who is murdering her and why. The movie takes a comedic bend early on and keeps a good balance of the two tones for most of the film. The deaths aren't particularly gruesome or bloody in the slightest, a byproduct of the sweet, sweet PG-13. The villain is creepy enough looking with the strange baby face mask, but past that the scares run low.
The movie is fine. It's good for what it is, at times knowing what it is and what we the audience think of it to make for a fine divergent. The movie has a twist (as any time traveling story is wont to do), but it is easily spotted from the jump and the red herring they throw in is wildly dumb. For me at least, the wildly dumbness of the red herring fit with what I felt this movie was: wildly dumb. But it wasn't, it was just average.
On the whole, there is nothing really standout going for this film. The characters are unlikable, and even as they 'learn their lessons' they are still rather beastly. There are some funny moments, but it's fine. If you need a slightly scary diversion this weekend, and you must go to theaters, this is pretty much the only option.