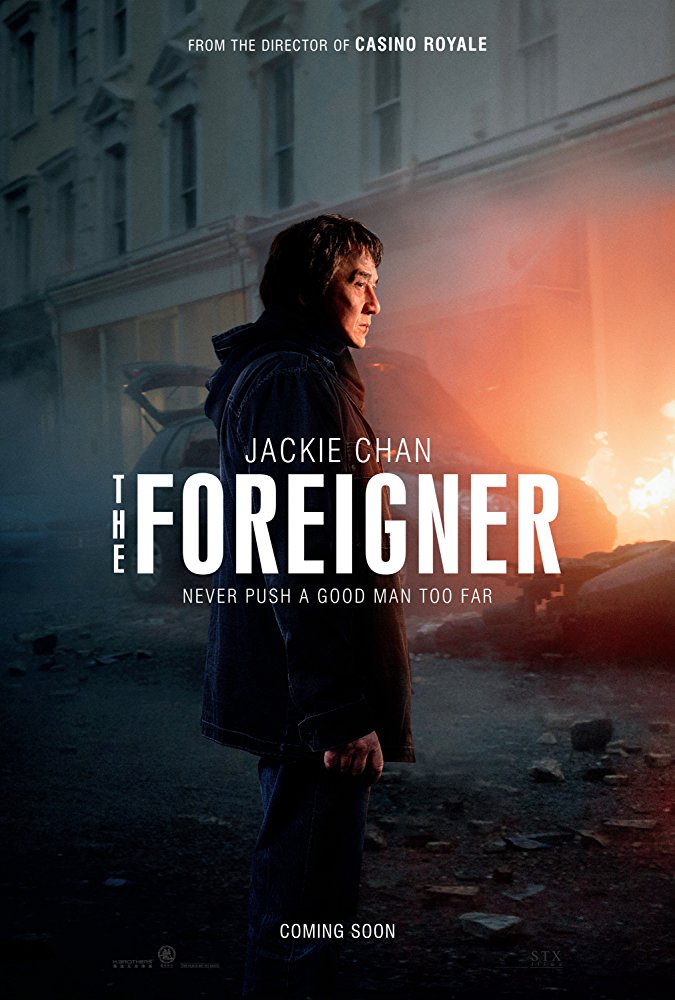 Release Date: October 13 2017
Cast: Jackie Chan, Pierce Brosnan
Director: Martin Campbell
Studio: The Fyzz Facility, Sparke Roll Media, Huayi Brothers Pictures, Wanda Pictures
Distributor: STX Films
IMDB | Rotten Tomatoes | Wikipedia
Spoilers: Medium

Jackie's back! After the incredibly long hiatus since 2017's
Lego Ninjago –
wait, that was 2017, that was like last month? Oh yeah, that's right Jackie Chan is seriously one of the most prolific actors in the history of mankind. Dude has work ethic! Anyways, his next movie is here and here's the scoop.
Jackie Chan plays an immigrant man, whose daughter is a victim of a terrorist bombing in London. The 'Authentic IRA' claim responsibility and that puts this good man on the path of vengeance. Meanwhile, across the water in Northern Ireland, Pierce Brosnan, a politician with ties to the IRA, is on the hunt to find out who did the deed so he can handle it himself within his organization. The two of them are on a collision course.
This is definitely a turn for our man Jackie. Usually, his characters don't want trouble, but here The Foreigner is looking for the men responsible for his daughter's death and he'll be damned if anything – or anyone – gets in his way. After the movie gets over its initial slow burn of exposition, the action picks up but not as full force as Chanatics might like. After all, Chan is now in his 60s, he can take it a little bit easier.
The film is taken from the 1992 book The Chinaman, a fact clear by the fact that no one refers to Chan's Quan as 'The Foreigner' but rather 'The Chinaman,' probably a safe play marketing wise. The original book was written in the height of The Troubles. And really, that places it in an interesting setting for audiences.
When most folks think terrorism and terrorist, the images conjured these days is unfortunately specific. However, this movie details those kinds of characters, Northern Ireland, IRA members who have been fighting their war for more than 30 years, regardless of what the Peace agreement says. Trying to keep this balanced and from spilling blood again is Pierce Brosnan, who becomes Jackie's enemy only because of his unwillingness to let outside forces handle an internal problem.
These opposing forces make the movie almost tragic. We spend equal amounts of time, if not more, with Brosnan's character than we do Chan, and we see that he really is trying to stop the bloody wars. He wants peace. While others claim this is solely for self-preservation and power, it seems more like he really has come around to preferring no victims.
He does give the go-ahead for the bombing of buildings to leverage pardons but he clearly wants no one to die. Is he a hero? No, but he does seem reformed at the least. That makes his conflict with Chan's Quan so tough, you want both to get through this toughness.
The movie's climax, once Chan finally has the names he needs, ends explosively with a 4 vs 1 fist/gunfight (you can guess who wins) followed by some brutal work by the British police. Torture is brought in with zero build-up or regard for it and followed by an execution. It's shocking, it's fast, and it's impactful in making clear the notion that no one is really good or really, really bad. Everyone is shades of gray.
The Foreigner is a surprising turn for Jackie Chan's American audience but between him and Pierce Brosnan's fierce brogue, it is a pleasure to watch.