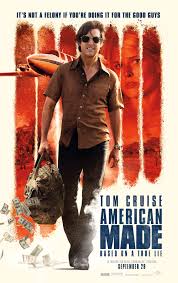 Release Date: September 29, 2017
Cast: Tom Cruise, Domhnall Gleason, Sarah Wright, Alejandro Edda, Mauricio Mejía, Caleb Landry Jones and Jesse Plemons
Director: Doug Liman
Studio: Cross Creek Pictures, Imagine Pictures, Quadrant Pictures
Distributor: Universal Studios
Spoilers: Medium

IMDB
|
Wikipedia
|
Rotten Tomatoes
Tom Cruise is back in action for the second time this year, following the disastrous The Mummy (2017). This time around he's playing smuggler Barry Seal, in Doug Liman's (who previously directed Cruise in Edge of Tomorrow) American Made, the newest cocaine-crazed flick. But is it a good cocaine-crazed flick?
It's based on the 'true' story of Barry Seal, a smuggler hired by the CIA to operate a spy plane in Central America. When that goes sideways he is then approached by the Medellin Cartel and this movie's version of famous bad boys Pablo Escobar and crew. The misfortunes of our protagonist Barry continue to mount as he tries to stay one step ahead of the government, the police, and the crime lords.
The plot isn't anything revolutionary. In fact, it feels a lot like the countless other 'Cocaine Movies' at times. It spirals past simple cocaine smuggling eventually and the movie benefits for it, with the plot of bringing over Contras to train in rural, backwoods America, and the economic boom of a down in the dumps town. These lend the movie a bit of uniqueness in an otherwise well-trod genre.
When it comes to acting there ain't a whole lot to write home about. Cruise plays Barry Seal as a bit of a goof, but still his charming, devil-may-care brand of goof. While the real Seal is a bit of a scumbag, Tom's Barry is much more of a country pumpkin good ol' boy who is a heckuva pilot.
While the movie is fun enough, has a number of solid laughs, it does feel like it drags on a bit too much. At just under 2 hours, the film feels a whole lot longer, perhaps because of that spiraling nature of story that I previously credited as making the movie better. Maybe it affects the pacing in a worse way.
The best thing about it is the bumbling nature of Tom Cruise and his ability to get out of certain doom by sheer luck, or, more specifically, someone else in power seeing an easy mark to manipulate. And he is, so they do. So it goes from event to event.
American Made is by no means the worst movie, but in a field of films as deep as 'drug movies,' it also isn't unique in any way. Maybe mediocrity is a worse crime. If you're a Tom Cruise fan, you'll enjoy it. Otherwise there isn't enough substance here to make this a must see.