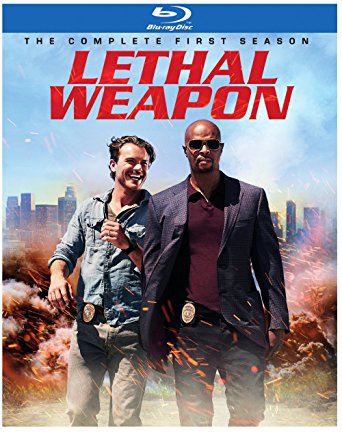 Release Date: September 19, 2017
Cast: Damon Wayans, Clayne Crawford, Jordana Brewster, Kevin Rahm, Keesha Sharp, Michelle Mitchenor, Johnathan Fernandez, Dante Brown, Chandler Kinney
Network: Fox
Genre(s): Action, Crime Drama
Extra Feature Rating: ★★★☆☆
Rating: ★★★★☆
Review Spoilers:
Amazon | IMDB | Wikipedia | RT
These days it seems like any series that can be rebooted for prime time television is being rebooted. We saw Lethal Weapon joined by series like MacGyver, Training Day, and The Exorcist with a SWAT reboot coming this fall. With that in mind, it is understandable that some viewers may be getting reboot fatigue. I was a little apprehensive at first but after watching the first season I have to say that Lethal Weapon is definitely a show that deserves a chance.
Lethal Weapon manages to capture the fun and humor of the original film series in a week-to-week format. It's a great way for new viewers to jump on board with the franchise and fans of the originals can enjoy the familiar characters and premise. Damon Wayans and Clayne Crawford do a great job of bringing Roger Murtaugh and Martin Riggs to life once again.
Now that Lethal Weapon: The Complete First Season is out on blu-ray it's the perfect chance to catch up (or rewatch) before the second season starts on September 26th!
Season Review
Lethal Weapon is definitely one of my favorite crime dramas on television. At a time when so many series are too focused on being super serious, Lethal Weapon was a breath of fresh air as far as I was concerned. While it certainly has it's serious moments and storylines, it's still very much a fun show that relies heavily on it's buddy-cop origins. There are plenty of jokes and Michael Bay-style action moments. But it is the chemistry between the various cast members that really sells the series.
The main characters on the show are similar to those in the original films. Damon Wayans takes over the role of Roger Murtagh, a homicide detective who has just come back to work after suffering a massive heart attack. Meanwhile, Clayne Crawford inherits the part of Martin Riggs – a borderline suicidal cop from Texas whose pregnant wife was recently killed in a car accident. Murtagh is a family man dealing with his newly realized mortality. Riggs is a loose canon who doesn't have any problem causing insane amounts of property damage.
While the characters' origins and motivations are little bit diffrent from their film counterparts there are a fair number of similarities. And the liberties that are taken just add to the viewer's enjoyment of this series.
Lethal Weapon abides by the usual procedural format of most cop shows. Each week we're introduced to a body-of-the-week or at the very least a case-of-the-week. But the writers focus just as much on the cases as they do the character development. As interesting as some of the episodes are, I love the moments when we're just spending a little time with Murtagh, Riggs, and the great secondary characters we meet along the way.
Murtagh has a great relationship with his family which includes his wife, teenage son and daughter, and infant daughter, Harper. He's also still close with his former partner and current superior officer, Brooks Avery (played by Kevin Rahm). They all pop up now frequently and while they only occasionally get to take the spot light those moments really add to Murtagh's character and the show's sense of family.
But, if we're all being honest, Riggs is probably the best character in the show.
He's damaged and yet he manages to focus enough that he's still a pretty great cop. If, you know, you can overlock his recklessness and propensity towards collateral damage. A big part of the show is Riggs' struggle with depression and alcoholism as well as his struggle to embrace the friendship and family he's managed to find now that he's moved to Los Angeles. With the assistance of the agency's in-house psychiatrist, he makes some strides forward. His brand of self-depreciating, self-destructive humor I think resonates with a lot of viewers but the show does try to acknowledge the seriousness of his plight, too, now and again.
Now, I'm going to be the first to admit that this isn't the perfect show.
The action seems a little over the top at times. Riggs' behavior is obviously too outrageous for any rational police agency to ignore. And I don't think anyone would really blame Murtagh for being a little wary of his crazy partner. Suspend your disbelieve, though, and let yourself have a little fun and you're bound to enjoy Lethal Weapon. Just be prepared for a pretty jaw dropping, dark season finale and a cliffhanger that's going to leave you desperately wanting more. (Luckily this blu-ray release is coming out about a week before the show comes out and if you're a new fan you won't have to wait long!)
Special Features
The special features on this first season release were a little disappointing. Don't get me wrong – some of them are great. But I've generally come to expect that blu-ray releases of a television series come with digital copies and, unfortunately, that's not the case with Lethal Weapon. If you're picking up this series on blu-ray and want to add it to your digital library you'll have to buy the season all over again in digital HD.
As far as the extras that are included, the blu-ray release has some worthwhile bonus features.
They've included an uncensored, extended version of the pilot episode a well as additional deleted scenes and a pretty standard gag reel. The gag reel is hilarious which should probably be expected from such a fun series and cast. And the extra, sometimes unused moments can be great to see.
The best bonus feature, however, is Reloading Lethal Weapon which focuses on everything that went into rebooting the classic franchise. It's presented as a sort of laid-back discussion with the showrunners helmed by Johnathan Fernandez who plays Scorsese in the show. They even film the discussion in one of the locations used in the series. It's a really cool featurette that talks a lot about the influences of the original series as well as what it took to bring this television adaptation together. They also point out Easter eggs and other things you might have missed in your first watch thing – and more!
Final Thoughts
The DVD and blu-ray releases of Lethal Weapon: The Complete First Season couldn't be coming out at a better time. With fall television starting back up it's the perfect time for some last minute binge watching!
The next season premieres on September 26th at 8 PM EST so you have about a week to get caught up. If you haven't seen the new Lethal Weapon series now is the time! Lethal Weapon is an incredibly fun buddy-cop procedural packed full of humor, action, and heart. And it's a very easy to binge series. You'll want to watch episode after episode — and now you can!
Whether you watched it last season and just want to relive the series or you need to catch up and watch it for the first time, Lethal Weapon: The Complete First Season is definitely worth checking out! While the special features are lacking, it'll nonetheless get you prepared for the second season's premiere next week!