Synopsis of 2×07: Rick transfers his brain into a younger clone, then refuses to return to his old body. Jerry and Beth attend marriage counseling on another planet.
Rating: ★★★★☆
If there's one thing that's getting old about Rick and Morty, it's the Beth-Jerry character dynamic. For one thing, they get stuck together too often, seemingly by default; out of the seven episodes so far this season, four have a Beth and Jerry subplot. That wouldn't be a bad thing – after all, Rick and Morty spend basically every episode together – if they didn't all follow the same arc of the two fighting over something until they eventually realize they're right for each other, time and time again. I couldn't believe how excited I got when Rick took Beth and Jerry away on his ship with them, leaving Morty and Summer on Earth, to see how their dynamic would transform with the universe's biggest curveball added. And then he drops them off and returns to Earth. What a letdown.
He does so to follow Summer's idea of inserting his brain into a smaller clone version of himself to enroll in the high school and help seek out a local vampire. When they track down the vampire in no time, Rick and Morty feel bummed because Tiny Rick became the most popular kid in school in no time, inherently boosting their own social statuses. Tiny Rick agrees to stay tiny a little bit longer to help them out, but Summer suspects Rick's older body is dying while hung in stasis. She gets Tiny Rick expelled in hopes it'll get him to switch back, but it only provokes him to publicly humiliate her and try to destroy the real Rick's body. They stop him and finally pull off the transfer, and normal-sized Rick destroys a whole slew of clones in his basement.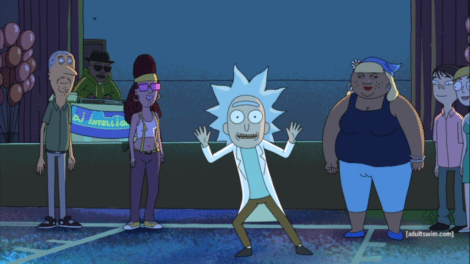 Then, of course, there's Beth and Jerry. Rick sends them to an off-planet marriage counseling session that boasts a 100% success rate. This company works by taking each person's perceptions of the other and bringing it to life as a real-world monster, so they can duke it out right in front of their eyes. But when perception Jerry and perception Beth team up, they destroy the entire facility, leaving real Jerry and real Beth trapped there. Perception Beth captures real Beth and uses her to make an infinite number of perception Jerrys, which she plans to use to conquer the universe. Jerry comes to save the day, changing Beth's perception of Jerry and creating an army of stronger, braver Jerrys to fight the other ones. At this point it gets too complicated to describe in text, so let's just say they make it out alive, and they agree – in the most honest and fulfilling ending to one of these stories yet – to maintain their marriage "as least until Morty has graduated high school."
On a thematic level, both plots fall a bit flat. Rick's brain knows his old body is dying, but Tiny Rick can only express how he really feels through his teen angst in dances and doodles, so those are the only chances real Rick can speak. It's a clever idea, but that's really all there is to it, and the episode explains the whole thing for us.
The Beth-Jerry story has better stuff going on that level. The scene in which Jerry and perception Beth actually become more dangerous when they're "codependent," and that in which the various perceptions of Jerry literally fight one another, work great thematically. But it comes at the cost of some of the logic of the plot. Why exactly is this violent, deeply metaphorical method of therapy so successful? And the eventual conclusion – when Jerry makes Beth's ideal perception of him create his perception of Beth, which is a goddess and apparently makes no goddamn sense to type – may get them out of the conflict, but why does it solidify their relationship? These details unfortunately fall by the wayside.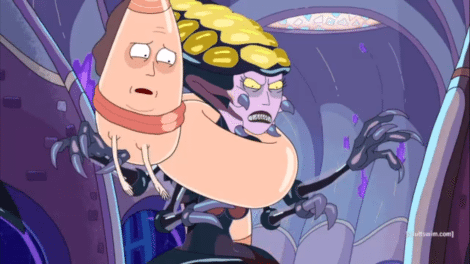 But on a humor level? What a fantastic episode. When the school vampire turns out to be Coach Feratu? When they finally bring out Tiny Rick's inner angst in full by playing Elliot Smith for him? When Jerry's proud claims of his heroism don't inspire powerful warriors, but a series of Jerrys that wear t-shirts with his own face on them and continuously pat each other on the back? All absolutely classic, which makes this episode a win overall.