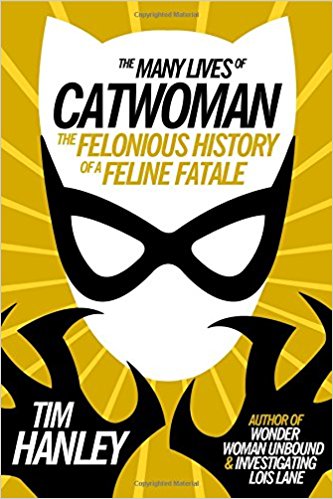 Title: The Many Lives of Catwoman: The Felonious History of a Feline Fatale
Author: Tim Hanley
Release Date: July 1, 2017
Publisher: Chicago Review Press
Review Spoilers: Low
Goodreads Amazon

Catwoman has one of the longest histories in the comic realm, beginning as little more than a one-off character. However, she quickly grew into femme fatale utilizing her wit, wiles, and whims.
Tim Hanley steadily handles the topic of a female villain, never once falling into the traps which often waylay males as they discuss female characters. For this book, his aim was to take a critical look at a long comics history (over 70 years!). He explains not only the developments of Catwoman, but looks at the social significance of her role as well.
The comic history of Catwoman is detailed through the ages by breaking up chapters mainly along authorial lines. Hanley also focuses on the social implications and conversations (Whipping the Patriarchy may be my new catchphrase), animation (who doesn't love the animated series?), and actresses of both the live and voice variety. It's a hefty undertaking, but somehow, Hanley has crafted a book which never seems verbose.
The fascinating way that Hanley has written this book allows it to be comprehensible and interesting to all readers. In many ways, this book could be used as a textbook in a class on characterization, especially if the class wanted to look at female archetypes in literature. Because no one else has quite filled the roll of sex symbol and feminist that Catwoman has.
"[Her narrative is] one of reinvention, of following every benching or fetishizing depiction with a new incarnation that forgets the past and blazes on with the fierce independence that's characterized her over the decades."
The Many Lives of Catwoman is a great peek into the history of a classic comic character. Hanley provides interesting insights into the industry and its handling of her. And there's an absolutely beautiful bibliography at the end. If you're into that kind of thing. I, for one, am glad to know my favorite childhood character a little bit better, to feel she received the focus and respect she deserved. If anyone deserves nine lives, it's Catwoman.