BOOM! Studios is having a big week with Grass Kings #6, which Sam reviewed, and The Unsound #3, which Kylee is loving! Jackson read the first issue of Redlands from Image Comics, while Renee is continuing Violent Love, also from Image. She's also enjoying a strong arc from Ms. Marvel and Marvel comics.
Want to hear more about what we thought about these issues? Read on – and let us know what you thought in the comments below.


Sam's Reads
Grass Kings #6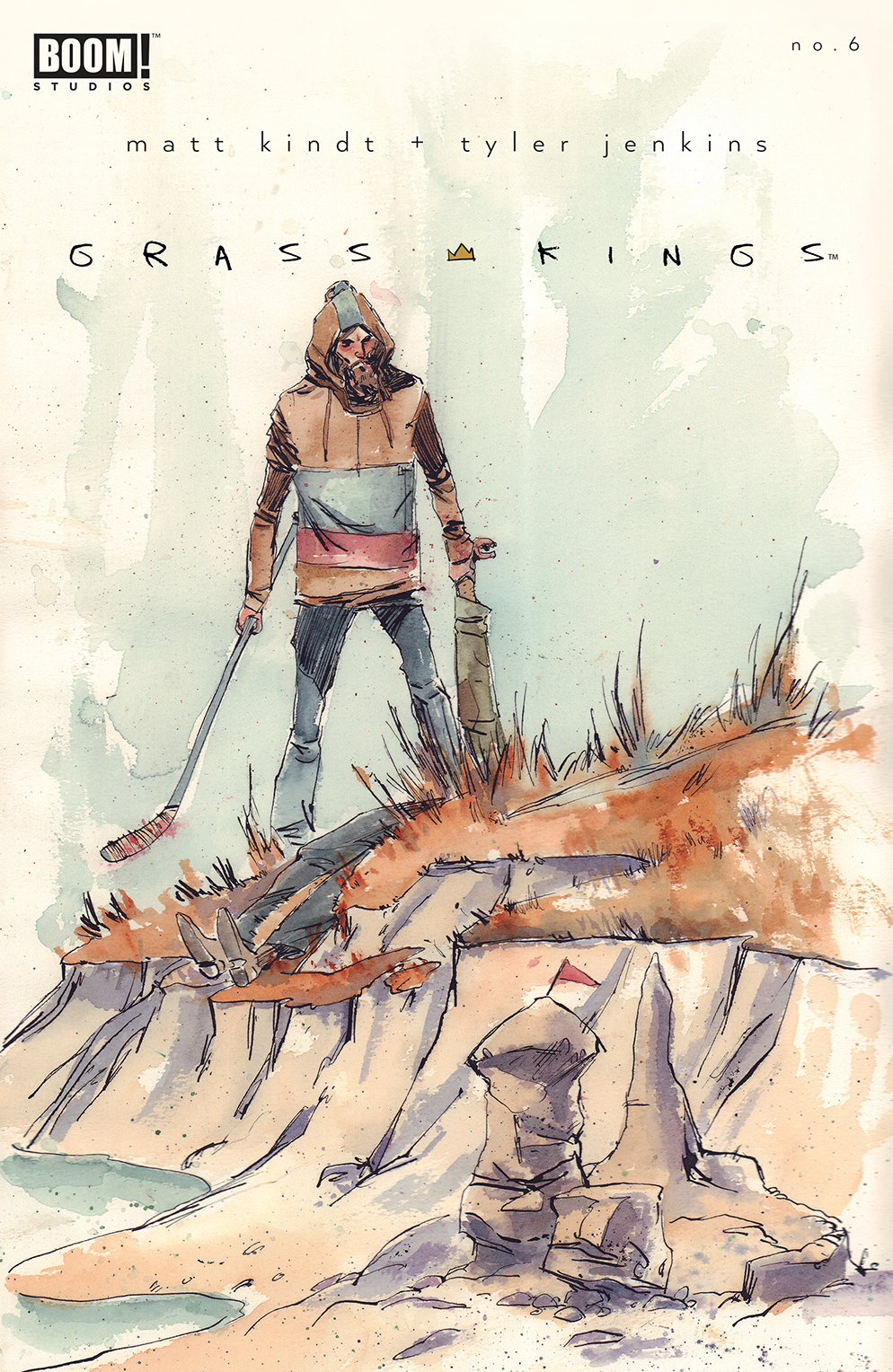 Author: Matt Kindt
Artist: Tyler Jenkins
Publisher:BOOM! Studios
Source: BOOM! Studios DRC
★★★★☆
In a departure from the usual introduction, this issue of Grass Kings picks up pretty much immediately where the last issue left off. There's no flashback to the Kingdom of the past. Instead we get a very brief throwback to the knights and dragons theme I didn't really like and then we're thrown right back into the story.
As I expected, this whole attack on the Kingdom gets resolved fairly quickly but the final showdown between Robert and Humbert ends up being more of a showdown between Humbert and Maria. And interestingly this only takes us through half of the issue. The Cargill folks are sent running home with their tails between their legs and Humbert in pretty bad condition.
Despite the fact that the Grass Kingdom is effectively at war with Cargill now, things start to settle down to a degree. Robert seems to finally be getting his shit together. He's making amends and might be finally moving on from his family tragedy. It's nice to see Robert starting to move forward. I think his character development has been pretty solid so far and I'm interested in seeing what a more confident, sober Robert might do in issues to come.
Granted, I think this is all likely short lived. The conflict between the Grass Kingdom and Cargill is only one part of this story. And with that on the back burner for the time being, we're getting back into the other major incident that's overshadowing this place: the serial killer that stalked the region and may or may not have killed Robert's daughter.
Personally, I think this will be more interesting than the Kingdom finding itself in some stereotypical Waco-style siege anyway. It'll be interesting to see how Robert handles things — and how long Bruce can keep his suspicions and investigations from his brother. Speaking of Bruce, there are some interesting dynamics explored this issue between him and Humbert and I hope we see more of that as the story progresses.
This issue perfectly wraps up the current arc and provides a temporary resolution to the conflict between the Grass Kingdom and Cargill. Not only that but it also gives us a great jumping off point for the next part of the story. An excellent issue – we can't wait to see what comes next!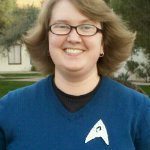 Sam Wildman is a co-founder and co-editor at Nerdophiles. Follow her on Twitter @samaside.


Kylee's Reads
The Unsound #3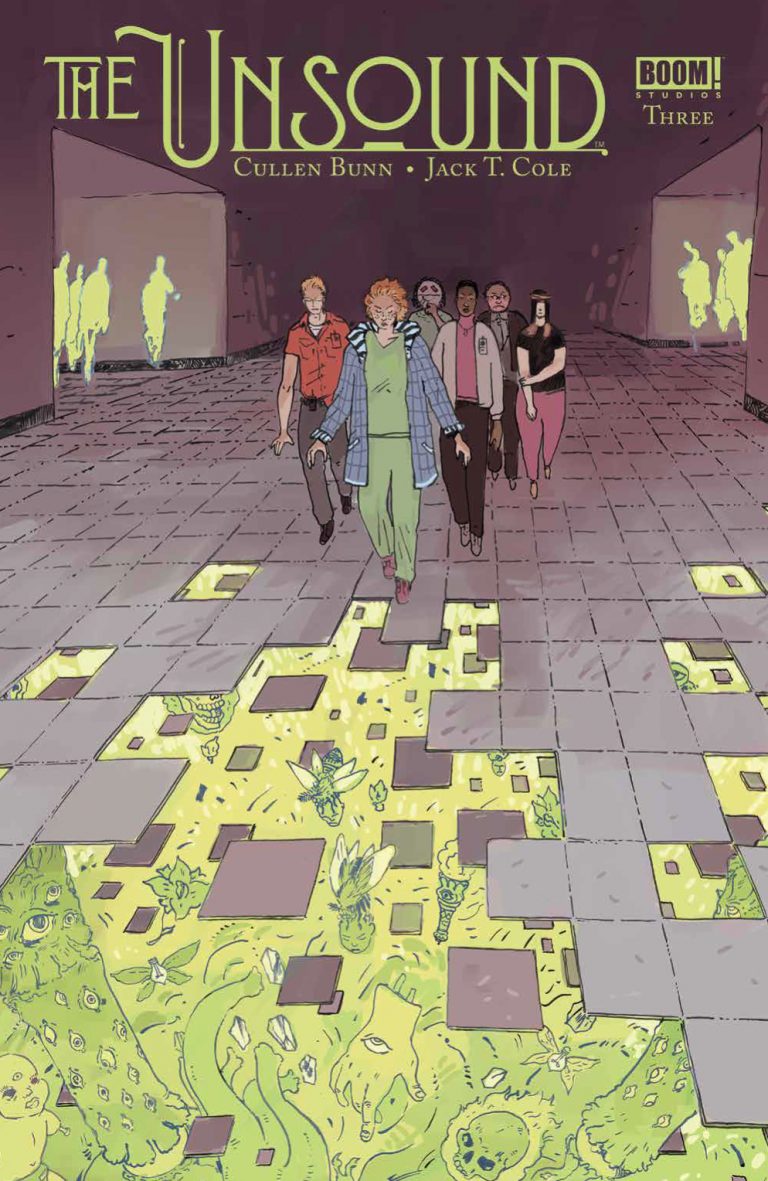 Author: Cullen Bunn
Artist: Jack T. Cole
Publisher: BOOM! Studios
Source: BOOM! Studios DRC
★★★★☆
After the whirlwind of impending doom that was last issue, Cullen Bunn has crafted the perfect calm before the storm in issue #3. With no other options but to trust Xerxes with their safety – and possibly their sanity – the survivors of the riot follow him into a strange, absurdist world. Very few questions are answered as the uncertainty and distrust absolutely radiates from the page in Bunn's writing.
However, it's definitely Jack T. Cole who is the MVP of this issue. Xerxes words may be confusing, but the reality they live in is absolutely unsettling. With the paper masks on, there's a visual strangeness that audiences encounter, which could be equal parts nightmare and dream. Every frame and scene has so much going on that it takes time to really digest the group's surroundings on each page. Decorative stairs, light bulbs hanging from the ceiling, and plenty of unmasked faces make up the background imagery. I'm especially taken by a perspective shot where readers are looking down from a ceiling on a spiral staircase and hanging light bulbs.
The best issue to date, The Unsound continues to push the boundaries of tense, slow-burning psychological horror. Ashli disobeyed the strong suggestion that she especially must keep her mask on and readers were presented with a trippy, visual escape that may just further doom the riot survivors…


Kylee Sills is an associate editor at Nerdophiles. As beautiful and wacky as the visuals of The Unsound were, she'd still probably have died in the riot long ago. Follow her on Twitter @kyleewho.


Jackson's Reads
Redlands #1
Author: Jordie Bellaire
Artist: Vanessa R. Del Rey
Publisher: Image Comics
Source: Image Comics DRC
★★★★☆
Redlands #1 feels like a first issue in a lot of ways, both as the debut of a new story and a first major writing job for Bellaire. It's a debut full of enticing moments and exciting sequences but the connecting tissue between those scenes just isn't quite there. That's a problem that could right itself as the series' central thesis crystalizes. Read the full review here.



Jackson Adams is a staff writer at Nerdophiles. Follow him on Twitter @JacksonInACup.


Renee's Reads
Violent Love #7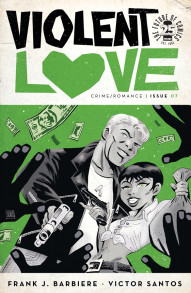 Author: Frank J. Barbiere
Artist: Victor Santos
Publisher: Image Comics
Source: Image Comics DRC
★★★★☆
This issue of Violent Love required a re-read, as the timeline jumped all over the place. Once again, the contrasting artwork and the giant headlines helped guide the reader as to when events were taking place, but with multiple time jumps, it was difficult to keep track.
This issue focuses on Daisy's irrationality that sent her and Rock into a trap that lead to a shoot out and Daisy being cornered by Johnny Nails. The fact that the issue then jumps to 1987, showing a much older and more hardened Daisy acquiring a gun also foreshadows that Johnny Nails bested her again and that her thirst for revenge has not yet been quenched.
Despite the non-linear storytelling, the rest of this issue is fast paced as it follows Daisy Jane's unquenchable thirst for thrill and vengeance against Johnny Nails, as she robs the banks that he owns. The phenomenal artistry that spans over multiple panels shows Daisy Jane's fears rather than spending the time on unnecessary dialogue to explain what she is experiencing. This technique is employed throughout the issue and conveys the emotional states of the characters. It makes it seem like the reader is watching a scene in a movie, rather than reading it in a comic.
Overall, I really have enjoyed this series so far, despite the fact that there are no real heroes in this story. Because we have started at the end, with the knowledge that Rock is already dead and Daisy has survived and has a child, it's more of enjoying the ride to see how this these characters got here.
Ms. Marvel #21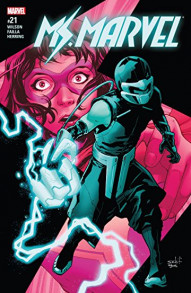 Author: G. Willow Wilson
Artist: Marco Falla
Publisher: Marvel Comics
★★★★☆
Ms. Marvel has been on point when tackling difficult societal issues within the context of the Marvel world. The story arc "Mecca," has so far been tackling issues of micro-aggression, racism, bigotry, and the blatant violation of basic human (or Inhuman/mutant) rights. The theme of fearing what is not easily understood has been done before (can we say X-Men and Magneto?), but Ms. Marvel applies this theme to the context of not only the Marvel-verse, but to our current society.
The Mecca story arc also forces Ms. Marvel to choose between her morals and her family. Ms. Marvel initially chooses to give up to save her brother, but her brother refuses, understanding that they needed to fight for this, because if they gave up these injustice would continue. Though the center of the action is on Ms. Marvel and a band of misfits fighting the government, a large piece of this is finding support and strength from unlikely allies.
During the battle, Ms. Marvel thinks herself defeated and she reveals that Discord is really her friend Josh. Ms. Marvel is again forced to experience the betrayal of those that she considered friends and exactly what ramifications this will have. However, Josh explains that it was out of fear, loneliness, and a lack of purpose that caused him to become Discord. Having a purpose, even one that he was unsure about, dangled in front of him was enough. Ms. Marvel does the only thing she can think of in that moment, and that was to remove her mask and reveal who she is to Josh.
Ms. Marvel continues to be one of the few Marvel comic books that I wait for with great anticipation. So far, the writing and the art have not failed to let me down, and every issue contains a small moment of hope captured amongst the injustice that is occurring. I hope that this story arc ends as strongly as it begun.


Renee Marriott is a staff writer at Nerdophiles.