When the convention center closes its doors for the evening, convention attendees and locals turn their attention to another type of fun: evening parties. This year was no exception and there were a variety of parties hosted across all five nights.
One of my favorite events of San Diego Comic Con is Nerd Nite, hosted by National Geographic and the event has slowly been gaining notoriety over the past few years. A few years ago the event was a small walk in gathering, but this year tickets sold out very quickly and the party actually reached capacity within an hour or so resulting in guests, even those with tickets, being turned away at the door. The event is entirely free and tickets are available to anyone, but they do go fast and often become available without much notice.
The party was held at the Hotel Solamar terrace and pool and just when I didn't think they could top years' past, they stepped up their game. New this year were light up wristbands that were themed to celebrate National Geographic's two shows, Mars (the red planet) and One Strange Rock (the blue planet). There was also some great music choices and even some dancing towards the later part of the night.
The free food and drink selections were incredible this year, with ingenious space themed cocktails, a tater tot bar, mini burgers, and even a dessert tent. Yes, you read that right, there was a tent dedicated to desserts, under which there was an assortment of small apple pie treats, cheesecake bites, and more.
There was no waiting this year as the food was available the minute you arrived and servers quickly re-stocked food stations. On top of specialty cocktails, there was an open bar for those who preferred the basics.
There were a few brief moments when the venue got a little tight but it never felt as suffocating as the convention center can feel and, with the venue's size, you could see the large projector, screen, and stage from anywhere, making it the perfect location. Low-key lighting, a sea of sofas, and the open air made it a wonderful location to wind down after a long day.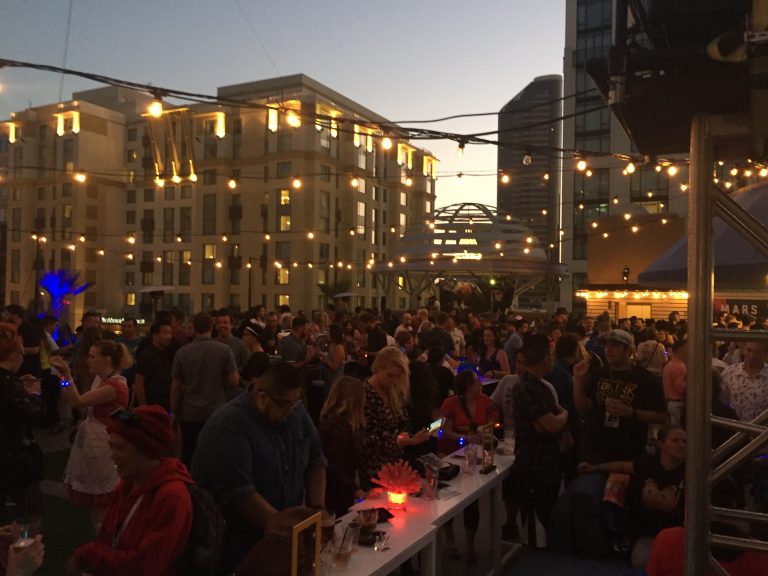 Although the presentations were short, this year's speakers were engaging and boasted some serious skill sets.
The first speakers were Bobak Ferdowsi ('The Mohawk Guy') and Mallory Lefland from NASA's Jet Propulsion Laboratory. Both spoke about their experiences and future plans for exploring more of Mars.
Next up was former NASA astronaut Jerry M. Linenger. It's not every day you get to meet a NASA astronaut and it was a treat to hear him talk about his incredible experiences, including facing and troubleshooting the worst fire to ever occur in space.
Last up was Aaron Sagers, a pop culture expert, TV host, and editor-at-large, who rounded out the night with some engaging trivia and entertainment.
A staple in years' past, Ricardo Williams, the organizer and host of Nerd Nite Orlando wasn't in attendance this year at Nerd Nite SDCC. Ricardo is a natural entertainer and I was disappointed, but I hope to see him again next year!
On top of the food, drink, and guest speakers, National Geographic had set up a photo station where you could try on a space helmet and other fun things before posing with your friends in front of space backdrop. If that wasn't your style, they also had a nice red carpet style backdrop promoting National Geographic and it's sponsors. Before leaving guests were given swag bags, which included books, a water bottle, a t-shirt, candy and more.
For the fourth year in a row, we had an absolute blast hearing some incredibly skilled speakers and enjoying the venue. We can't wait to see what's in store for San-Diego Comic Con 2018.
If you're interested in learning about unconventional and engaging nerd-related topics, look up if there are Nerd Nites in your area. Nerd Nites are held in over a hundred different cities and each evening and their speakers are unique.