This week, Sam started a new Lumberjanes arc, which may turn into her favorite one yet. Jackson returned to the Black Magick series from Greg Rucka and Image Comics and Renee continues to enjoy the "Predator" arc in Spider-Gwen.
Read our reviews and let us know which comics we're missing out on in the comments!


Sam's Reads
Lumberjanes #39
Authors: Shannon Watters & Kat Leyh
Artist: Ayme Sotuyo
Publisher: BOOM! Box
Source: BOOM! Studios DRC
★★★★☆
As much fun as hanging out with the Lumberjane parents has been, it's high time that the plot really kicked into high gear and it does with this issue. In this very plot driven issue, the motivations of the trickster Fox are revealed and we get to see Nellie (aka the Bear Woman) once again! Plus the secrets of the Lumberjanes and Miss Qiunzella Thiskwin Penniquiqul Thistle Crumpet's Camp for Hardcore Lady Types come closer to being revealed.
I like this trickster Fox a lot and I think this is one of the most unique antagonists the girls have faced. Obviously I was on board with this story arc from the beginning because I loved the idea of seeing the girls' families and having them desperately try to keep the camp's supernatural tendencies a secret. But the Fox is a great character whose focus on pranks and teasing everyone leads to some pretty cool moments. From tricking the girls into thinking Jen had come to retrieve their parents to pretending to be April (until Jo demonstrates a secret handshake with the real April), the Fox manages to sneak quite a bit by them.
Plus, the Fox's motivations are pretty great. Nellie stole the Fox's heart! Apparently the Fox was a little too zealous with pranks in the past and that's how she got the Fox to go away. But still: that's a little harsh, Bear Woman. I mean, can you really blame the Fox for taking the girls' families hostage with the help of an army of adorable forest animals? I can't. I also can't wait to see what happens next with their parents because there's no way they're going to find being held hostage by forest animals normal.
Ayme Sotuyo is absolutely killing it with her artwork on this arc and the story has been fantastic so far. I genuinely think this is probably going to end up being my favorite Lumberjanes arc once all is said and done.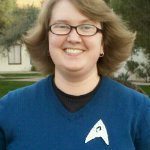 Sam Wildman is a co-founder and co-editor at Nerdophiles. She owned her high school punk rock poser status. Follow her on Twitter @samaside.


Jackson's Reads
Black Magick #6
Author: Greg Rucka
Artist: Nicola Scott
Publisher: Image Comics
Source: Image DRC
★★★★★
Black Magick #6 is all flashback, with the majority of the story taking place in the lead up to Rowan joining the coven. She's a vastly different character than when readers saw her nearly a year and a half ago, hopeful about her future and excited to embrace the world of magic she knows she's destined for.
There's a real sense of something horrifying coming though and a palpable sense of dread hangs over a child's birthday. Rowan's mother and grandmother warn her of what's coming and fear for what she'll see and the ultimate reveal, as Rowan encounters her past lives, many of whom met bleak ends, forces her to question her belief and her place. Read our full review here.



Jackson Adams is a staff writer at Nerdophiles. Follow him on Twitter @JacksonInACup.


Renee's Reads
Spider-Gwen #21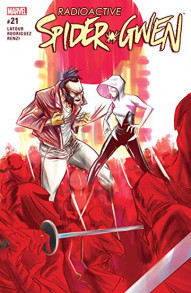 Author: Jason Latour
Artist: Robbi Rodriguez
Publisher: Marvel Comics
★★★★☆
In part three of the "Predator" story-arc, Gwen and Harry Osbourne face off against the Hand Ninjas, Shadow-Cat, and Wolverine. Gwen attempts to explain to Harry that she made a deal with Murdock because she lost her powers and he was helping her with the power-ups. Harry realizes that Gwen has had the cure for her power issue and that it would kill him, but also prevent him from becoming a monster.
Gwen realizes that Murdoch sent her on this mission to show her that she had an impossible choice: to save herself or save Harry, but they both couldn't survive. As she comes to this realization, Wolverine and Shadow-Cat restrain her and attempt to collect the bounty on Harry. Meanwhile, George Stacy remains in jail, but is in harm's way as Aleksei Sytsevich find his way into his jail cell with an ominous, "Murdock says tab is due."
I love several things about this issue. The first being that it more or less highlights the corruption of the legal system of this world and the helplessness that comes when they are unable to uphold or change what is wrong. To keep with this theme, Gwen realizes that she made a bad deal with Murdock and that things aren't as black and white as they should be.
Additionally, Gwen realizes in this issue that she will not always be able to save everyone and that not everything works out as it should. The artist also did a phenomenal job using contrasting colors to pop and bring the reader's eye to the action scenes and highlight the emotional scenes without detracting from the story.


Renee Marriott is a staff writer at Nerdophiles.