Launched as a sort of "all-in-one" approach for active users who want to document their adventures without using a bunch of equipment or worrying about damaging that expensive equipment, Hitcase was created for the active iPhone user. The case provides waterproof, shock proof, dust proof, and generally life proof protection while acting as a mountable case for photographers and videographers alike.
The company already has the first version of their Hitcase shield for iPhone , but they launched a Kickstarter for their Hitcase PRO 2.0 on April 26, 2017 and have already surpassed their goal of $50,000 at $60,284!
The Hitcase PRO 2.0 is in production, and early bird shipping goes out this month. For those who missed the early bird deal, you can still order the Hitcase PRO 2.0 on their website. It comes in sizes for the iPhone 6, 6s, 7, and 7 Plus.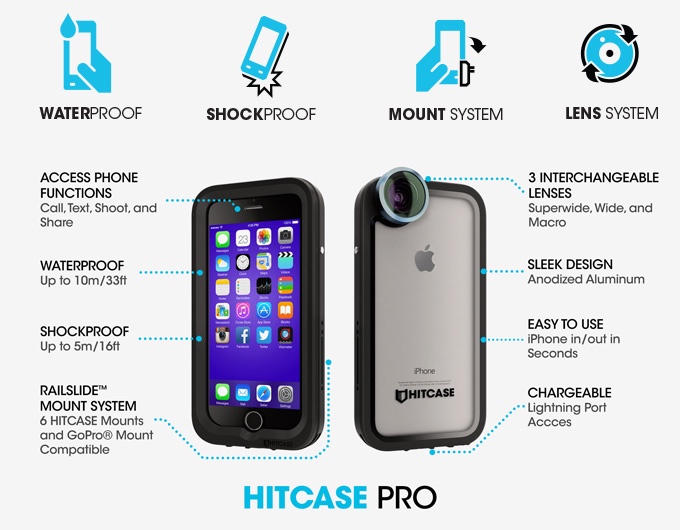 In the PRO 2.0:
"We seamlessly matched the look and feel of the iPhone with an anodized, precision-machined aluminum frame which adds both impact and scratch protection. The case also includes beautiful aluminum alloy push buttons for volume and power that have great feedback, firm but with a positive click so you dont hit them by accident and lose the shot. The back panel is high-strength polycarbonate — the same material used in bulletproof glass. It keeps iPhone both snug and secure but also visible." — Hitcase
While the case itself is impressive, the Hitcase PRO 2. 0 also comes with a TrueLUX Superwide Lens, for wide shots with extra detail. Though if you want to just take regular photos without a super fishbowl effect, you'll have to buy the regular Wide lens, and if you want Macro detail, that lens is also available for separate purchase.
The case boasts a "low profile anodized Aluminum frame" and has an IP68 Waterproof rating for up to 33ft/10m. It is drop proof, with a MIL SPEC Shock rating up to 16ft/5m. There are compatible mounts for you to use, however, like the two lenses, those are sold separately on the site.
The Hitcase PRO is available for $129.99 for iPhone 6, 6s, and 7 so far, with the 7 plus being sold out on the website, with shipping aiming to go out in July. For those interested in finding out more, their Kickstarter page documents a full range of possibilities and potential with their newly designed PRO case!