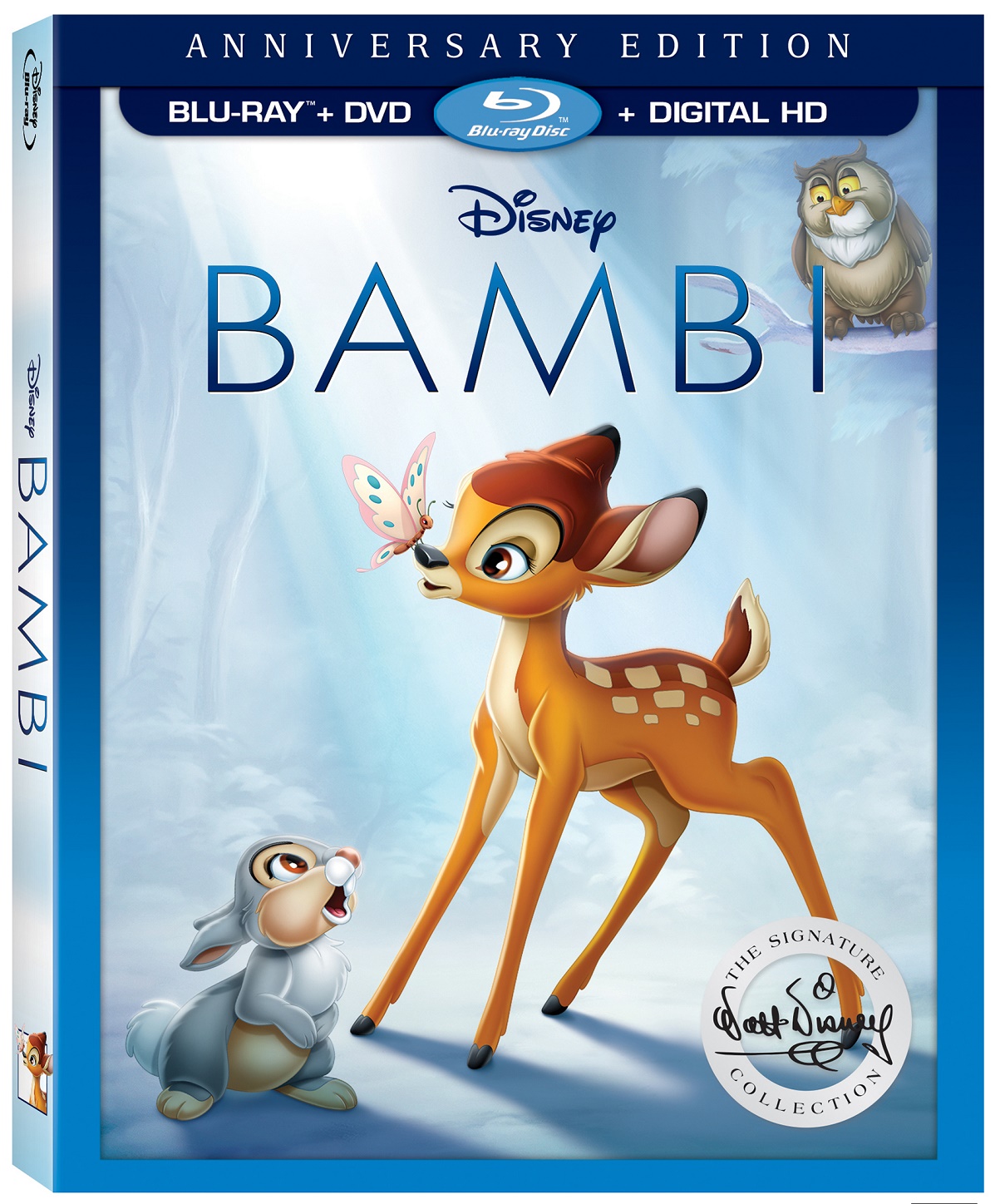 Release Date: June 6, 2017
Cast: Donnie Dunagan, Will Wright, Peter Behn, Stan Alexander
Directors: David Hand, et al.
Studio: Walt Disney Productions
Extra Feature Rating: ★★★☆☆
Rating: ★★★☆☆
Review Spoilers: Mild
Amazon | IMDB | Wikipedia | Rotten Tomatoes
Let me ask you all an honest question: when was the last time you watched Bambi? As I sat down to do this review I realized that I couldn't actually remember when I saw it last. Now, I watched it a handful of times as a kid. So I had a general understanding of who the characters were and what the story was about. Still, I was surprised at how little I remembered about it watching it again as an adult.
For those who may not have had a chance to see it as kids, Bambi is an older Disney classic. You may be surprised to realize that it was originally released back in 1942, making it one of the earliest Disney films. It's always a surprise to me because of how great the animation looks. A lot of that is due to the work of Tyrus Wong who served as the art director for the film. Bambi has a very solid, unique look – and Wong himself is a figure who deserves far more attention that he's gotten in the past.
Actually, guess what's the coolest thing about the Signature Collection release? It comes with a small Tyrus Wong lithograph featuring a young Bambi and Thumper in every blu-ray case. It's admittedly a small detail but it's pretty neat to have.
Now, I'm not going to do an in depth review of Bambi here. The film has been out for a good seventy-five years and there's a reason it's considered so timeless and beloved. I will say, however, that it was a much different experience watching the film as an adult than it was as a child.
The storyline is a little looser and less cohesive than many other Disney narratives. It's also a little bit more traumatic than most anthropomorphic animated Disney films when you realize Bambi's mother literally gets murdered by humans. And I think when I was younger the whole 'puberty' and 'cycle of life' talk from Friend Owl completely escaped me because that scene is definitely a little weird.
Still, Bambi is certainly worth a watch even if it might have a slightly different tone than other Disney movies – particularly the more recent ones. Your kids may not be quite as engaged as they would be if this were Zootopia or Frozen but it's still a solid film.
Special Features
Now, as with all Signature Edition re-releases, this blu-ray is flush with special features. Unfortunately, the special features created specifically for this Signature Collection release of Bambi are a little bit disappointing. That said, the blu-ray disc is full of all kinds of 'classic' bonus features that appeared on previous home releases. And, once you look through those, it becomes pretty obvious that it's got to be hard to come up with new ideas for featurettes when a lot of ground has already been covered in older ones.
So, what's new for this version?
First we have Bambi Effect, which talks about the influences that Bambi had future Disney films. From Tyrus Wong's work on the backgrounds to the development of an animated effects department, Bambi influenced the way that every subsequent Disney film was created. Meanwhile the other new featurette, Fawn Facts, offers some real life facts about the animals that inspired the characters of Bambi. They're both pretty short sadly.
Also included in the Signature Collection are two deleted scenes that haven't been released previously. These were cool to watch – and if you're like me and love deleted scenes then you're in luck. There are three more included in the 'classic bonus features' section. One of them, though, is super depressing and is about two leaves on a tree talking about their impending deaths as winter comes. There's also a deleted song, Twitterpated, which was rightly cut from the final film.
Honestly, the classic bonus features are the most worthwhile ones to watch.
There's an hour long sequence of making-of special features focusing on everything from the music to the animation. It's long but it's really comprehensive. Another interesting featurette includes "Tricks of Our Trade," which describes the use of special, multi-layered cameras to make the old school animation feel more realistic.
It's something they talk about a little more in the Inside the Disney Archive featurette, which explores the original artwork used in Bambi including the multi-layered, glass background slides. These bonus features are rounded out with a couple others – including the original theatrical trailer for Bambi and The Golden Age, a featurette that focuses on the development of animation and more leading up to Bambi.
Even the short, animated film included in the classic bonus features is more entertaining than the one that's specific to the Signature Collection. Oswald The Lucky Rabbit: Africa Before Dark doesn't hold a candle to The Old Mill, which is a much more dramatic, put together short.
All that said, there is one really awesome thing about this blu-ray release and that is that there are multiple ways to watch the full film. You can watch either the original theatrical version, the DisneyView version (which adds frames to the animation that otherwise doesn't quite fit wide screen displays), or the Inside Walt's Story Meetings: Extended Edition version.
The story meetings special features have been a staple of the Signature Collection bonus features. But instead of just including a handful of scenes in a short featurette like on previous releases, the full Bambi film can be watched with a sort of running commentary from Walt Disney himself based on the transcripts left behind of story meetings during the production of the film.
Now, how cool is that?
Final Thoughts
If you missed out on picking up Bambi the last time it was released on blu-ray six years ago or so then you'll want to grab it now while you can. None of the Signature Collection films have gone back in the vault just yet but it's only a matter of time.
Another reason to pick up this blu-ray release is so you can snag the digital HD copy of the film. This is the first time that Bambi has been made available online which means now's a great time to add it to your growing digital Disney movie collection. I'm a huge fan of Disney Movies Anywhere and it's integration with iTunes and VUDU (among other services). As I've said time and time again, it's always great to be able to take your Disney collection with you anywhere you go.
You can pick up your own copy of the Signature Collection edition of Bambi today, June 6th!