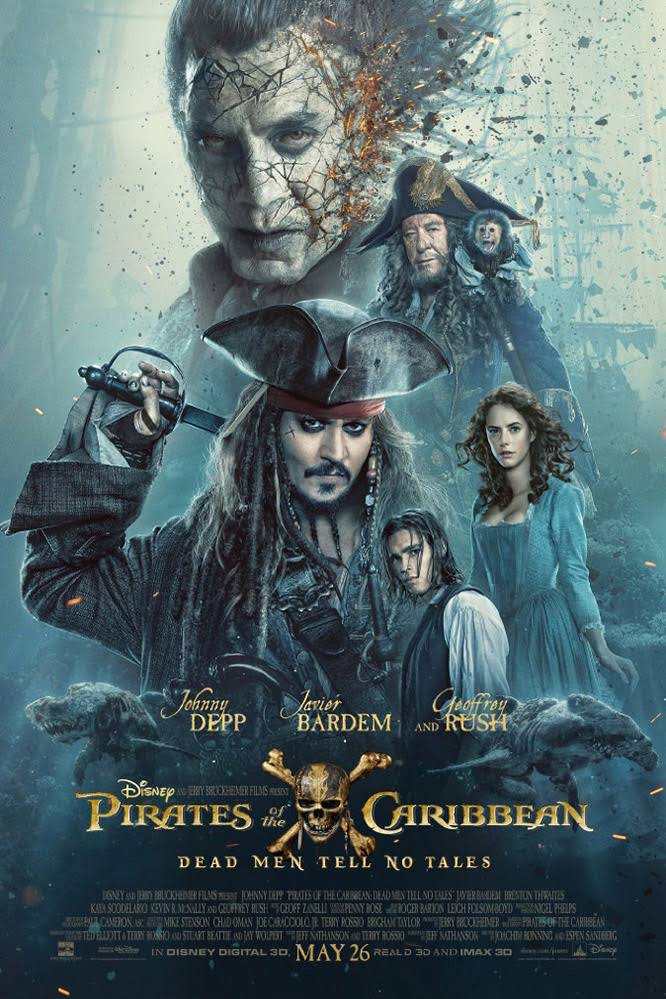 Release Date: May 26th, 2017
Cast: Johnny Depp, Orlando Bloom, Kiera Knightley, Javier Bardem, Geoffrey Rush, Kaya Scodelario, Brenton Thwaites
Director: Joachim Rønning, Espen Sandberg
Studio: Walt Disney Pictures/ Jerry Bruckheimer Films
Distributor: Walt Disney Studios Motion Pictures
Genre: Adventure, Fantasy

Review Spoilers
: Medium
IMDB | Rotten Tomatoes |Wikipedia
Manage your expectations, folks, because this movie is stale.
Remember when Blackbeard had a secret daughter? Well, now Barbosa has a long-lost daughter! Remember when they built that elaborate wheel set for the chase scene in the jungle? I certainly did when they cribbed the scene and substituted a guillotine for a wheel!
The new Pirates of the Caribbean movie follows Orlando Bloom's son (don't remember his name, don't care enough to look it up) as he searches for Poseidon's Triton to break the Dutchman curse and free his father. Along the way, he finds a young woman trying to prove herself by finding the Triton. The two scalawags pick up one Jack Sparrow and sail on their merry way through waters cursed with dead sailors to complete their quest.
At this point, I'm convinced Disney is only making more of these movies to recoup the compounding costs from Hans Zimmer. I'm a sucker for some soaring violins. Sadly, other than the studio's single-handed employment of an entire nation of orchestral musicians, there wasn't much else noteworthy about the fifth Pirates movie.
There can only be so many times you think to yourself, "Now this has to be the last finale fight" before you cut your losses, chuck your popcorn, and walk out of the theater. No dead men need to tell their tales for over two and a half hours.
This movie is a real waste of potential. The original Pirates of the Caribbean movie was a brilliantly fun, exciting high-seas adventure. By comparison, Dead Men Tell no Tales feels like a perpetual wait in line for a lame water park ride. I'm trying to think of the last time I saw a summer blockbuster that was so joyless. The actors were bland, the plot was recycled, and the adventure was boring.
Johnny Depp phones in another performance as Captain Jack Sparrow, delivering his drunken antics with less and less flair with every scene. Keira Knightley and Orlando Bloom get replaced by two fresh-faced newcomers who try (and fail) to replicate the original movie's romantic chemistry.
Orlando Bloom and Keira Knightley are in it for less than 10 minutes of total screen time. In fact, Keira Knightley shows up in the last 3 minutes of the movie to collect her paycheck. If you look closely, you can almost see her striding into the sunset with a wad of cash in hand as the credits roll.
Final Thoughts: All in all, clocking in at over two hours, this movie is a solid waste of a good afternoon. If you want a water adventure, pop some corn and head to the pool instead. You'll probably find a more original plot there and get a tan. And if you do end up seeing it, please don't see it in 3D. The rolling seas will make you pitch more than your popcorn if you do.