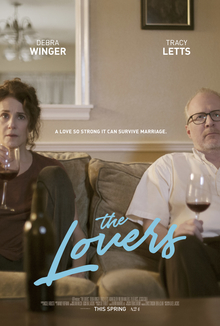 Release Date: May 12th, 2017
Cast: Debra Winger, Tracy Letts, Aidan Gillen, Melora Walters, Tyler Ross, Jessica Sula
Director: Azazel Jacobs
Studio: A24
Distributor: A24
Genre: Comedy Romance

Review Spoilers
: Low
IMDB | Rotten Tomatoes | Wikipedia
A24 is back and crushing it again with Azazel Jacob's The Lovers.
The Lovers follows married couple Michael, played by Tracy Letts, and Mary, played by Debra Winger, as they both engage in extramarital affairs and their impending plans to leave each other. Of course, neither knows the other is seeing someone else and so they cannot simply find the easy way out.
Instead, over roughly 90 minutes, this comedy details their initial clumsy movements around each other to keep their secrets and, in an accidental moment of tenderness, while asleep they both make a mistake… They kiss each other! The relationship that spirals out of that and how they handle it all makes for a rather charming experience.
The film feels very play-like, if that makes any sense. The accompanying score is twee and ever present. The parallels in characters and storyline are exact, both leads use the phrase, "We have a date." when describing their planned day of revelation to their spouse and other small details all show how this couple who have lived together, raised a son, and presumably, at one point, loved each other have informed each other's mannerisms. Both find love in another, played by Aidan Gillen and Melora Walters, who are remarkably similar. The arcs of each romance mirror each other until finally collapsing into each other in the final act.
One of the few hiccups to be found is in the character of the son, whose visit is the ticking clock of the film. With his arrival and departure, Mike and Mary will feel emboldened to tell the other the truth and leave this relationship, but only if they can make it through the visit.
While Tyler Ross does a great job in his performance, really bringing the emotion out of the character, this character's behavior is so radically different from everything we see prior that it feels awful. His angry, visceral hatred towards his parents feels completely in opposition to the couple we've seen over the previous hour, but in its own way it's more honest because of it. This family has history, whether we see it on the screen or not.
The ending of the film, which I won't get into to avoid spoilers, doesn't go quite the way you'd hope for, or the way you are trained to expect from other films, which contributes to that feeling of fiction this movie exists in. The verisimilitude of the movie is in the characters' connection, not so much the plot.
Tracy Letts and Debra Winger both bring a charm to their characters that, even despite their objectively undesirable behavior, you can't help but enjoy their little moments of victory and watching the two of them reconnect after how many years apart is heartwarming. The two have chemistry together and it is a treat to be a fly on the wall for this awkward, twilight year romance.