A REVIEW COPY OF LAURA MONSTER CRUSHER WAS PROVIDED BY THE PUBLISHER VIA NETGALLEY IN EXCHANGE FOR A FAIR AND HONEST REVIEW. NERDOPHILES WAS NOT COMPENSATED FOR THIS REVIEW. OUR OPINIONS ARE OURS AND OURS ALONE.

Laura Monster Crusher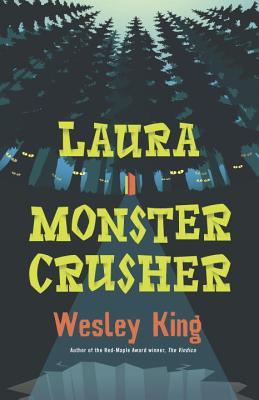 Author: Wesley King
Release Date: April 4, 2017
Publisher: Puffin Canada
Review Spoilers: Low
GoodReads | Amazon


Rating:
Monsters may become the latest trend in middle grade and young adult fiction. I'm not going to come out and bet on them, however, because mermaids are putting up a good fight. That said, I'm really rooting for monsters. Monsters are fun and unlike zombies, werewolves, or vampires there's a lot more freedom to them as far as storytelling and worldbuilding go. They don't have nearly as many set rules as other fictional beings do. Every author has the freedom to make monsters into whatever they want without making people mad.
Laura Monster Crusher is a book about monsters and author Wesley King really has some fun with things which means that we, as readers, get to have a lot of fun, too.
A middle grade book with an unlikely heroine, Laura Monster Crusher follows a girl named Laura who finds herself in an odd predicament after she and her family move into a new home in a brand new town. She has, it seems, been enlisted by a secret organization to become the next Monster Crusher. It turns out her closet is a portal to a subterranean world full of magic and monsters and the first person to come through that portal inherits the title and duties of the Monster Crusher. But Laura is not athletic and no matter how hard she tries the people entrusted with her training are less than enthusiastic about her chances facing down an actual monster.
In the end, Laura has to rise up against not just other peoples' doubts about her but her own doubts about herself as well. After years of being bullied for her weight and size, she has to learn to believe in herself. Along the way she makes new friends (some of them unlikely), maybe falls in love for the first time (with her nerdy classmate Liam), and faces down monsters – those both mysterious and closer to home.
I love Laura so much as a character. She's the reason I devoured this book from start to finish. She's just so much more realistic than other heroes and heroines we see in these kinds of books. Laura isn't some skinny orphan with natural skills that make her an expert at monster fighting in a short period of time. She's a big girl who hates athletics and she struggles from beginning to end to earn her title as Monster Crusher. It may have been handed to her but she earns it over the course of the book proving everyone wrong – even herself.
Her struggles are just so believable.
If I were suddenly called upon to guard our world from monsters I would be in exactly the same place as her. Overweight and lacking any training, it'd be a struggle for me to take up that responsibility. Laura struggles with the responsibility. And she works her butt off throughout the book to juggle both her personal life, school life, and her training. Sometimes she's successful and sometimes she's not.
Now, some of things in this book aren't believable. And, in fact, some things are downright silly. The idea of an underground world where monsters run rampant being cut off from out world is always a bit ridiculous to me even though it appears in a lot of books. But Laura is amazing, the other characters – from her classmates to her fellow warriors and her adorable brother – are amazing, and the story manages to throw some serious plot twists at you in short order.
It's very much a middle grade book but even as an adult I was hooked. I read this book in just one sitting and was up until almost 3 AM so I could finish it. And it's all because I loved the main character. Body issues and bullying are things that kids of all ages deal with and this book does an amazing job of showing kids that no matter what they can be heroes. It's a great message and it's coupled with an entertaining story that keeps you hooked throughout.
If you've got a middle grade reader in your life, I'd highly recommend that you check out this book and pass it on to them. There's not a whole lot of crossover appeal to this title – the story is very much geared to it's target audience – but I still enjoyed it so older readers might like it, too. But as a body positive book that transcends the contemporary genre and embraces the fantastic, Laura Monster Crusher hits the mark in every way. Right now available only in Canada, it's a book I hope makes its way to the US market sooner than later!