A REVIEW COPY OF THE WIZARD'S DOG WAS PROVIDED BY THE PUBLISHER IN EXCHANGE FOR A FAIR AND HONEST REVIEW. NERDOPHILES WAS NOT COMPENSATED FOR THIS REVIEW. OUR OPINIONS ARE OURS AND OURS ALONE.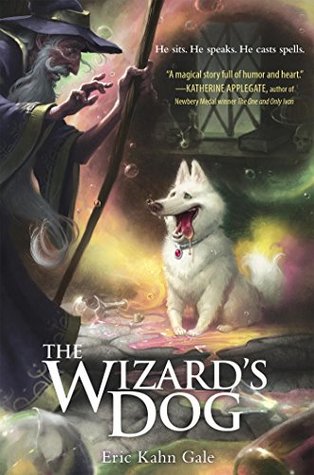 Author: Eric Kahn Gale
Release Date: January 17th, 2017
Publisher: Crown Books for Young Readers
Review Spoilers: Low
GoodReads | Amazon

I have one hard and fast rule in life: everything is better when it involves a dog. Eric Kahn Gale took this philosophy and applied it to create a wonderfully whimsical tale that offers a new take on the old King Arthur stories.
Nosewise, faithful adopted companion of Merlin the famous wizard (yes – that Merlin!), gets pulled into the world of magic when he is allowed to sit in on one of Morgana's lessons. Once he gets a taste for it and finds his voice he cannot turn back, but a few choice decision by Morgana lead them down a perilous path of danger!
When Merlin is taken in the night by a king and his soldiers, it falls to Nosewise to find his friends and save the day. Along the way he experiences one heck of an adventure as he tests out his newfound magical abilities. With the help of a young boy whose previous work included cleaning the castle chamberpots, Nosewise defies the odds in his search for Merlin and Morgana and comes to realize just how good a dog he really is.
The Wizard's Dog offers a fun, approachable take on some of the old King Arthur mythology. Even as an adult it was great fun to see the well loved and well known characters tossed into a slightly different setting. For young readers it acts as a lovely introduction to Arthur, Merlin, Morgana, and Excalibur the magical sword. If you have puzzled over how to work those tales into your young one's life, The Wizard's Dog has got you covered.
Perhaps the best part is the fact the entire story is told from Nosewise's perspective. Eric Kahn Gale goes above and beyond to capture the world of a dog as he capitalizes on the unique use of senses. Instead of focusing on what is seen, readers get a chance to tickle their other senses and gather a better understanding of what is heard, smelled, and tasted. Nosewise's point of view adds a lot of charm to the story as he undergoes his character transformation from a wizard's stray pet to a free thinking, independent being.
I cannot recommend this book enough for readers both young and old, because it definitely has a little something for everyone.