Finding Dory (2016)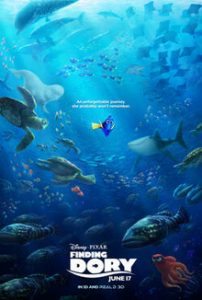 Release Date: June 17, 2016
Cast: Ellen DeGeneres, Albert Brooks, Hayden Rolence, Ed O'Neill, Kaitlin Olson, Ty Burrell, Diane Keaton, Eugene Levy
Director: Andrew Stanton
Studio: Walt Disney Pictures, Pixar Animation Studios
Distributor: Walt Disney Studios Motion Pictures
Genre(s): Animation, Comedy Adventure

Review Spoilers: Medium
IMDB | Rotten Tomatoes | Wikipedia
Nearly a week after it's initial premiere, I'm getting this review up on the sequel to one of my favorite Disney Pixar films, Finding Nemo. But you don't need a late reviewer to tell you that this movie was excellent and charming, and you definitely didn't need the other critics telling you that less than a week ago.
It has been the general consensus that Disney and Pixar are a match-made in heaven. They create magic when they partner up, from their emotionally heavy film subjects to their stunning and vibrant animations they never falter in pushing the bounds of our imagination and tugging at our heartstrings. Finding Dory is a near perfect sequel to the original film created almost a decade and a half ago. As the title might suggest, some feared a duplicate of the previous film.
Finding Nemo was the story of an overbearing clownfish father named Marlin, who had lost his son at the beginning of the film to some humans. On the journey to finding his son, he meets a blue tang named Dory. We all remember the lovable character immortalized by Ellen Degeneres' chipper and friendly voice. The fish with the short-term memory loss was probably just supposed to be the funny sidekick, but quickly stole the show.
Set a year after the events of Finding Nemo, Finding Dory delves into the backstory of our favorite forgetful fish in an emotional tale of finding who she is. Dory pieces together parts of her memory and her past like a jigsaw puzzle as she is carried into the Marine Life Institute, in Morro Bay, California (a seaside town about thirty minutes north of San Luis Obispo). There she finds out where she is from, and who her parents are.
We also meet a new host of characters that enchant us with their effervescent personalities. Pixar has never failed to really create some lasting characters that stick with us in their own unique way. Dory meets Hank, an octopus — septopus, technically he only has seven arms — a curmudgeon long-time occupant at the institute. He's not keen on returning back to the sea, and in exchange for the orange tag on Dory's fin that is basically his one way ticket to an aquarium in Cleveland, he agrees to help her find her family.
Dory is as endearing as ever, Ellen Degeneres has not lost her touch at all and still mixes humor and heart together without losing the genuine zing that we felt the first time we met her. Along the way, Dory and Hank meet some of her old friends, like Destiny, a near-sighted whale shark. If you ever questioned Dory's ability to speak whale, question no more. This is the whale that taught it to her.
Next to Destiny is Bailey, the Beluga that temporarily lost his echolocation. These two were my favorites, both being adorably animated and providing another helpful dosage of humor. Destiny and Dory are both of the same breed, and you can never really have enough of their sometimes-blundering positivity.
The film builds on Dory's past, introducing us to her parents Jenny and Charlie. Dory's flashbacks detail a love-filled home and two parents who did everything to help prepare Dory for the real world. There are scenes of them roleplaying hide-and-seek as Dory's future friends, of them teaching Dory about the undertow, and of them teaching Dory how to find her way home through the seashells meticulously left in the sand. It's enough to make me all misty-eyed.
Marlin and Nemo chase after Dory for most of the movie, after they have a deadly encounter with a giant squid — one that almost gets Nemo — Marlin's temper gets the better of him and he tells Dory all she's good at is forgetting things. Although the story looks mostly at Dory, it does let us see the journey as Nemo and Marlin seek out Dory. They encounter two lazy sea lions named Fluke and Rudder, a crazed common loon named Becky, and even rendezvous with Crush and Squirt earlier in the movie with Dory. It's fun to watch Nemo deal out some real talk to his short-tempered, high-strung dad. While Marlin means well, he can be kind of a stick-in-the-mud and it's fun to watch his son encourage him to think more like Dory.
The movie culminates in one insane car chase down the freeway, and an insane reunion of all of our characters together in the Pacific Ocean. Only Disney and Pixar could successfully pull off that final act in a way that was satisfying, laugh-out-loud, and even philosophical.
Like any good animated film, Finding Dory works with both adults and children. It's guaranteed to be another hit for Pixar and can join the line of movie sequels that are actually just as good as the original. We also get to see the guys from the tank again, and I'm definitely going to create a petition for some kind of short just featuring them. Who doesn't want to hear Willem Dafoe and Allison Janney reprise their roles again, if only for a bit?
Additionally the short preceding the movie, The Piper, brought on more California feelings in a cute and fuzzy story about a baby sandpiper. If you don't know what they are, go youtube sandpiper right now and get ready to see some naturally adorable birds. From the short to the location — my parents live in SLO and family vacations have been spent in Morro Bay — to the new characters to the story, this movie did all the same things to me that captured my heart with the original film.
Final Thoughts: Finding Dory is far from just a sequel, it expands on the world created years ago on a dearly beloved character. With kaleidoscopic animation, powerful storytelling, and a masterclass of voice actors, this sequel surpasses expectations and shoots straight to the top as an instant classic.