This week, Sam wrapped up the latest Lumberjanes arc from BOOM! Studios, while Jackson explored Tom Scioli's experiment with Transformers vs. G. I. Joe: The Movie Adaptation from IDW Publishing. Renee looked at Captain America: Steve Rogers and Spider-Gwen, both from Marvel Comics.
Want to hear more about what we thought about these issues? Read on – and let us know what you thought in the comments below.


Sam's Reads
Lumberjanes #36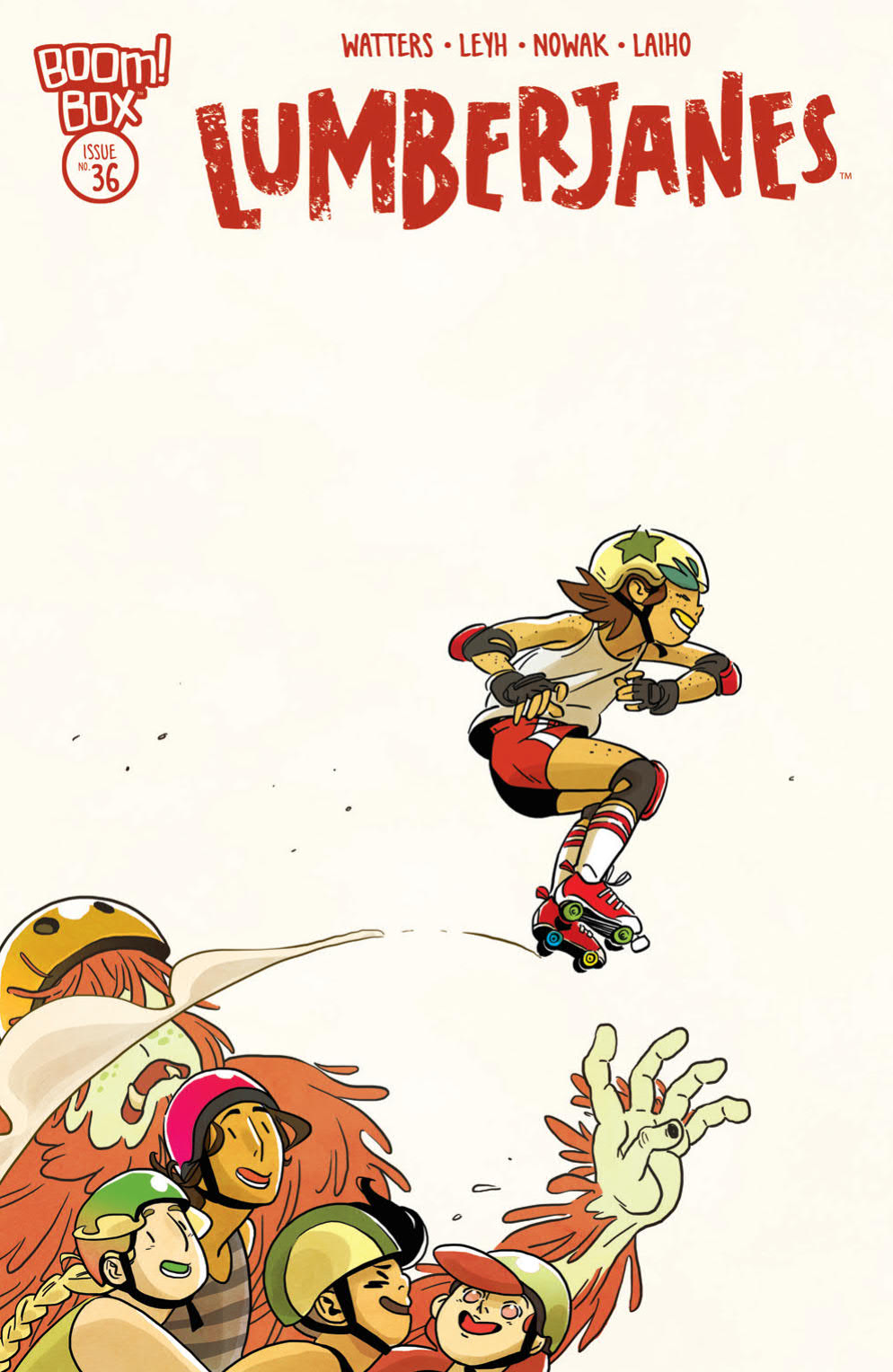 Author: Shannon Watters & Kat Leyh
Artist: Carolyn Nowak
Publisher: BOOM! Box
Source: BOOM! Studios DRC
★★★★☆
The Rumblejanes roller derby arc ended this week with the girls finishing up their match against the Sasquatches. Things really kicked off in the last issue and we learned through Rosie that there's a very real reason that the training area was off limits in the first place. Like most things in these woods and at this camp, it's incredibly dangerous and the girls learn that first hand on the track, when someone accidentally activates a series of dangerous, deadly obstacles that they have to now deal with (in addition to the regular rules of roller derby).
Ultimately the girls come out on top. They make new friends after coming together with Mackenzie, Feryal, and Hester to take on the Sasquatches. The Yetis get their home back. The Sasquatches go off on their own to try and set up a roller derby league with some of the other mysterious creatures they know. And Rosie gives in to the other girls' at camp when they ask that the roller derby track be cleared of tracks so everyone can plan.
In the end, it all worked out!
All in all, this was a pretty great arc. It was a lot more laid back than some of the other ones we've dealt with and it stands on it's own really well. For long time fans it's fun to watch the girls delve into a new favorite pastime and take a break from the more serious adventures they sometimes have. For new fans, it's a quick and easy way to jump right into the series. The writing was great, the story fun, and Carolyn Nowak's artwork awesome as always.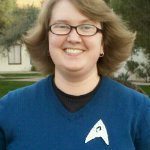 Sam Wildman is a co-founder and co-editor at Nerdophiles.


Jackson's Reads
Transformers vs. G.I. Joe: The Movie Adaptation

Author: Tom Scioli
Artist: Tom Scioli
Publisher: IDW Publishing
★★★★★
Fresh from writing and drawing one of the most gonzo mainstream comics of the new millennium, Tom Scioli didn't wrest on his laurels. With this week's Transformers vs. G.I. Joe: The Movie Adaptation, he takes the 13 issue comic he and co-writer John Barber created and condenses it down to a tight 20 page adaptation of the imaginary movie version of their mind trip mashup. Confused yet? It doesn't really matter.
Transformers vs. G.I. Joe: The Movie Adaptation is more of a conceptual experiment than anything else, an in-joke for those old enough to remember 4-issue adaptations of Michael Keaton movies, Star Trek plots and iffy looking approximations of famous faces. Scioli's effort here is a loving homage to that era, his Scarlet feels distinctly more realistic than she once was and he places her in poses homaging everything from Silence of the Lambs to The Last Starfighter. His action sequences, likewise, feel more at home in a montage than they do a comic panel. Massive "Slow Mo" signs and huge sound effects dot the page and do an admirable job showcasing a story condensed twice, once for a film and once again for a comic.
Transformers vs. G.I. Joe: The Movie Adaptation is as much for fans of Scioli's madcap approach to comics as it is for fans of the franchises it's lovingly combining and mocking. It's a book for those who appreciate the one and the ones willing to embrace all of it, wackiness and all, and see it to the natural conclusion. Even without that meta-weirdness, it showcases more of the sharpest visuals Scioli's committed to the page as well as some of his funniest writing and is well worth the price of admission for that alone.



Jackson Adams is a staff writer at Nerdophiles. He's still laughing about random bits of casting from a non-existent movie. Follow him on Twitter @JacksonInACup.


Renee's Reads
Captain America: Steve Rogers #14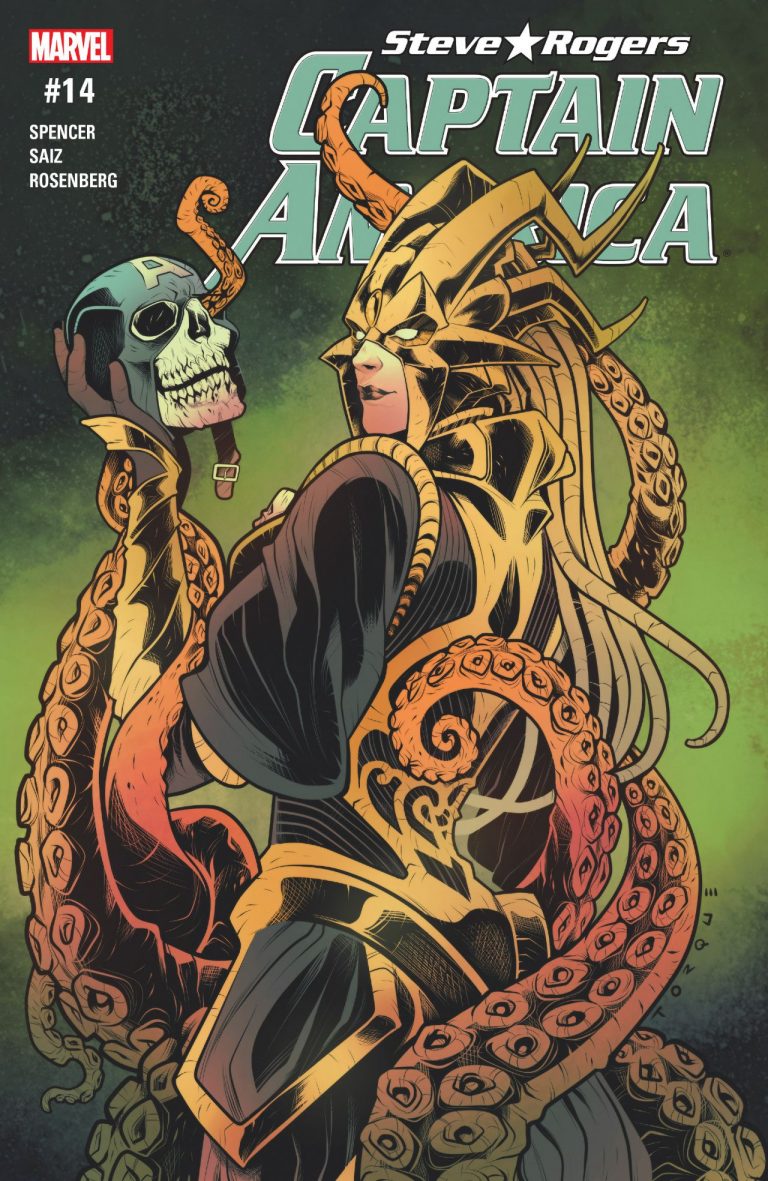 Writer: Nick Spencer
Artist: Jesus Saiz
Publisher: Marvel Comics
★★★☆☆
So, our issue begins in 1944, where Steve bursts in to find Elisa, who has declared herself as Madame Hydra. Steve attempts to grab her, but she turns into a terrifying, strong hydra and tells Steve that she is not the traitor to Hydra as he had suspected. Meanwhile, in the present, unbeknownst to Steve, all the Hydra bad guys are finding another to become the Hydra counsel.
Carol's shield is also going up and working fairly well, much to Steve's displeasure as he is attempting to sabotage the shield so that the Chituri can attack Earth. Of course, his plan fails and the shield around earth holds steady, and Steve is left to figure out a different plan to get the shields down.
The issue ends where it began, back in 1944, where Madame Hydra reveals that Helmut and Zemo thought she was the Hydra traitor, but in reality, it was the Red Skull, and they would need to find a way to defeat him.
Captain America #14 had a distinct lack of Captain America and focused more on the creation of the Hydra counsel, after of course tracking down the remaining bad guys from Pleasant Hill. My complaints from the last issue seem to have been heard by the Marvel Overlords, and there has been plot progression, beyond Cap's moral crisis. However, I did feel like the two "plot surprises" were predictable.
Spider-Gwen #18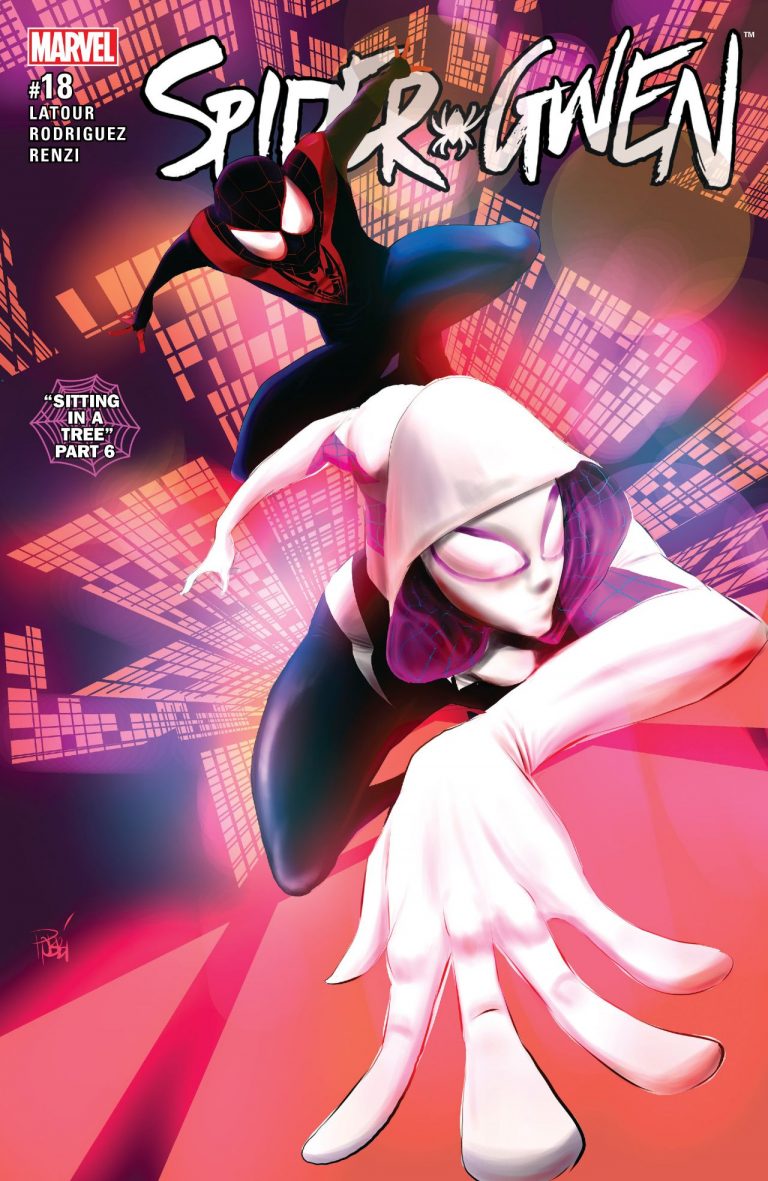 Artist: Robbi Rodriguez
Writer: Jason Latour
Publisher: Marvel Comics
★★★★☆
This issue begins with Earth-8 Gwen and Miles going on their second honeymoon, which has been highly publicized. Peter Porker explains that Gwen and Miles sacrificed a lot for them to get to their "utopia" and that Gwen's current world was too much like their past. Meanwhile, Miles and his father attempt to fight the evil Scorpion.
Peter Porker initially refuses to help Gwen and acknowledges that all the Stacys give big, stupid speeches. However, Earth-8 Gwen and Miles' kids convince Peter Porker to help, and they all wind up back on Earth-65 to help fight against evil Scorpion. They win the battle, and ultimately Miles and Gwen decide that they are better off as friends right now, but knowing that there was a future for them was enough for them.
I loved the final conclusion of "Sitting in a Tree." Though Gwen and Miles decided to remain friends and not attempt to establish an inter-dimensional relationship, the fact that it is a possibility for the future is pretty exciting.
Though the beginning of the issue took the reader on an interesting detour to Earth-8 and introduced Peter Porker (pun intended, I'm sure), I was initially a bit skeptical. However, the writers were able to tie the characters of Earth-8 together with Earth-65. Plus, the fact that there is a future that ultimately ends with Gwen and Miles getting a happily ever after makes me pretty happy.


Renee Marriott is a staff writer at Nerdophiles.